| | |
| --- | --- |
| Clemson-Louisville Prediction | |
---
| | |
| --- | --- |
| Thursday, September 17, 2015 1:01 PM | |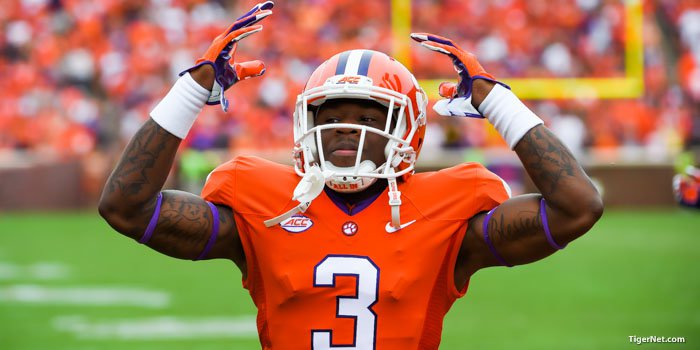 Clemson was tabbed as the favorite to win the ACC Atlantic by the media back in July, and if the Tigers are going to represent their division in Charlotte in December the journey starts Thursday.
Ninth-ranked Clemson travels to Louisville to take on a wounded Cardinals team, and while the results have been vastly different for the two schools during the season's first two weeks, none of that matters when it comes to the ACC. As they say in the Lord of the Rings….So it begins.
Can the Tigers take an early lead in the ACC race? Can Louisville avoid an 0-3 start?
NO. 9 CLEMSON (2-0) AT LOUISVILLE
WHEN: THURSDAY, SEPTEMBER 17, 2015, 7:30 p.m.
WHERE: Papa Johns Stadium (55,000)
TV: ESPN (Joe Tessitore, David Pollock, Jesse Palmer, Kaylee Hartung)
RADIO: CLEMSON RADIO NETWORK (Don Munson, Rodney Williams, Patrick Sapp)
NATIONAL RADIO: ESPN (Bill Rosinski, David Norrie, Joe Schad)
SATELLITE RADIO: Sirius Ch. 84, XM Ch. 84
SERIES HISTORY
Overall Record: Clemson leads 1-0
at Clemson: Clemson leads 1-0
at Louisville: First Meeting
First Meeting: Clemson 23-17 in 2014
NOTABLE: Louisville is 10-8 all-time on ESPN Thursday night broadcasts and have won two of its last three appearances. Head coach Bobby Petrino's teams have made six appearances on Thursday night during his tenure at Louisville and have gone 3-3 during those contests. No.2 Florida State handed Louisville a 42-31 loss last season after the Cardinals held a 21-0 lead.
Clemson has a 5-9 record in ESPN Thursday Night games over the years, but has won four in a row, all under Dabo Swinney

Dabo Swinney
Head Coach
View Full Profile . In fact, Swinney is 4-1 in Thursday night games on ESPN, with the last victory coming at Wake Forest last year, 34-20. This is the fourth straight year Clemson has played a Thursday
night game. Clemson played two in 2013. Swinney's only Thursday night loss was at Georgia Tech in 2009, just the second game of his first full season as head coach. That was also on a short week.
THE MATCHUP
WHEN CLEMSON RUNS THE BALL
Let's face it, Clemson hasn't exactly been overwhelming running the football despite the competition through the season's first two games, averaging 4.2 yards per carry. Anybody who watched last week's game against Appalachian St. knows the Tigers offensive line struggled to move defenders off the line of scrimmage. The Cardinals held the Tigers to just a 2.2 yards per carry average last season, and even though they lost several good players to the NFL defensive coordinator Todd Grantham will have this group ready. The Cardinals haven't exactly stopped the run through the first two games, but held Auburn's vaunted attack to 191 yards on 41 carries. Until Clemson's offensive line proves to me they can be technical AND physical at the point of attack.…ADVANTAGE: LOUISVILLE
WHEN LOUISVILLE RUNS THE BALL
Two of Louisville's top five rushers are quarterbacks, and freshman Lamar Jackson leads the way with 2 carries for 122 yards. That says this team has struggled to find success at the point of attack as well, and none of Louisville's backs really terrify you. Clemson is giving up just 3.61 yards per carry, and that includes the numbers against run-oriented Wofford. Unless the quarterback escapes contain and makes plays with his feet, Clemson's front seven is good enough to shut down Louisville's rushing attack. ADVANTAGE: CLEMSON
WHEN CLEMSON PASSES THE BALL
Louisville's pass defense has been average through the first two games. Auburn struggles to throw the ball and managed just 137 yards on 21 pass attempts. Houston had a little more success spreading the field, however, and threw for three touchdowns. Against Houston, Louisville got initial pressure but let the quarterback escape contain and he found plays down the field as the Cardinals showed a lack of secondary discipline. Do that against Deshaun Watson

Deshaun Watson
So. Quarterback
#4 6-2, 207
Gainesville, GA
View Full Profile and it could be a long, long day. The Tigers have to protect Watson, and I don't think the Tigers will be able to go wide on the Louisville defense. Most of the plays will be down the field. Clemson has Watson, so……..ADVANTAGE: CLEMSON
WHEN LOUISVILLE PASSES THE BALL
Louisville has decent receivers, but this Clemson secondary is a salty bunch and won't allow many plays down the field. But here's the stat you need to know: Clemson (who played Wofford) is fifth nationally in pass defense. Louisville's quarterbacks are 107th nationally in quarterback rating. If Clemson can get consistent pressure on the quarterback AND keep contain the Cardinals will have a tough time throwing the football with a lot of success. ADVANTAGE: CLEMSON
SPECIAL TEAMS
Louisville has the edge at punter with Joshua Appleby, but both teams have issues at kicker. Louisville kicker John Wallace has made just 2-of-5 field goals and has three touchbacks in 10 attempts. Clemson kicker Greg Huegel

Greg Huegel
Fr. Punter / Kicker
#92 5-11, 180
Blythewood, SC
View Full Profile is 2-of-3, but an App St. penalty gave him an extra chance last week after a miss. Huegel has three touchbacks in 14 attempts, while Alex Spence

Alex Spence
RS Fr. Kicker
#47 6-2, 191
Florence, SC
View Full Profile is 0-for-1.
The short kickoffs have been a concern for the Tigers, who are giving up an average of 23.85 yards per return. Louisville is averaging just 19.20 yards per return, so the Tigers have to hope they can continue to contain. Louisville allowed Houston 148 yards on four returns last week, including one that went for a touchdown.
Sounds like a mixed bag for both teams, right? If Clemson has an advantage, it might be in the fact that Ray-Ray McCloud

Ray-Ray McCloud
Fr. Wide Receiver
#34 5-9, 181
Land O' Lakes, FL
View Full Profile and Artavis Scott

Artavis Scott
So. Wide Receiver
#3 5-10, 191
Oldsmar, FL
View Full Profile look like they are always one step away from breaking a long one. However, Louisville is at home, so…..ADVANTAGE: EVEN
THE BREAKDOWN
The keys for Clemson: Avoid turnovers and keep the Louisville crowd out of the game. The Cardinals jumped out to a 21-0 lead on Florida St. last season, but that Seminole offensive line was really good and the Seminoles were able to crawl out of the hole. That means Clemson has to avoid turnovers.
Clemson has shown very little on offense to date – will the Tigers open the playbook and allow Watson to run the read option? If they do, it's hard to see Louisville's defense putting up the kind of effort it saw in last year's 23-17 loss. If the Tigers can run it enough – just enough – to give Watson some open throwing lanes it makes the night a little easier.
Louisville will ride a wave of emotion and desperation into this game, and it will be a fistfight from the outset. IF Clemson can avoid the costly special teams mistake or turnover, however, the depth chart and talent gap will begin to show. I just don't know that this will be as high-scoring as people think, so I'm going…..
FINAL SCORE: CLEMSON 28, LOUISVILLE 20
---
GUEST PREDICTIONS
---
Mickey Plyler
- 6AM-9AM EST on WCCP 105.5FM -
34-24 Clemson
Tony Crumpton - Associate Editor - 31-20 Clemson
Nikki Steele - Staff writer - 28-17 Clemson
Lawton Swann - Clemson Sports Talk / TigerNet Talk - 35-20 Clemson
Pigskin Prophet - 34-21 Clemson
| Game | Actual | David Hood | Mickey Plyler | Tony Crumpton | Nikki Steele | Lawton Swann | Pigskin Prophet |
| --- | --- | --- | --- | --- | --- | --- | --- |
| Wofford | 49-10 CU | 41-13 CU | 41-17 CU | 52-13 CU | 42-17 CU | 47-13 CU | 47-13 CU |
| App St | 41-10 CU | 37-17 CU | 42-17 CU | 41-14 CU | 45-13 CU | 45-17 CU | 42-17 CU |
| Points | - | 2 | 2 | 4 | 2 | 4 | 4 |
* Points: 3 pts for best prediction of the week (tiebreaker is Clemson score), 1pt for picking the correct winner