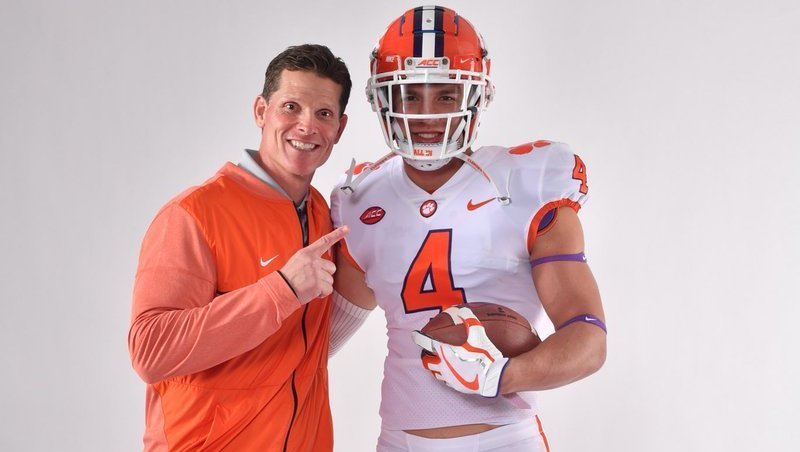 | | |
| --- | --- |
| Clemson LB commit ready to run down the hill | |
---
Keith Maguire is ready for the rolling hills of Clemson, including the one famously known for producing legends.
Maguire is a 2019 outside linebacker signee for the Tigers, and he recently spoke with TigerNet to reminisce about his senior year and how he's preparing for his time at Clemson.
The 4-star prospect out of Malvern (PA) is coming into Clemson with a 26th outside linebacker ranking from 247sports, and over 20 colligate offers. With the potential transfer of Shaq Smith, Maguire is expected to make a rumble early on.
TigerNet is reaching out to the remainder of the 2019 recruiting class for a final interview before they arrive in June, and have a special Q&A with each player.
Q: What has life been like since you signed the dotted line and no more recruiting or anything like that?
A: It's been awesome. It's been fun, but I've been working hard getting ready to get down to Clemson. You know, start off on the right foot, start off the right way. So, that's been good. I've had a lot of free time to do that now that I don't have to worry about recruiting or anything like that. I'm just getting a lot closer with Clemson and the kids in my class too. We have all been getting a lot closer.
Q: What's this recruiting class like? It was a great class, and now 2020 looks like it's going to be a great class. What's it like getting to watch all of this development.
A: It's awesome, I think, Clemson has never had a number one recruiting class, but the 2020 class is clearly number one right now. I think it shows that we have a great group of guys every year. No matter what the rankings are, we know how to work and work hard. Hopefully, that shows with this class as well.
Q: What have you done physically to prepare to get here?
A: I've been trying to put on some weight and get faster.
Q: Has Brent Venables said playing time is more available now that Shaq Smith has entered the transfer portal?
A: Yeah, I mean, I talked to him a little bit. He just said to get ready to get here and start working. Obviously, when as guy like Shaq leaves and there's an empty spot as a linebacker, there is an opening. I wish Shaq the best.
Q: What's your current height and weight?
A: 6'2, 225.
Q: When do you move in? Do you know who your roommate will be?
A: Yeah, I'm rooming with Bryton Constantin. I think I'm moving in like June 23rd or 24th. Something like that.
Q: What number will you wear when you get here?
A: 30.
Q: Is that the number you wanted?
A: Uh, I picked that out of few, I'll probably stick with it.
Q: Okay, what number did you really want, and what number did you wear in high school?
A: I wore No. 4 in high school, but I knew that one was retired at Clemson.
Q: What has Coach Venables message been to you other than just to work hard as your preparation to getting here?
A: Just enjoy high school while you can, go have some fun. They're excited for me to get down there but not much other than that.
Q: What are you most looking forward to?
A: Probably playing. Just getting on the field, working out with the team. Starting back up. It's been a while since I've played football, like back in December, so It's been a while.
Q: Is there one game that you just can't wait for?
A: The first game. I can't wait to step on the field for the first time. I'm going to start there. All of the other games will come, but I think the first game is going to be the most fun.
Q: What do you think it's going to be like running down the hill for your first game?
A: I don't know, I can't even imagine it. I'm sure it will be an awesome experience, and I'm excited about that.

Upgrade Your Account
Unlock premium boards and exclusive features (e.g. ad-free) by upgrading your account today.
Upgrade Now