| | |
| --- | --- |
| Clemson Junior Day visitors - Part 2 | |
---
| | |
| --- | --- |
| Friday, January 31, 2014 11:26 AM | |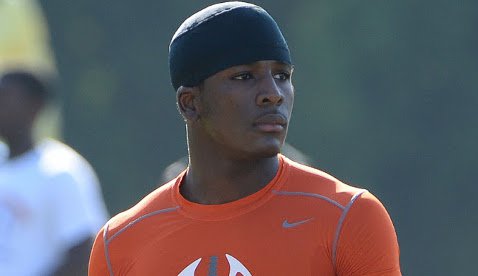 With the 2014 recruiting cycle quickly coming to a close, it's time for the Clemson coaching staff to roll out the red carpet for the 2015 prospects.
Clemson will host the first of its Junior Days this weekend, and while this is a smaller group, it will boast many of the staff's top 2015 targets.
Everyone knows the names and positions of the 2014 commits and prospects, but many of the 2015 prospects still remain a mystery, so instead of just releasing a list we broke it up into two parts – offense and defense – in order to give a little background on each athlete.
Here is the defense:
Brian Bell (6-3, 200) – The three-star linebacker from Valdosta (GA) Lowndes currently has offers from Georgia Tech, Louisville and Cincinnati.
Kaleb Chalmers (5-10, 168) – The Greenwood (SC) cornerback currently holds offers from Clemson, Duke, Georgia Tech, North Carolina, Stanford and Tennessee. Chalmers plans to attend several junior days throughout the spring. As a junior, Chalmers recorded 80 tackles, four interceptions, nine pass breakups, and four touchdowns.
Rasool Clemons (6-5, 190) – The four-star defensive end from Aiken (SC) South Aiken moved to South Carolina from New Jersey just over a year ago and has only played football for two seasons. He already has offers from Clemson, Florida State, Tennessee and Virginia. Clemons has made two previous visits to Clemson, including a trip for the game against the Seminoles. During his first season of organized football, he totaled 52 total tackles, two sacks, seven tackles for loss, four forced fumbles and an interception returned for a touchdown.
LaSamuel Davis

LaSamuel Davis
Defensive End
6-4, 205
Bamberg, SC
ESPN:


View Full Profile (6-4, 215) – The Bamberg (SC) Bamberg-Ehrhardt defensive end claimed an offer from the Tigers earlier this month when several Clemson coaches stopped by his school. The three –star prospect tallied 112 tackles, 38 tackles for loss and seven sacks as a junior.
Mark Fields

Mark Fields
Cornerback
5-9, 170
Charlotte,
ESPN:


View Full Profile (5-10, 186) – The four-star Charlotte (NC) Hough cornerback is garnering attention from several schools and has offers from Clemson, Ohio St., South Carolina, and Tennessee, among others. It is believed that Clemson and South Carolina are the leaders for Fields' services.
Stephen Griffin

Stephen Griffin
Safety
6-3, 180
Charlotte, NC
View Full Profile (6-3, 180) – The Charlotte (NC) South Mecklenburg athlete has offers from most of the ACC schools, including Clemson. Griffin is the son of former Clemson running back Steve Griffin who played for the Tigers from 1982-1986. As a junior, he tallied 80 tackles, three interceptions, two forced fumbles and 11 pass breakups. Griffin also played some at quarterback during his junior season.
Sterling Johnson (6-4, 265) – The Cleveland (NC) Clayton defensive tackle has offers from Clemson, Florida, Florida St., Ohio St. South Carolina, and Virginia Tech. Johnson named Clemson as one of his early favorites, along with Georgia and Florida St.
Marcus Lewis

Marcus Lewis
Defensive Back
6-2, 180
Washington, DC
View Full Profile (6-1, 180) – The former Virginia Tech commit and Washington (DC) Gonzaga four-star cornerback will make his second trip to Clemson this weekend. Clemson is widely considered to be one of Lewis' favorites.
Paul McKiever (6-5, 270) – McKeiver is a relatively unknown defensive lineman from Batesburg (SC) Batesburg-Leesville; however, he registered 105 tackles, four sacks, four forced fumbles, one interception, five pass breakups and two safeties.
Darian Roseboro

Darian Roseboro
Defensive End
6-4, 265
Lincolnton, NC
ESPN:


View Full Profile (6-3, 254) – The strong-side defensive end from Lincolnton (NC) has a multitude of offers from Clemson as well as schools from the ACC, SEC, and B1G. Roseboro tallied 125 tackles, 21 tackles for loss, 21 tackles for loss, 11 sacks and seven pass breakups.
Jahvoni Simmons

Jahvoni Simmons
Linebacker
6-1, 225
Virginia Beach, VA
ESPN:


View Full Profile (6-2, 225) – The four-star linebacker out of Virginia Beach (VA) Ocean Lakes recently added Clemson to a list of offers that include Illinois, Miami (FL), North Carolina, Ohio St., Tennessee, Virginia Tech and Wisconsin. During his senior season, Simmons tallied 106 total tackles, 20 tackles for loss, six pass breakups, four interceptions and one forced fumbles.
Chad Smith

Chad Smith
Linebacker
6-4, 210
Sterling, VA
ESPN:


View Full Profile (6-4, 199) – The Sterling (VA) Dominion linebacker picked up a Clemson offer earlier this month to add to a list that includes Duke, Illinois, Pittsburgh, Virginia and Virginia Tech. Smith attended Dabo Swinney

Dabo Swinney
Head Coach
View Full Profile 's high school camp last summer. The three-star prospect spent time at both running back and linebacker last season and on defense he totaled 72 tackles, five interceptions, three sacks, six pass breakups, and three blocked field goals.
Clemson commits offensive lineman Noah Green

Noah Green
Offensive Tackle
6-5, 275
Boiling Springs, SC
View Full Profile from Boiling Springs (SC), defensive back Van Smith

Van Smith
Running Back
6-0, 170
Charlotte, NC
View Full Profile from Charlotte (NC) West Mecklenburg and safety/linebacker Tanner Muse

Tanner Muse
Linebacker
6-4, 205
Belmont, NC
ESPN:


View Full Profile from Belmont (NC) South Point.
Clemson will also host 2016 prospect and defensive tackle Nyles Pinckney

Nyles Pinckney
Defensive Tackle
6-2, 260
Seabrook, SC
View Full Profile from Seabrook (SC) Whale Branch
Click here for Part One - Offensive visitors

Tags:
Chad Smith
,
Darian Roseboro
,
Jahvoni Simmons
,
LaSamuel Davis
,
Marcus Lewis
,
Mark Fields
,
Noah Green
,
Nyles Pinckney
,
Stephen Griffin
,
Tanner Muse
,
Van Smith