| | |
| --- | --- |
| "Clemson Google" leading the way in recruiting | |
---
| | |
| --- | --- |
| Friday, February 6, 2015 7:01 AM | |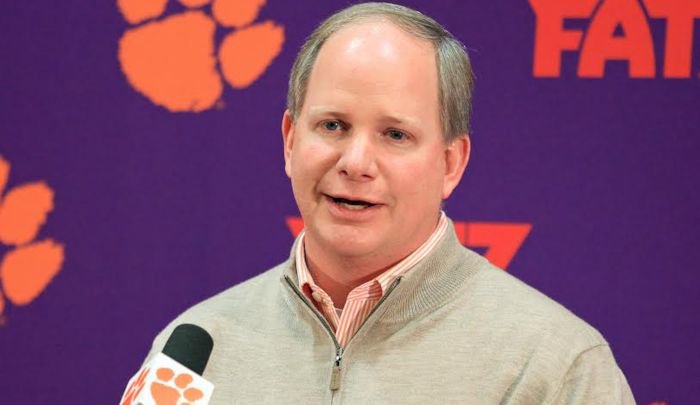 CLEMSON - Over the last several years sportswriters and broadcasters around the country have nicknamed Clemson football SID Tim Bourret "Clemson Google" because of Bourret's uncanny ability to recall long-forgotten stats and statistical oddities without having to consult a media guide or the internet.
Following Wednesday's National Signing Day Press Conference, Bourret may have lost his nickname to the operation run by Thad Turnipseed, the control center of Clemson recruiting and one of the main reasons behind Clemson's 4th-ranked 2015 recruiting class.
Clemson head coach Dabo Swinney

Dabo Swinney
Head Coach
View Full Profile said that Clemson's success on the recruiting trail started with the addition of C.J. Spiller

C.J. Spiller
Pro Running Back
#28 5-11, 195
Lake Butler, FL
View Full Profile nine years ago and has blossomed under Turnipseed's "Clemson Google" approach.
"There was a mentality when I came that here we couldn't get the C.J. Spillers, and I just never bought into that," Swinney said. "I was like, why not? Why can't we sign C.J. Spiller? I text him every week, he wants to come visit, and if we get him here we have a shot because Clemson is special. My mentality back then is if we can land a player like C.J. Spiller and he has success then hey, we'll have a shot with another one and another one and another one."
The addition of Spiller – and the publicity that followed – opened the floodgates for the Tigers on the recruiting trail and allowed the coaching staff to reach down into Florida for another game-changer in receiver Sammy Watkins

Sammy Watkins
Wide Receiver (2011 - 2013)
#2 6-1, 205
Fort Myers, FL
View Full Profile . Watkins' success translated into more success in the state of Florida and name-recognition nationally, but something else was needed if the Tigers were to get where Swinney wanted them to go – elite status.
Enter Turnipseed and "Clemson Google."
Turnipseed was hired away from Alabama and given the official title of Director of Recruiting. He quickly set about renovating the players' lounge and locker rooms and then built a staff of 40 assistants to help run everything from monitoring prospects' Twitter accounts to maximizing coaches' recruiting visits and plane rides.
In other words, he completely revamped the way Clemson recruits and that's something that former recruiting coordinator Jeff Scott

Jeff Scott
Asst. Coach (WR) / Recruiting Coord.
View Full Profile told the media Wednesday that was a welcome change.
"Everything that used to be done in my office with maybe one student assistant has been replaced by Thad and his assistants that work back there all the time (on recruiting)," Scott said. "A lot of times I was doing wide receiver stuff and at lunch I'd go in for 90 minutes and do recruiting, then go to practice. At some point you're turning one off to turn the other one on and recruiting had gotten so big we needed someone to come in and do nothing but recruiting full time, and it's allowed us to really take that next step."
Swinney said it allowed the Tigers to take that next step.
"My vision was to build a village, to create a support system here," Swinney said. "For the first four (recruiting) years we were very good. It's not like we were bad, but how do we get to another level? That's why I wanted to create a whole department."
Turnipseed's department doesn't evaluate talent. Instead, they direct message recruits on social media and work with Clemson's marketing, graphic and video departments to help reach recruits in various ways. Turnipseed is also able to look over a prospect's social media history and determine whether they would be a good fit with the Clemson program.
It's the new age of recruiting, but Turnipseed gave credit to Scott for setting the foundation.
"Let me tell you how it really is," Turnipseed said. "If our recruiting department is a 500-piece jigsaw puzzle, well when I came in Jeff had 480 pieces put together and those last 20 are pretty easy to put into place. We wouldn't be nearly as successful as we are today - that department or my department and I wouldn't be nearly the guy I am today - without his guidance and teaching me the Clemson culture."
The name will continue to be "Clemson Google." At least for now. And it will continue to help Clemson's recruiters at the top of their game.
"I guess we will call it Clemson Google. I didn't know that is what it was branded," Turnipseed said with a smile. "I guess we are going to brand it Clemson Google. and I hope Google doesn't sue us or anything. But we are really there to support the coaches. It's logistics support. Instead of seeing three or four players today, can we use the airplane because by the way we have some 2017 kids and some 2016 kids that will be hot two years from now? Why don't you swing by four miles to this school and just go ahead and touch base. So instead of seeing four kids a day. We might see six kids a day and that will pay dividends two years down the road."