| | |
| --- | --- |
| Clemson Football: I shall play for you the song of my people | |
---
| | |
| --- | --- |
| Tuesday, June 23, 2015 1:56 PM | |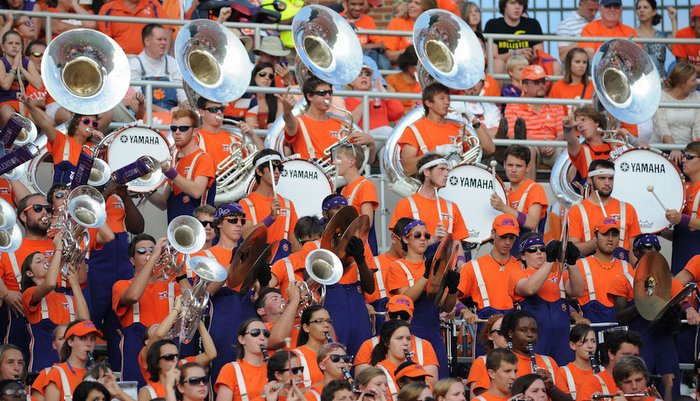 I shall play for you the song of my people.
That phrase has increased in popularity in recent years and has become the source of several internet memes, but the phrase took on a new meaning for me last week while surfing the sports channels late one night.
Nikki and I were watching the Atlanta Braves bullpen implode yet again, and I stopped calling and texting recruits long enough to see what was going on in the world of college football. That led me to a replay of the College Football Playoff game between Florida St. and Oregon, and that's when I heard it – the sounds of college football. The music of my people.
I've been so busy with head coach Dabo Swinney

Dabo Swinney
Head Coach
View Full Profile 's football camps and the end of baseball season and the baseball coaching search that I haven't really allowed the thoughts of the upcoming season to derail me from my tasks – I know the ACC Football Kickoff is in about a month for me and that's when it gets serious for those of us who cover the team. Until then, it's best to stay busy.
But then I heard the music, and even if it was the fight song of Oregon followed a few minutes later by Florida St.'s famed warchant, it reminded me of some of the things I love most about college football and why the NFL – at least to me – isn't nearly as interesting.
College football is all about the bands and the cheerleaders and the fight songs – it's Tiger Rag being played as the balloons are released prior to the Tigers running down The Hill; it's dotting the I at Ohio St.; it's Rocky Top at Tennessee; it's Hail to the Victors at Michigan; it's the Victory March at Notre Dame; it's the War Hymn at Texas A&M; it's Boomer Sooner at Oklahoma; it's Anchors Aweigh for Navy and it's On Wisconsin for the Badgers.
I love them all, simply because they are a part of the fabric and the pageantry of the game I love.
Nikki and I have a tradition and it usually happens about midway through Clemson's camp in August. We drive into Clemson and head to the practice field for interviews by coming in on Perimeter Road by the Botanical Gardens. There is always one day where we see the Tiger Band out on the practice field to our right, and I have to slow down so Nikki can roll down her window, and for a while we just sit and listen.
The familiar strains of Tiger Rag and the Eye of the Tiger and Orange Bowl March and countless other songs that Clemson fans hear on Saturday begin to waft through the open window, and even though it may be hot and humid it's almost as if the music itself turns a late summer day into a fall day. You can almost catch a whiff of something grilling at a tailgate and if you close your eyes at just the right time in the song, you can hear the roar of the crowd as Artavis Scott

Artavis Scott
So. Wide Receiver
#3 5-10, 190
Oldsmar, FL
View Full Profile scores again on South Carolina.
Nikki always turns to me with a big smile on her face, and I know that college football has finally arrived. Later in the season, prior to some tough road environment, we arrive outside of the practice fields to hear the familiar strains of Florida St.'s or South Carolina's or Georgia Tech's fight song, and even that little bit of music can get you ready for Saturday.
For now, however, we have to be content by watching reruns of last season or watching YouTube videos. For now, all we have is the music of my people, and it tells me that college football will be here sooner than you think.