| | |
| --- | --- |
| Clemson Belongs: Swinney says Tigers are among the nation's elite | |
---
| | |
| --- | --- |
| Friday, December 11, 2015 8:01 AM | |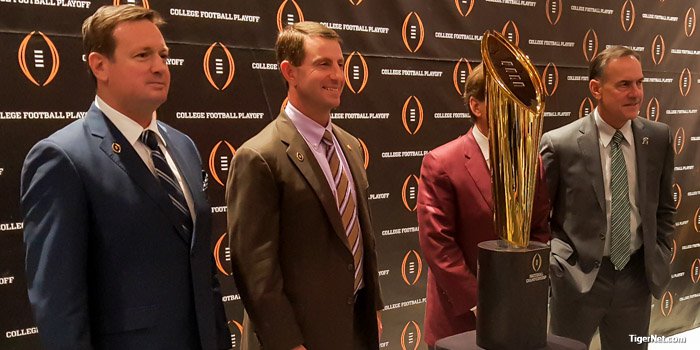 ATLANTA, GA – Clemson belongs with the nation's elite, and Dabo Swinney isn't afraid to say it.
The Tigers' head coach was in Atlanta at the Home Depot College Football Awards show at the College Football Hall of Fame for three reasons – to receive the Coach of the Year Award, to support Davey O'Brien winner Deshaun Watson and to participate in a press conference with the three other coaches that are in the College Football Playoff.
Sitting at a table with Alabama head coach Nick Saban, Oklahoma head coach Bob Stoops and Michigan St. head coach Mark Dantonio, Swinney was asked if the Tigers are worthy of being mentioned with such traditional programs.
"I think seven years ago when I got this job the biggest goal for me was just to become a consistent program. Not really be a great team, but have a great program. A program that's consistent," Swinney told the media. "It's been a long time since Clemson was relevant in that top 10, top 15 area. Even though we won a National Championship in 1981.
"So that really was our goal, and our objective was to build a program, to not take any shortcuts, and you do that in a lot of ways. Graduation, recruiting, disciplining your program, structure, your staff, all of those things. We've been able to become very, very consistent. In '11 when we won the league for the first time and won ten games for the first time in 20-something years and that was great. That was a good place to start."
He then said the Tigers belong with the nation's elite.
"But there is no question Clemson belongs. I mean, we've been as consistent as anybody out there in the country," he said. "Then you've got to be able to step out of your conference and win big-time games and we've been able to do that. So lot of hard work by a lot of great coaches and a lot of great young men over the last seven years. It's not just this year's team. It's been a culmination of all of those guys that have helped us build a good foundation that I think can allow us to sustain that type of consistency.
"Yeah, that's what I said this morning on the radio show. We're kind of that redneck that moved into the nice neighborhood and everybody's going where'd you come from? But these guys belong right where they are and they've earned it."
He called this year's team a fun group to coach and said the Tigers won't be overwhelmed by the playoff atmosphere.
"It's been a fun group, but they've responded to every challenge. If we get beat, it's not going to be because they're overwhelmed by some stage," he said. "It's because we got beat by a really good football team that was better than us on that day. So really not worried about that at all."
The Tigers played ten straight weeks – and won ten straight weeks – following an open week after the third game of the season, and Swinney said the Tigers needed the break after last Saturday's ACC Championship. But now it's a new season.
"We played ten straight, counting the championship games," Swinney said. "I think it's great for these guys to get a little bit of a break. But it's a new season, new beginning and just like Mark just said, we've got a formula that we believe in as far as how we get the team ready for a bowl, and that's what we'll do. Because it's really not about planning for another game. You've got to win this game.
"So we'll put everything we've got into how we prepare. This is a time to get back to your fundamentals and your technique with your guys. It's a time to really work on Clemson. Obviously, you're preparing for the opponent, but you also want to develop your team. A lot of these young guys develop these guys and give them a little bit of a head start for spring practice. So we have a combination of all those things as we get into bowl practice. But the message is, hey, it's a new season, and it's a one-game season and it's our bowl season. The veteran guys on our team that understand what we do and how we prepare, that's what we'll start off doing this Sunday."