| | |
| --- | --- |
| Clemson Athletics taking unusual steps to dry out grass lots | |
---
| | |
| --- | --- |
| Wednesday, October 14, 2015, 3:37 PM | |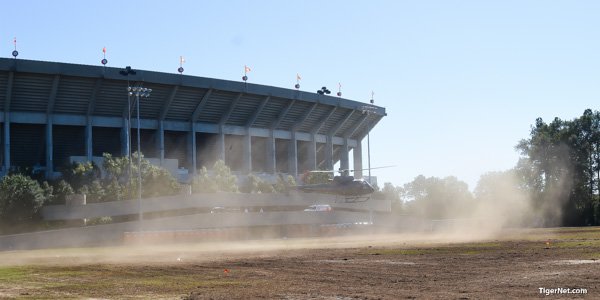 SUNSET, SC – The torrential downpours of the last two weeks have caused flooding all across the state of South Carolina, including severely damaging several of the grass lots used on game days in Clemson.
However, Clemson University and IPTAY are working around the clock to ensure that the lots will be operable by Saturday's Homecoming contest against Boston College.
Graham Neff, Clemson's' Associate Athletic Director for Business Operations and CFO, talked with TigerNet today at Brad Brownell

Brad Brownell
Head Coach
View Full Profile 's media golf outing at The Reserve and said the weather has been as bad as he's ever seen, even comparing it to the 2009 season when it rained during every Clemson home game.
"I've been told that back in 2009 it was bad, but I've also been told that it's never been this bad just from the amount of rain and the utilization of the night games," Neff told TigerNet. "It's been tough. We know that parking is very important and a big driver for our IPTAY folks and part of the ethos of Clemson and the game day experience. We are making sure that we're investing resources as dollars and as people to get these things as ready as we can.
"We did last Saturday, but it was kind of a second iteration, so this upcoming Saturday they're even worse. We're trying to get them as best as possible for this Saturday. Right now, our hope is that they're fully operational. We have contingency plans that we'll communicate prior to Friday if there needs to be adjustments for lot openings and reserved areas, but we're hoping we can get it back to normal as much as we can for parking people."
The athletic department is taking unusual steps to dry out the grass lots to help ensure they can be used on Saturday – including bringing in a helicopter to speed up the drying process.
"Between last week and this week, we've called in a ground specialist - the crew that did Doug Kingsmore and Historic Riggs Field. We've called Precision Turf in, and they've been here all last week and all this week helping our grounds staff," Neff said. "We've also called in another group - Hutchinson - that does a lot of earth work and they've brought graders, a dirt dryer - a big piece of equipment down in Lot 13. We've called in assistance. One other cool thing we're looking at is bringing in a helicopter to blow air and dry. We're doing everything we can from a dollar standpoint and a people standpoint to get them as ready as we can by BC."
As of Wednesday afternoon, Neff believes that the parking lots will be fully operational, but he encourages fans to watch their emails for potential contingency plans or delays in the opening of the parking lots.
"Honestly, by Boston College. Longer term, hopefully by Florida State we'll have some rye grass planted there and over-seeded," he said. "By Boston College, we're hoping to have as many people who park in normal spots parking in their normal spots. We're not there yet to be able to say for sure, but we're hoping by Friday morning to say we are. We might delay the opening of a few lots, instead of 10 a.m. on Saturday, maybe noon given that it's a night game. That might help even Saturday morning to give us some more time to dry. We'll have all of those plans communicated by Friday at some point, but that's an option as well."
The damage to the grass lots has also forced Campus Recreation to look for alternatives to play intramural sports, something that Neff said the athletic department is assisting in.
"We've talked to Campus Rec, and we think so for this semester (not playing intramurals) on those fields. Luckily, they just built those new turf fields up by Y Beach," he said. "They have some lighting assistance that we're looking to help them with because those fields don't have lights yet. They're planning to, but they just don't yet. Can we help Campus Rec with lights and things like that? We've looked at them using some of our fields that they don't normally do, but can they come and use those for the rest of the semester? Inside the track, the outdoor track, Jervey Meadows is in decent shape with grass - we're working with them as closely as we can to help them find an area for intramurals that have been displaced because of the lots."
Even though the rain has severely damaged the parking lots, the good news is that the Death Valley playing surface has been in excellent shape over the course of the last two weeks, and will be even better when Clemson returns home on November 7th for Florida State.
"We've been talking about parking, but the cool thing is that The Valley has been pretty good shape," Neff said. "It's been really impressive. We're looking to replace the field in Death Valley prior to the spring. This will be the fifth year, and it's kind of on a four to five year cycle is what's usually good for that turf, so we're looking to redo the whole surface this upcoming spring of 2016. From the last redo four years ago, it's held up great. That's been the primary focus from a playability and player safety standpoint, but it's been in really good shape. Hopefully, it will be by BC. I talked with our grounds guy yesterday, and Mike said that after BC, it might need a little TLC between the hashes."