| | |
| --- | --- |
| Clemson Arrives for Orange Bowl | |
---
| | |
| --- | --- |
| Saturday, December 26, 2015 7:14 PM | |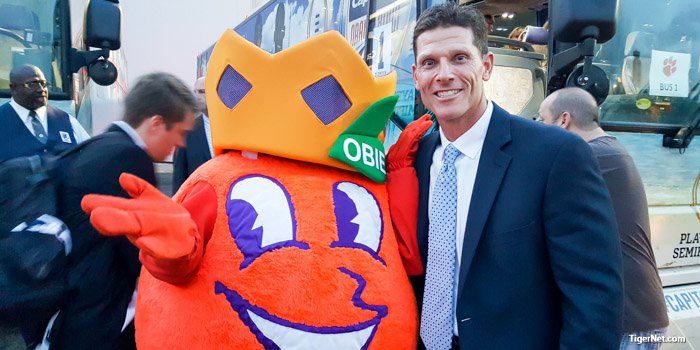 FT LAUDERDALE, FL – Clemson has arrived in Florida for the Orange Bowl.
The Clemson football team arrived at Fort Lauderdale International Airport an hour later than expected Saturday afternoon, but exited the team's Delta charter and boarded buses for the team hotel with a little extra spring in their step.
The team practiced Saturday morning in Clemson, then spent an hour on the runway in Greenville with a mechanical issue on the plane. Once the charter landed in Fort Lauderdale, it was met with the airport's fire trucks shooting their water cannons over the plane.
"This is a very special event. They do that when pilots are retiring, or when big people are coming to town. So they think pretty highly of us and we are excited about that,' senior Eric Mac Lain said. "The practices have been really smooth. First we had to knock off some rust, and I think some guys expected that. But today was really good. You expect it to be a little sluggish coming off of break and being with their families, but this was great. Guys were flying around."
Head coach Dabo Swinney was pleased with the team's morning practice.
"It was great. Really, really good meetings," Swinney said at the airport. "We met this morning at nine and everybody was early. They were dialed in and ready to get to work. We probably had one of the best practices that we've had all year, to be honest with you. We actually practiced in the stadium. It was a good Monday type practice for us.
"This is a like an opener all over again. This is like coming out of camp and when camp is over and you've got 10 days to kind of get them fresh and ready for the opener. That's kind of how it feels. Everybody is excited and ready to play and we're in great shape physically."
That includes wide receiver Artavis Scott.
"He's great," Swinney said of Scott. "He and Ray-Ray (McCloud), everybody is in good shape. It's a smaller brace, but Ray-Ray looks good. Artavis will be 100-percent. Everybody made the trip. I think we had one of our walk-on guys that didn't get his six hours or something, but everybody is here that's going to play."
He then said this was a team that deserved the fanfare.
"It feels great. I'm happy for our guys and for them to be able to get this experience," Swinney said. "They put all of this work in and this is what it's all about - to see them get this reward. We set our goal at the beginning of the year to be at the Orange Bowl, to win our league, and so we've got one goal left on our board and that's to win the bowl game. That's it. Hopefully, we can accomplish that and then that sets up for a chance to play in 2016, so we'll worry about that if we're fortunate enough. To finish off 2015, we want to win this bowl game."
Junior defensive end Kevin Dodd said he was happy to get a chance to play for the national championship, even if it meant sitting in Greenville while the issue with the plane was handled.
"This will be my second time at the Orange Bowl, but my first time doing the playoff thing, so it's kind of exciting. I'm excited right now," Dodd said. "I'm just glad to be in Miami. It's good weather. Ready to get this thing rolling. We weren't sure what was going on (with the plane). It was something about the chock or something in the front. We just sat there and caught back up about what happened over Christmas."
Dodd said the players will have to adjust to the heightened media scrutiny and stick with the coaches' game plan.
"It is a little different. I get off the plane and I've got all of these cameras," he said. "I guess just stick to the game plan. Basically, just get the job done and get home. Today we got our practice out of the way so we can come out here and enjoy a little bit of what Miami has to offer, and tomorrow we hit the ground running with our second practice."