| | |
| --- | --- |
| Clemson AD says Clemson not on board for 9th ACC game | |
---
| | |
| --- | --- |
| Monday, February 10, 2014 8:11 PM | |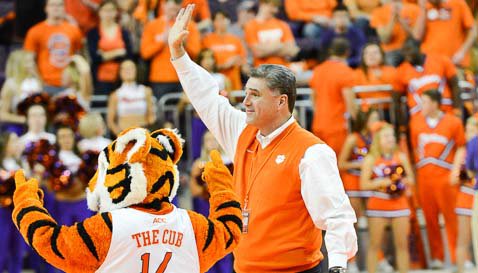 CLEMSON – Don't expect any resolution to the ACC's proposed schedule changes until at least May, according Clemson Athletic Director Dan Radakovich.
The ACC is once again considering a nine-game conference schedule, but it was learned last week that ACC officials have also broached the idea of a model in which conference teams would play eight league games and one SEC opponent every season.
The latter scenario wouldn't affect Clemson because of the rivalry with South Carolina. Three other ACC schools - Florida State, Georgia Tech and incoming member Louisville - already have built-in SEC rival games during the final week of the regular season.
Radakovich told TigerNet Monday morning that Clemson continues to support an eight-game conference schedule.
"Clemson's position is as it has been for a number of years, that our preference is for eight conference games," Radakovich said. "That is because we have South Carolina as a continuous ninth opponent and the ACC has recently added Notre Dame to our scheduling mix approximately once every three years."
The Clemson administration is also trying to protect that valued seventh home game each season.
"We have a couple of priorities here. Number one is to try and keep seven home games, as has been the tradition since I think about 2002," he said. "We've been able to keep seven home games, and that's not only good for the local economy but for Clemson as a university and certainly for our athletic programs."
The ACC and SEC will be the last conferences among the power five that do not play nine-game league schedules. The Big Ten will go to nine conference games in 2016.
Last week, ACC commissioner John Swofford told ESPN.com that there "is considerable support" for a nine-game schedule, but ACC coaches had a teleconference Thursday and one described their sentiments as "very undecided" and "wide open."
The league's athletic directors will have the final vote.
Radakovich said that the conference's proposals still need a lot of work, but that the idea of adding a "conference challenge" with the SEC merits consideration.
"There are opportunities for schools that don't have some type of permanent Southeastern Conference opponent," Radakovich said. "Maybe not to an extent like Clemson – where Clemson always plays South Carolina – I don't think the scheduling arrangements will create those types of long-standing series. But if you take three or four teams from the ACC and then get three or four teams from the SEC, maybe then you can create a number of games that will be done on an annual basis. I know that is certainly an option that both leagues are certainly looking at."
He then said that fans shouldn't expect a resolution in the near future.
"I don't really have an idea of a timeframe," Radakovich said. "I know as a league, we are going to continue to look at this at our upcoming meetings in April or our spring meetings in May. I know nothing will be implement for the 2014 season, so it really is up to the league to tell us when the drop dead dates are for the 2015 season."
The ACC will hold its annual spring meetings in May in Amelia Island, Fla.