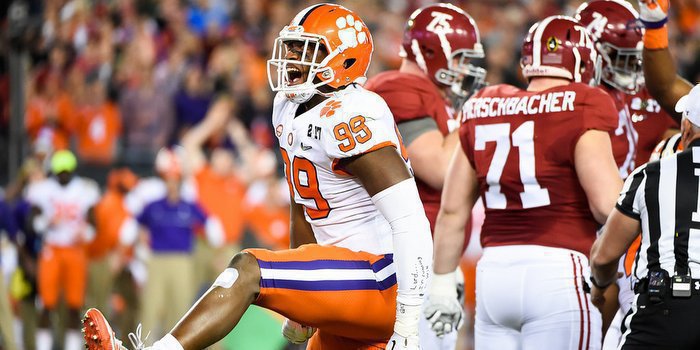 | | |
| --- | --- |
| Clelin Ferrell ready for Alabama, fried gator and jambalaya | |
---
The Clemson football team arrives in New Orleans later today, and like any young man traveling to a new spot for the first time, defensive end Clelin Ferrell is interested in the food that the Big Easy has to offer.
Top-ranked Clemson is set to battle No. 4 Alabama on New Year's Day at the Mercedes-Benz Superdome. The Tigers arrive Wednesday afternoon and will practice at Tulane University, but when they aren't practicing Ferrell wants to experience what New Orleans has to offer even though he hasn't really done a lot of research.
"I haven't, and that's kind of sad because when you go into a place like that, you get to experience a little bit of the fun side of New Orleans - the tourist part," Ferrell said. "I feel like I need to be ready. I'm going in with a blind eye. I'm going to be personal on the food, and I can't wait to try the jambalaya and gumbo. I've never had gumbo before, the beignets and fried gator. I can't wait for the food."
Ferrell said the Tigers spent the first part of bowl practice focusing more on Clemson than Alabama.
"We are not too deep yet because we still have some time. Coach (Swinney) doesn't want to get too deep in," Ferrell said. "Sometimes having too much time can be bad for coaches because they can put in too much stuff, and then you go out there and see a completely different team. We really are just focusing on Clemson and on the fundamentals of our program. Obviously, we've been working on Alabama, so we have a good foundation for the game. As we get closer and closer, we'll hone in on the things that we feel will give us a chance to win. It's been really, really good."
He then said he knows that defensive line will have to keep an eye on Alabama quarterback Jalen Hurts.
"You watch the film last year and how strong of a runner he is. He's so strong and poised," Ferrell said. "He's not a 'get hype' type guy. He's always on to the next play or the next thing. He keeps everything cool for the offense. His big-play ability is something that really hurt us last year that kept them in the game. He's a lot better passer this year. He has another year of maturity and another year of just knowing the offense.
"It will be difficult to try and defend him. Even when plays break down, he's able to move out of the pocket. He's able to scramble and throw it down the field to a guy like (Calvin) Ridley or like number four (Jerry Jeudy). It's going to be a tough challenge, regardless. Every play for the full length of the play we're going to have to cover and try and go with them."
Ferrell knows his job will be to affect Hurts in the passing game.
"Regardless of who we play, we are going to try and get in the quarterback's face and put pressure on him. But, when you're going against a guy who moves out of pocket like a Jalen Hurts or Lamar Jackson type, you got to have more discipline and do it in a smarter way," he said. "They can make so many plays with their feet and it's just takes one wrong rush lane to let a guy like that break a run for fifty yards or scramble for a sixty yard touchdown. We are still going to do what we do - but we are going to do it smarter this year.
The Tigers are in the College Football Playoff for the third consecutive year, an honor that Ferrell says the Tigers deserve.
"It's really crazy, especially for this team. This is really, really special for us," he said. "Last year's team they were "supposed" to be there as preseason number one and had a lot of hype around them, but this year's team we've had to battle through the doubters and the things we had going against us. I feel like we have really showed that we deserve to be there and we are battle tested. We had a tough schedule - we beat more Top 25 teams than any other team in the country. To look up and see where we are right now it's crazy. It's a time to appreciate the work and the time with the guys that you have around you because this is a special group."

Upgrade Your Account
Unlock premium boards and exclusive features (e.g. ad-free) by upgrading your account today.
Upgrade Now