| | |
| --- | --- |
| Clawson on Clemson D: "it's going to be a challenge making first downs" | |
---
| | |
| --- | --- |
| Sunday, November 2, 2014 8:01 AM | |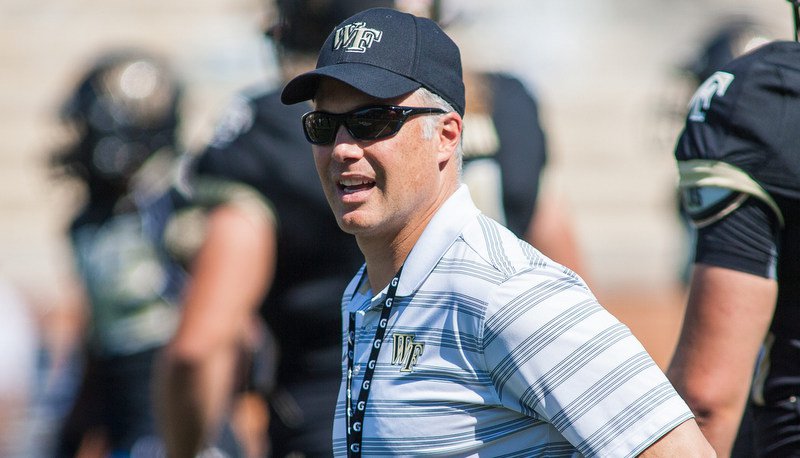 CLEMSON – On paper, the matchup between Clemson's third-ranked defense and Wake Forest's dead last offense is a mismatch, and Demon Deacon head coach Dave Clawson told the media Wednesday that he thinks gaining a first down will be a struggle for his team.
Clemson plays at Wake Forest next Thursday night in a primetime matchup on ESPN. Clemson (6-2, 5-1 ACC) has a defense that leads the nation in sacks, is third in tackles for loss and first in third down efficiency and Clawson owned up to the challenge.
"Yeah, it's going to be a great challenge. We certainly felt Louisville was an excellent defense, Florida State was an excellent defense," Clawson said. "You look at Clemson's numbers, especially looking at the teams they've played and had to defend, it's even that much more impressive. This is going to be a very challenging matchup, especially for our guys up front. We're glad we have a little extra time to prepare, get our guys maybe a little bit of rest this week. But it's going to be a challenge making first downs against these guys."
Wake Forest has already played both Florida St. and Louisville and was asked if those games will help his team prepare for the Tigers.
"Yeah, we've played some good football teams. We've struggled against those teams," he said. "This is an excellent front. I mean, they're number three in the country in total defense. They're number one in the country in third-down defense. They're sixth in the country in red zone defense. There's not an aspect of their defense that they don't execute well.
"Then you look at their two-deep. They've got eight senior starters on defense, and they've got 11 seniors in their two-deep. It's a veteran defense, an experienced defense, a very stout and strong defense, a dynamic defense. Any adjective you want to pull out there to describe the defense would be appropriate for this group. They're well-coached, been in the same system for multiple years. It's an impressive group personnel-wise and scheme-wise."
Clawson was asked which defensive group he thought was better – Louisville, FSU or Clemson – and he laughed and gave the politically correct answer.
"They're all really, really good (laughter). I'm not giving you any bulletin board material," he said. "We didn't block Louisville very well, struggled to move the ball against them. We struggled to move it against Florida State. This defense is certainly comparable with those two. Again, they're older. That's one of the things I look at every week. Every time we play a team, how many seniors and how many juniors are in the two-deep. Clemson has 20 seniors in their two-deep. A lot of those guys are on the defensive side of the ball, 11 of them are in defense."
He then said that his team is overmatched from an experience standpoint.
"Right now we have seven seniors in our two-deep, and we only have another seven juniors," Clawson said. "The challenge right now is we're going against guys that are older than us, more experienced than us, and a lot stronger. We're going against guys that have spent three or four years in a college weight program, in college football practices, and some of our guys have never even been through a summer or a spring practice. But to our guys' credit, they go out there and compete and go hard. That's all you can ask them to do right now. We are overmatched from a size, strength, and experience standpoint certainly in the last three or four games that we've played. The only thing that cures that ill is time. In the short-term we've got to get our guys to compete as hard as they can."