| | |
| --- | --- |
| Christmas Break: Tigers hold last practice before heading home | |
---
| | |
| --- | --- |
| Monday, December 21, 2015 1:34 PM | |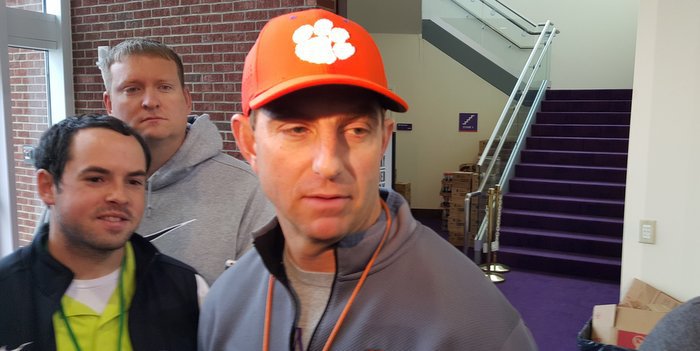 CLEMSON – The Clemson football team wrapped up its last practice before Christmas break with a crisp two-hour session Monday morning, and head coach Dabo Swinney said the team could play tomorrow if they had to.
The Tigers will meet back at Clemson late Friday, practice briefly on Saturday and then load up for the flight to Miami as the team prepares to meet Oklahoma in the Orange Bowl on New Year's Eve.
Head coach Dabo Swinney said he likes the way his team has practiced as they prepare for the Sooners.
"I think we've got a great plan. I like where are. I think if we had to play today we could, but the good news is that we don't play today and so we've still got a normal gameplan week," Swinney said after practice. "The difference is that the plan is in, so when we get back we'll spend the week polishing and paying attention to the details. This is a game of clean execution – a few plays. You're talking about three or four of the best teams in the country, so not a lot of margin for error. We're just getting our plan down and every detail is what our focus will be when we get back. I like where we are. The guys are dialed in and I'm excited for them to have a little bit of break and spend some time with their families. We'll come back and have practice here on the 26th and then travel down and get after it."
The team is in good shape physically – no new injuries – and Swinney said the focus in practice has been on limiting the big plays that have hurt the defense in recent weeks.
"We've given up too many big plays on defensively the last part of the season. If we played 70 plays, 63 of them have been a clinic but it's those seven plays and four them are things that are on us and things that we can control – mental errors, guys not doing what they're supposed to do – and three of them have just been the opponent has made great plays," he said. "Just minimizing the big plays and then on offense the turnovers. It was good to see us get back on top of the turnover margin in the championship game. Those are the two things that are going to be the difference as we go down the stretch - turnovers and big plays in the semifinal and national championship game, you can count on it."
He then said that he wanted his team to enjoy the break and spend time with their families while not forgetting that they need to stay dialed in on the Sooners.
"Think about the plan. Take a little bit of time each day and mentally practice, I think that's important that you stay plugged in mentally and visualize yourself executing the plan and having some success, but the main thing is just enjoy Christmas and enjoy some time with your family and friends and appreciate the opportunities you have," he said. "Just be safe and be safe traveling. I think that's one of a coach's worst nightmares is to maybe get a call about one of your players being in an accident or something like that and we've had that. Just travel safe and make sure you give yourself enough time, and when you come back, come back with the mentality that we need. Everybody knows what it's going to take to win this game, so make sure when we show back up we've got the right mentality and we're geared up and ready to roll. I know they will be."
As the players filed out of the indoor practice facility, it was obvious the faces didn't match the numbers on the jerseys. Jayron Kearse had on 84 instead of his usual 1, Shaq Lawson was wearing 15 and quarterback Deshaun Watson had on an offensive lineman's jersey.
"I have no idea where that came from. That's one their rituals around here," Swinney said with a laugh. "Once we break from bowl, they always do that. They say the player makes the number and the number doesn't make the player. I'm not so sure about that. Deshaun was wearing 78 today and he didn't look near as good as he does in that No. 4."