| | |
| --- | --- |
| Christian Wilkins: Not your ordinary freshman | |
---
| | |
| --- | --- |
| Monday, September 7, 2015 6:15 PM | |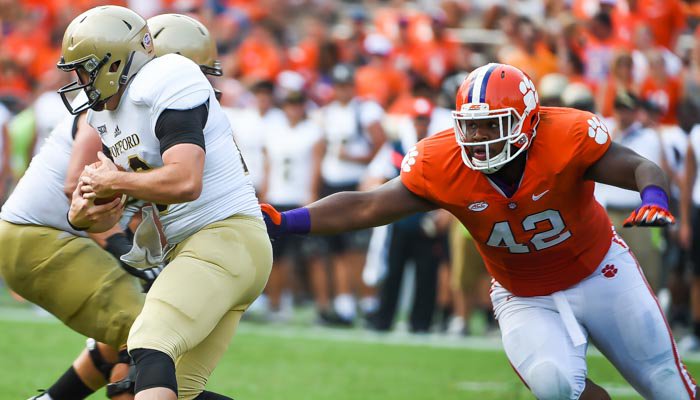 CLEMSON – The recruiting process opens doors that might not otherwise be open, and Christian Wilkins

Christian Wilkins
Fr. Defensive Tackle
#42 6-5, 299
Longmeadow, MA
View Full Profile took full advantage. After all, how many incoming freshmen get to call a university president to gain a better understanding of his vision for the school?
Wilkins is a highly-regarded freshman defensive tackle out of Springfield, Mass., by way of Connecticut's Suffield Academy. But Wilkins – like many of the freshmen in his class – is about more than just football. He's bright, well-spoken and already has a plan for the future. Sure, he would love to play in the NFL, but he isn't counting on it.
That's why he called Clemson President James Clements during the recruiting process to see what kind of education he would receive at Clemson.
"Coming through the whole recruiting process and everything, I just wanted to make sure I did a thorough job of knowing what I was getting before I came here," Wilkins told TigerNet Monday in the WestZone. "He (Clements) didn't know at the time that I was coming here, but I just wanted to make sure that everything was right for me and that I am going to get the most of out of Clemson because I'm going to give my all to Clemson."
Wilkins said his questions were straightforward, and once he got those answers he knew Clemson was the right fit.
"Things like, what is his vision for the school? How does he plan on improving the school? Stuff like that. Just really a genuine conversation," Wilkins said. "It was a combination of everything definitely. I just felt I was going to have a great opportunity here to grow as a man, socially, academically, as an athlete, and just spiritually and everything. I felt like I was just going to get it all."
Several of Clemson's freshman football players have done interviews since playing in Saturday's opener against Wofford, and all have impressed with their demeanor and ability to communicate.
So much for the dumb jock, a phrase that Wilkins doesn't think fits in today's world.
"I've even had class with a few of the guys, and I am like, 'I don't believe in that stereotype anymore of the jocks' because there are some really smart guys in our class and just hearing them even read or doing homework with any of them there are some really smart guys in our class for sure," he said.
Wilkins said he already has a major declared, and it isn't surprising to hear that he wants to be in front of the camera.
"Communications. Some type of broadcast journalism or maybe a sports analyst or something like that," he said. "I like Michael Strahan. I like him a lot. He's done a lot. He's just a character. He has a great personality and everything. Everything that he has achieved as an athlete and beyond I would like to achieve a lot of that for sure."
In other words, Wilkins isn't your ordinary freshman, not that he listens to what other people think.
"I mean I hear it a little, but there will always be things here and there that I will hear," he said. "I'm just going on with my everyday life pretty much. It's nice that some people think highly of me, but I'm not going to change anything. Just carry on as I always have."
Wilkins shocked many in the recruiting world when he chose Clemson, and he took the opportunity Monday to break down what set the Tigers apart. Part of it was early playing time after Clemson graduated tackles Grady Jarrett

Grady Jarrett
Defensive Tackle (2011 - 2014)
#50 6-0, 290
Conyers, GA
View Full Profile , DeShawn Williams

DeShawn Williams
Defensive Tackle (2011 - 2014)
#99 6-1, 295
Central, SC
View Full Profile and Joshua Watson.
"I knew that a lot of the guys were leaving from last year's team. There was going to be a hole in the defensive line for sure," he said. "So that was part of it, and I really liked Coach (Brent) Venables and all that he has accomplished as a defensive coordinator. Coach (Dan) Brooks was a big sell for me. I really like Coach Brooks. Real good guy. Yes, that along with other things for sure. There was just a lot of opportunity for me there. I felt like a lot of what I got there [at Suffield Academy] I see in Clemson."