| | |
| --- | --- |
| Choice to be on campus later this month, ready to compete for a job | |
---
| | |
| --- | --- |
| Tuesday, June 3, 2014 10:42 AM | |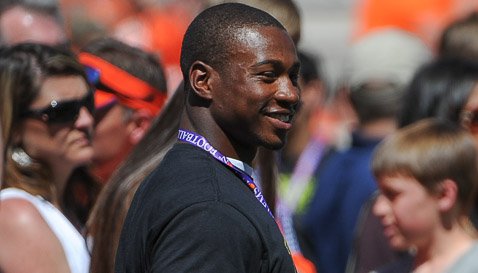 The battle at running back will be wide open heading into fall camp and Adam Choice knows that with the right mindset he can compete for playing time as a true freshman.
The 4-star running back out of Thomasville (GA) Thomas County Central will enroll in Clemson at the end of June, knowing that he has the opportunity to come in at contribute right away.
"It was exciting knowing that I have the opportunity to go in there and compete against some of those guys," Choice told TigerNet Monday night. "It's going to be fun. I'm just looking forward to being apart of our team. I feel like that if I work hard, get in the playbook and do what I'm supposed to do then I could have a very good chance. It's a matter of me working and doing what needs to be done in order to get that opportunity."
Choice paid close attention to the running backs during the Tigers' spring game, and he knows that he will face tough competition but with the right mindset and attitude nothing is impossible.
"It was an interesting spring game," Choice said. "The backs played hard. I was watching them play fake and block and all of that kind of stuff, but I can't say that one stood out. They all did great to me. All of them had good performances, so there's going to be some stiff competition, but I believe that it's not impossible."
Running backs coach Tony Elliott

Tony Elliott
Assistant Coach / Running Backs
View Full Profile is enforcing what the 5-10, 200 pounder already knows.
"He's telling me to just come in ready to compete," Choice said. "They told me that I need to be working hard this off-season because when I get there I will be in a situation where I'm in a competition. It's going to be like that everyday and that's the mindset that I need to get ready to have and get ready to work."
However, Choice isn't coming to Clemson to make a name for himself as much as he wants to be a team player.
"I'm just one who's going to try to do what needs to be done," Choice said. "It's not so much about what's in it for me. It's how can I help. I believe that what's I bring in trying to get the most out of every opportunity that's available. My parents taught me that early on. It's not about you, it's about the bigger picture and you're just a small part."
If he runs into any problems, Choice has a shoulder to lean to on in former Georgia Tech star running back Tashard Choice to go to for advice and said he doesn't put pressure on himself to live up to the family name.
"I don't believe so. If anything, it's the pressure that put on myself," Choice said. "I don't think there's any outside pressure because we all have love for each other. There is nothing that I can't go to him about. He's always there for me whether it's good or bad. I don't think there's any pressure. It's just me going out and doing what I can do to help."
He rushed for 1,595 yards and 12 touchdowns last season, and had 1,650 yards and 23 touchdowns as a junior. During his high school career – much of it as an option quarterback – he had 5,091 yards.