| | |
| --- | --- |
| Checkmate: Watson checks, shows toughness and mental edge | |
---
| | |
| --- | --- |
| Monday, October 19, 2015 1:19 PM | |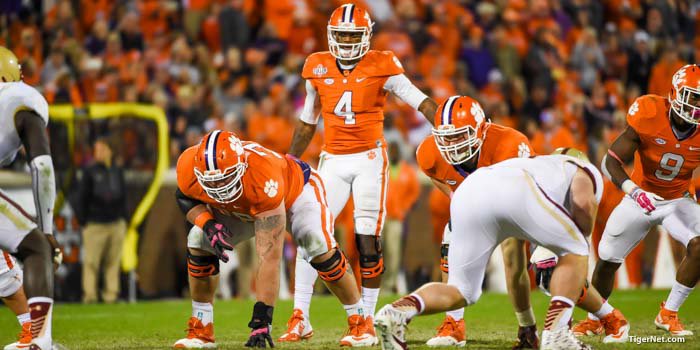 CLEMSON – Checkmate.
In the game of chess, checkmate wins the game. In the game of football, checkmate means you've won the game of chess with the opposing coaches and a hit a big play, something that sophomore quarterback Deshaun Watson

Deshaun Watson
So. Quarterback
#4 6-2, 207
Gainesville, GA
View Full Profile managed to do Saturday against Boston College. Unlike chess, however, Watson had to show a little physical toughness as well as the mental edge along the way.
Clemson defeated Boston College 34-17 last Saturday and Watson threw for 420 yards, the second-highest total of his career. The Gainesville, Ga., native took a beating along the way, but showed his toughness and the ability to read a defense during the fourth quarter of the game, something that impressed offensive coordinator Jeff Scott

Jeff Scott
Co-Offensive Coordinator / WR
View Full Profile .
The Tigers led the Eagles 27-10 midway through the fourth quarter, and Watson was sacked for a 10-yard loss on a second down play that left the Tigers with a 3rd-and-17 on their own 32-yard line. Leading by 17 and with time running out on the Eagles, the coaches wanted to go for a draw play. It was safe, and it would protect Watson, who had just taken a helmet to his chin on the sack.
Watson wanted none of it.
"The long pass to Deon late in the game, I was really pleased with," Scott told TigerNet Monday in the WestZone. "That was actually a check that Deshaun did on his own. We had an initial call and the defense they came out with, that call wasn't going to be the best call so Deshaun checks it. We had Deon in the slot and he's not normally in the slot, but for the one play that we called he knew that play, so Deshaun looks to him and gives him a check. I'm on the sidelines going, 'Okay, we're about to find out if he (Deon) is ready for the big show or not on third and long,' and he executes it and goes all the way down. Those are those growth opportunites that as a coach you look for in games to be able to see if guys can do that. I'm really pleased with his progress."
Scott was even more amazed that Watson wanted to go for an empty look considering he had just taken a big shot on the sack.
"Our number one goal is for him to not get hit, and we knew that would be a challenge in this game. Sometimes they are going to bring more than you can block and he has to get it out of his hands before they hit him," Scott said. "He has taken some shots and got back up and responded. On second down Saturday, he got hit with a helmet right underneath the mouth. It was 3rd-and-17 and he came in there and we said we would probably go with a draw. Deshaun said, 'Hey coach, let's go empty and take a shot.' Right after he had just taken a shot himself, so he was going to open himself back up to that right after it happened. I think he has shown a lot of toughness and grit and that's good to see."
The coaches decided to go with the "empty" look – no backs in the backfield and five wide receivers – but Boston College lined up in a defense that would have stopped the original play.
"To be completely honest, when we lined up there was a lot of discussion because it was third and long and maybe we were up 17 and Deshaun had just taken a shot the play before, so there was discussion - do we just run the draw? Deshaun actually came over and said he wanted to run the empty play and we would have a deep pass concept," Scott said. "We had an answer if it was too high, but Deshaun looked over to me on the sideline and gave me sign for the check, and that check we don't typically do out of an empty. It's more of a two by two check, and so I really didn't respond. Then, he did the check to me one more time and I said, 'Okay, let's do it.'
"He got Deon's attention and I just watched it happen. We haven't done it in practice before, but that just shows Deshuan's second year in the offense understanding, and that's the first time Deon has ever run a seven cut, which he ran right there because he's in the boundary. He's not typically a slot receiver, so whenever he gave Deon the signal that was a big moment for me that we're going to find out if this guy is ready or not. Not only did he run the route, he did a great job, got his depth, and executed it very well. I just wish he could've gotten in down there. He got tight there at the goal line and I know our guys will give him a hard time."
The short pass turned into a 67-yard gain for Cain that ended up at the Boston College one yard line. The Tigers scored the touchdown three plays later to put the game out of reach.
Watson said Monday that the play call – and the check – were the result of film study with quarterbacks coach Brandon Streeter

Brandon Streeter
Quarterback Coach
View Full Profile .
"It really wasn't that big of a deal to me," Watson said. "Coach Streeter and I watch a lot of film, so I really wasn't having to process a lot of information out there. I had seen everything they do on defense, so it didn't take much for me to recognize it. I just made the call."
Scott said that offensive lineman Eric Mac Lain

Eric Mac Lain
RS Sr. Offensive Tackle
#78 6-4, 315
Hope Mills, NC
View Full Profile came over to the sideline midway through the game and said the Boston College defenders were getting frustrated – every time they would make a defensive check Watson would counter-check and move the play away from the pressure.
"Sometimes you see a look, and then you check," Scott said. "And then defense will make a check and that kind of defeats the purpose of the first check. That's why it's so important for Deshaun to be able to make the calls on his own."
It wasn't the only time Watson made the right call.
"That (the Cain play) and Artavis' touchdown were a really big deal, because Artavis was not the primary target. He actually was the fourth option in a regular read for that play," Scott said. "We told our guys all week long that if you get press coverage it doesn't matter if you're the first read or the last read, you better run to win. Tay ran to win and Deshaun felt very comfortable that Tay was going to win on that matchup, so he forgot all of his regular rules and said I'm going to take the matchup, which he's allowed to do. I thought there were some really good teaching moments in there where you can see Deshaun making some good decisions and our guys being on the same page, so I'm real pleased with that."
Checkmate.