| | |
| --- | --- |
| Championship Football: Swinney proud of Tigers' gutsy effort | |
---
| | |
| --- | --- |
| Sunday, December 6, 2015 1:42 AM | |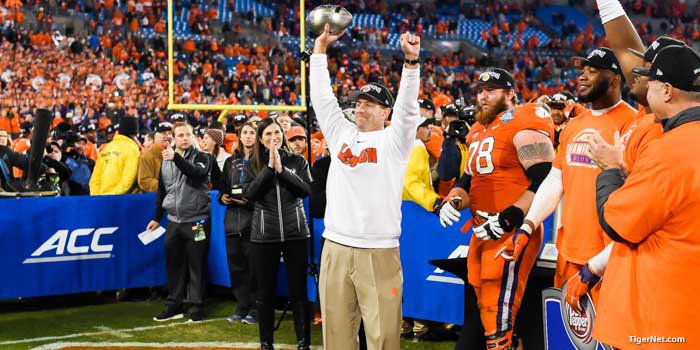 CHARLOTTE, NC – Saturday night was championship football, and now another championship waits on the horizon.
Clemson relied on a strong running game with Wayne Gallman and the superlative play of Deshaun Watson as the Tigers held on to beat North Carolina 45-37 in the ACC Championship Game Saturday night at Bank of America Stadium.
The top-ranked Tigers will find out their bowl destination – either the Orange Bowl or Cotton Bowl – Sunday afternoon. But Saturday night was all about celebrating another ACC Championship, something that head coach Dabo Swinney said was "fun" as he walked into the postgame interview room wearing a No. 100 jersey.
"Okay, that was fun. That was a blast. In case y'all are wondering what the heck is going on with this jersey, it was my 100th game and the players gave me this in the locker room, and I'm just really humbled by that. It's amazing," Swinney said after the game. "But that was championship football. Really proud of our team and happy for our fans. Just happy for Clemson Nation. Some of you may or may not know, but our other football team, our soccer team, made the Final Four last night, so we've got two Clemson football teams in the Final Four, which is pretty cool, so I'm glad we were able to uphold our end of the deal tonight.
"One of the things I told the players in the locker room is that they're in the moment right now and they really -- they're just young, and there's really no way that they can really have a true appreciation for what they've accomplished, and just how hard it is to accomplish what they've accomplished, and I've been on a 13-0 team. I know how hard it is to do it."
Clemson sits at 13-0 for the first time in school history, and Swinney said the players will appreciate when they get older.
"They will appreciate this as they grow older and wiser. But it is so hard to do what they've done. I mean, the odds of going 13-0 are so incredibly slim, especially when you play three top-10 teams along the way, but these guys found a way to get it done, and I'm just so proud of them," he said. "I think we're the only undefeated team left now, 127 Division I teams and the Tigers are the last undefeated, unscathed team out there and we've had to earn it. We've had to earn it. I think that's 16 in a row for us, which is a school record, and just proud of our guys. Our 15th ACC title."
He then added that the Tigers have earned their way into the playoff.
"One of the things we talk about all the time is, again, you've got to earn it, and this team has earned their way to the College Football Playoff," he said. "We started talking back on August 3rd, we said 15 for 15. Why not? You know, Bible says as a man thinketh, so is he. Dream big. Dream big. Why don't we be the best ever? There's never been a 15-0 college football team. Why not at Clemson? Our guys are not afraid to dream. They're not afraid to work, and they're not afraid to get off the bank and get out in the deep water every now and then. These guys are special, and I think it showed."
Swinney said the Tigers brought their guts to the effort, especially the offense.
"I love the guts and I love the heart of this team. We talk all the time about you've got to be a champion on the inside before you can be a champion on outside, and tonight the inside of these guys really shined through," he said. "You know, so now we're here, we're the champions of this league, and you look at what happened in this game, offensively 608 yards, I mean, Deshaun Watson was amazing. He rushed for 120 something, threw for 280 something. Our offensive line took the game over, 319 yards rushing. Wayne Gallman was amazing. He had 187 yards rushing and 165 of that came in the second half, and the other thing I'm really proud of with Wayne because I want him to be the best in the country and always challenge him, you've got to get better in the passing game, and tonight he had 68 yards receiving, a receiving touchdown. So really proud of him.
"Artavis Scott was huge for us, big plays, Leggett had a couple of big plays for us. Defensively, challenged Shaq, I said, hey, if you're a Lombardi finalist, play like that. He had a sack, a caused fumble, tackle for loss. Just a big game for No. 90. Cordrea Tankersley, big interception down there, huge interception. Shaq caused the fumble, Austin Bryant, a true freshman, came up with it. A lot of big plays and I think the big thing is we held No. 34 to 65 yards. He's a great back and their quarterback was 11 for 33."
Saturday's win sets up Swinney's pizza poll party – the gates will open at 11 and the players and coaches will watch Clemson's bowl destination with their fans.
"Awesome night. Happy for our fans. Happy for Tiger Nation," Swinney said. "Sounds like we're going to have a great pizza party tomorrow to celebrate the poll on December 6th, so we will celebrate this poll. I promise you. We'll have a good time with that. Appreciate Papa John's stepping up and working with us on that. But it's a special night, special night, and one that I'll never forget. Again, my 100th game, and to be in the ACC Championship Game is even more special, and our 15th ACC title."