| | |
| --- | --- |
| Chad Smith to Tim Settle: Come play for a national championship | |
---
| | |
| --- | --- |
| Sunday, June 8, 2014 9:04 PM | |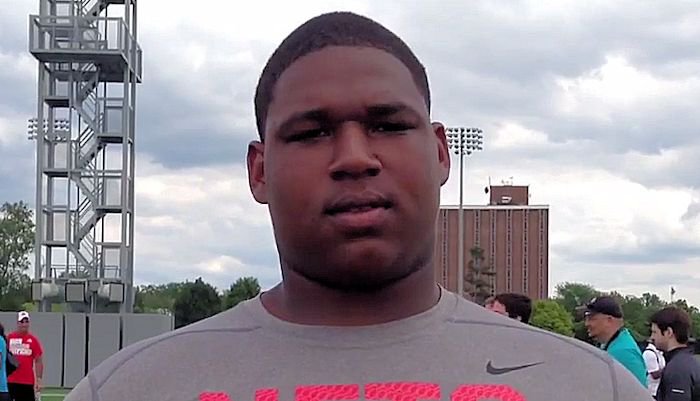 If one of the nation's top defensive tackles winds up committing to Clemson, you can thank current Clemson commit Chad Smith

Chad Smith
Outside Linebacker
6-4, 215
Sterling, VA
ESPN:


View Full Profile for doing a lot of the heavy lifting.
It's not a bad thing, because not even Clemson head coach Dabo Swinney

Dabo Swinney
Head Coach
View Full Profile can make the same kind of sales pitch as Smith, whose love of the football program and the university shine through in any conversation.
Five-star defensive tackle Tim Settle

Tim Settle
Defensive Tackle
6-3, 305
Manassas, VA
ESPN:


View Full Profile out of Manassas (VA) Stonewall Jackson is rated as the No. 10 player in ESPN's Top 300, and he is rated as the No. 2 defensive tackle prospect nationally. Sunday evening, Settle tweeted out that Clemson was his new leader. Settle will be on Clemson's campus next weekend as part of Clemson head coach Dabo Swinney's high school camp and he will make the trip with Smith, the 4-star outside linebacker out of Sterling (VA) Dominion.
Smith told TigerNet Sunday evening that he has been recruiting Settle since the two met about six months ago.
"How it came about, was when I talked to Coach (Brent) Venables when I came down for the Junior Day earlier this year, he was asking me if I could bring down Tim Settle and if I could hit him up and let him know that if he was looking for a ride and let him know if I could take him down. I asked my dad and he said that it was okay, so I told him who I was and that we could pick him up. Being able to drive down to Clemson with him, we were able to form a bond and then going to the Junior Day together.
"We've been in touch ever since. We saw each other at the NFCC at Centerville. We were able to talk some more. He was interested in coming to Clemson for another visit and I offered if he wanted to come down and participate in camp on the 14th and 15th, and he said that he would love to. I'm going to be bringing him down. I also told him that if he wanted to hit up any of his other friends that were interested in going to Clemson, so I may be bringing some other recruits with me."
Smith said he has recruiting Settle for the Tigers, and trying to convince the 6-3, 325-pounder to come to Clemson and play for a national title.
"I've been talking with Tim a lot about Clemson. He's been the main guy that I've been communicating with and that main guy that I've been trying to get him to visit Clemson and really, really consider Clemson as a school for him," Smith said. "Obviously, it's going to be his decision, but I've been reiterating the fact that 'Me, you, the Clemson defense, we will be the stronghold and foundation for that top defense.' Just think about the fact that Clemson is bringing in a huge recruiting class this year and you could be a part of that recruiting class - one of the best in Clemson history.
"Think about the possibilities with Clemson. Clemson is school that's been on the rise right now. They've lost a couple players to the NFL Draft - Tajh Boyd and Sammy Watkins - and you'd think that they'd be rebuilding at those positions, but in reality they aren't rebuilding, they're reloading. There's a huge difference between rebuilding and reloading. A lot of programs rebuild each year when they lose key players or a bunch of seniors, but Clemson doesn't rebuild, they reload. That's something that you really have to think about when you're looking at a school.
"Clemson had a lot of players that left, but they are vying for national championship this year. That's the message I've been trying to let Tim know - Clemson is going to be consistently vying for a national championship year in and year out for the next who knows how many years and with you down there I can guarantee you that the four years we're going to be down there, there is a high, high possibility that we will win a national championship - very high. Clemson is a top-five program in the nation. We may not be in the SEC, but we are the SEC of the ACC. We compete with the SEC and we can pull out games against the SEC. We're a team that the SEC teams, they really, really have to prepare for Clemson. That's the pitch I've been making to Tim and other recruits. There isn't another recruit that I'm recruiting harder than Tim right now. I'm really excited. You just told me that Tim announced that Clemson is number one and that made my day. Him coming down this coming weekend is going to be really exciting for me and for Clemson overall."
He competed at a Rivals event this past weekend, and came away thinking he can compete with the top players in the nation.
"It was pretty good. The first day we did a lot of one-on-ones and conditioning drills with the coaches. The top recruits across the nation were there," Smith said. "It was awesome to get to compete with some of them during the one-on-ones. And the seven-on-sevens were awesome, too. Being able to evaluate yourself and being able to compare yourself to all of the other top athletes. You don't get too many opportunities to do that in high school so when you do you take advantage of that. I found out that I can hang with some of these guys."
Smith was invited to Nike's The Opening in Oregon next month, and it was something he said was an honor.
"It was crazy. I was truly blessed and humbled by the invite," he said. "It's another opportunity to compete with the best and I relish those opportunities. I try and use them to help me get better. What better place to do that than The Opening - one of the biggest camps in the country. It's awesome.
Smith said he couldn't wait to get back on Clemson's campus next weekend.
"I haven't been down there since their Junior Day. I want to go down there to camp and get to see it again. It's a beautiful campus," Smith said. "I want to talk to all of the coaches. I'm not 100-percent sure if there will be any Clemson commitments at the camp, but I'm sure there will, so I'll get to talk to some of them. I plan on working out at the camp. I want to take advantage of getting some opportunities to get hands on coaching from Coach Venables and get a feel for what his coaching style is like.
"I got a brief grasp of it, but I want to get more since I was able to go to their camp last year. That was the last time I was able to get hands on coaching from Coach Venables. Now that I'm going to be a Clemson Tiger, I want to get some coaching from him - him knowing that I'm going to be a Clemson Tiger and me knowing that he's going to be my coach."