| | |
| --- | --- |
| Chad Morris breaks down the Spring Game | |
---
| | |
| --- | --- |
| Sunday, April 13, 2014 11:37 PM | |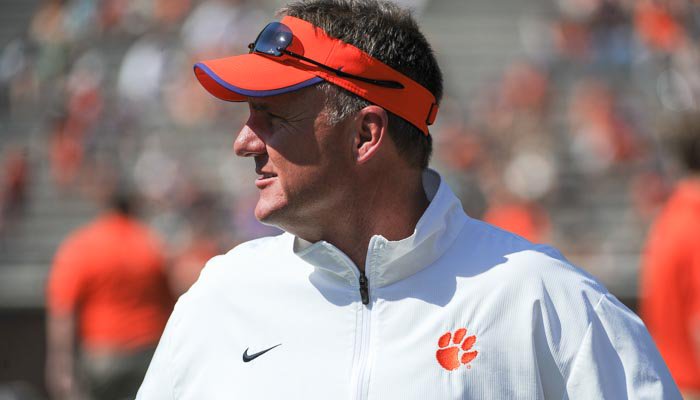 CLEMSON – The annual Orange and White game is just one of fifteen practices and Chad Morris

Chad Morris
Offensive Coordinator / QBs
View Full Profile knows that he can't base his personnel decisions off of one scrimmage.
Clemson's offensive coordinator will have the tall task of creating a depth chart with new starters at quarterback, wide receiver, running back and on the offensive line before the start of next season. Although he liked much of what he saw in Saturday's spring game, he realizes that he must evaluate each player based on all of spring practice and not what he saw during the Tigers' final scrimmage.
"Overall assessment of today is obviously you can't judge an entire spring on a spring game, especially when you're splitting teams like we are," Morris told the media following the spring game. "I thought they all did some good things. I thought they all had their downfalls. We made a few critical mistakes in the red zone, gave up some sacks in the red zone, made a couple impulse decisions throwing the ball and got a pick in the red zone. Those are just things you have to eliminate. As a coach, you have to assess the entire spring and not just the spring game. I wish things would have been a little bit cleaner for them, but I got to see how they handle adversity, too."
Going into Saturday, the quarterback race was thought to be a two-man battle. While Cole Stoudt

Cole Stoudt
Sr. Quarterback
#18 6-4, 205
Dublin, OH
View Full Profile took a step toward claiming that starting spot, Chad Kelly
Chad Kelly
RS So. Quarterback
#11 6-2, 210
Buffalo, NY
View Full Profile may have taken a step back.
"Cole has been very consistent the entire spring," Morris said of the signal caller. "He's just been that steady type of guy - never too high really, never too low. It was good to see that today. I thought we saw a few things with him today. He made some good throws. There were a couple of throws I wish he would have had a little more confidence in making, but it is a big part of it in the spring. It's a spring game, and we're a long way from being ready. But the good thing about it is we have a long way till August 30."
Morris said that Kelly's problems in the spring game aren't indicative of his work over the course of the spring.
"With any of these quarterbacks you'd hate to gauge an entire spring on the spring game," Morris said of Kelly. "You wish that wouldn't have happened, everything counts and that's kind of what we've all talked about from the get-go. But again, he's had a good spring. I'm sure he wishes he had that moment back, but it was a spring game and it was an opportunity to deal with some adversity. That's kind of part of putting this thing out. You know there's going to be some adversity, and sometimes you're going to have number twos and threes out there with number ones, and you just deal with it. How do you respond in your leadership? He got a little frustrated with it today, and we'll move forward with it."
Whether Stoudt, Kelly or freshman Deshaun Watson

Deshaun Watson
Fr. Quarterback
#4 6-3, 190
Gainesville, GA
View Full Profile is under center, they will have three new receivers to throw to in early enrollees Demarre Kitt

Demarre Kitt
Fr. Wide Receiver
#8 6-1, 195
Tyrone, GA
View Full Profile , Kyrin Priester

Kyrin Priester
Fr. Wide Receiver
#17 6-2, 190
Lilburn, GA
View Full Profile and Artavis Scott

Artavis Scott
Fr. Wide Receiver
#3 5-11, 180
Tarpon Springs, FL
View Full Profile . Scott had five receptions for 17 yards, Priester finished the day with three catches for 13 yards and Kitt had two for 20.
Morris said that all three freshmen have had bright spots during the spring, but they have a long way to go before they are ready to play Georgia.
"All three of them have done some really good things," Morris said. "Obviously they've made some mistakes that we've all seen. Kyrin Priester made a couple really good catches today, especially on some slant balls. Artavis Scott is electric. He's very quick in space. We saw that a few times today and we've seen that all spring. He's just getting better every day, and sometimes they get better by taking a step back because they have to learn and learn the hard way, and so Demarre Kitt's another one. Kitt had a couple of critical mistakes in some blocking, but he also made a couple of really good things happen, and that was good to see.
"I love these new guys. I think they're going to be dynamic before this whole thing's over with. They're freshmen, they should be going to the prom right now and they're here right now. They chose to sacrifice the rest of their senior year for this, and I promise you they're not going to regret this."
Not only are the Tigers breaking in new receivers, they also must replace the production of Roderick McDowell

Roderick McDowell
Running Back (2009 - 2013)
#25 5-9, 195
Sumter, SC
View Full Profile , but Morris said that he is very pleased the running back corps and is excited about the talent and depth that he has returning.
"I've been saying all along that this is as deep a group and as talented a group as we've had since I've been here," he said. "We're going to be better running the football, and I'm just excited when we do get back to get these guys back healthy. Wayne Gallman

Wayne Gallman
RS Fr. Running Back
#9 6-1, 195
Loganville, GA
View Full Profile was upset because we pulled him out in the final 10 seconds of the game. That's just that youngness in him and that competitiveness in him, but he is a very punishing runner. He's a guy that can start and stop and is very violent when he runs."