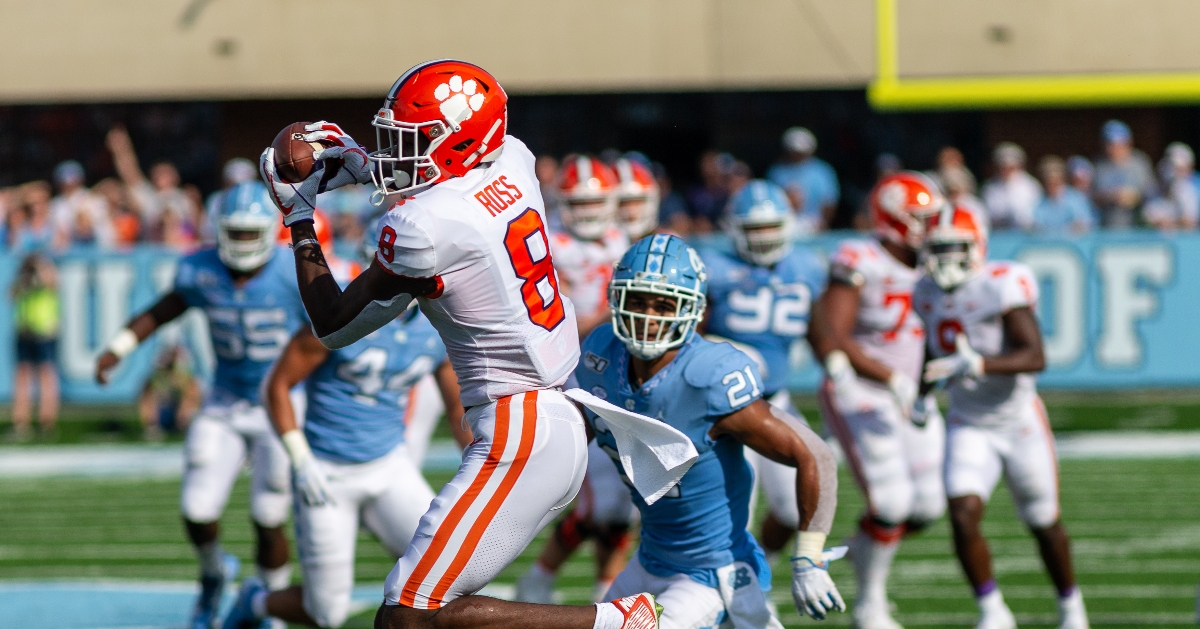 | | |
| --- | --- |
| Cervenka says Clemson's offense was tested but Tigers showed fight | |
---
CLEMSON – Right guard Gage Cervenka knows the Clemson offense didn't play consistent football at North Carolina last week, but he does know the Tigers kept fighting.
Clemson managed just 331 total yards of offense against the Tar Heels and had six pre-snap penalties that stalled drives.
"I didn't think we played too bad. We had some really big penalties on very crucial downs," Cervenka said earlier this week. "Third and short, we had a lot of false starts. Easy things to fix. But I mean I think we played very well. We didn't quit. We kept fighting, which is huge. I mean there's a lot of learn from that game. A lot of things that we can improve on. I'm just happy that we came out with a W and now just kind of improve those things."
Cervenka said the offense didn't lack focus and at times might have gotten too amped up.
"I wouldn't say a lack of focus. We knew we need to go down there and score and we wanted a score," Cervenka said. "So, it's not that we weren't focused. A lot of things go into it. I mean, I've had false starts to where I'm just eager. I'm just ready. I'm so amped up, I'm ready to go. And we're going to silent counts and cadence, I guess the snaps are not always the same. It can kinda change a little bit. So you'd never know when the center is going to snap it. So you always just get kinda excited, ready to go and then just slip up."
The Tigers and Tar Heels were tied at 14-14, the first time Clemson has been tested late in a game since last season. Cervenka said the close win shows his team knows how to fight.
"We hadn't been in that situation yet, so I'm kind of glad we've kind of got there and came out with a win," Cervenka said. "So, it just shows that we kinda have a fight in us that no matter how tough the situation gets or no matter what the game is, we're going to keep fighting and we're going to keep playing. The whole time in the huddle, I was just telling guys, 'Hey, come on this, this play right here. I mean, we're bound to break one. I mean we're, we're about to score here.'
"And just kind of keeping that mindset of don't get down, just keep playing. I mean we have a young team and our offensive line is the veteran group. So we just kind of tried to be the leaders and just tried to be vocal. But I mean I thought it was very big and huge that we just kept playing and just didn't get down on ourselves when we'd have those bad situations with the false starts and hurting ourselves and not having good drives. I mean we had good drives, we just couldn't finish at the end and, but I think it was big that we just didn't get down on ourselves and we just kept fighting."
If he had one wish, it would be for the Tigers to run the ball a little bit more.
"I think we averaged a little over 4 1/2 yards per carry or something like that. We ran the ball pretty well," Cervenka said. "We didn't have a lot of carries and that's a thing. Of course, I'm a guy that wants to run the ball all the time. I want to get dirty in the trenches so anytime we can run the ball that's great. I think we ran the ball well. I mean, I would love to see it more, but that's not my decision. That's not my call."

Upgrade Your Account
Unlock premium boards and exclusive features (e.g. ad-free) by upgrading your account today.
Upgrade Now