| | |
| --- | --- |
| Cervenka ready for new legacy at Clemson | |
---
| | |
| --- | --- |
| Tuesday, June 2, 2015 7:01 AM | |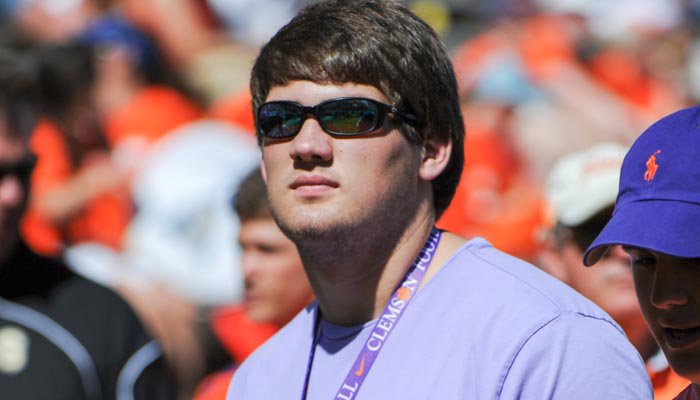 Gage Cervenka has spent the last few months of his high school career earning honors and awards that cement his legacy as one of the top male athletes to come out of Greenwood (SC) Emerald, but the 2015 Clemson commit is ready to put his high school career in the past and begin a new legacy as a Tiger.
Cervenka won his fourth consecutive South Carolina State Championship wrestling title as a heavyweight back in March, earned All-Region honors in the sport and then was awarded Emerald's T. Frank Hill Award as the school's top male athlete last week.
However, Cervenka is ready to focus on the future and not the past.
"It's fine, because I am going on to do bigger and better things with my life," Cervenka told TigerNet. "My motto is to just leave a legacy, and winning all of those awards just proves that I've left my legacy here. I've kind of left my footprint. And that is what I want to do with my next four or five years at Clemson - just leave my footprint there and leave my own legacy and make my own name."
The Tigers don't have a wrestling program, but Cervenka says the lessons learned on the mat are lessons he can carry over onto the football field.
"It helps with so many different things. It helps with your hand placement and helps you with your strength and to be strong and physical," he said. "It helps with your explosion and with your feet. You need to come off the ball as fast as you can, and when you're a wrestler you want to get low as fast as you can. In wrestling, you also want to be as technical as you can and that kind of carries over into football because you want to be the most technically sound player out there."
He then said it was a relief – in a way – to not have to worry about wrestling so he can just focus on the gridiron.
"It's incredible, just to be able to say I was the first four-time state heavyweight champion in South Carolina. It just proves all of the hard work I've put in and all of the dedication," Cervenka said. "It was a relief that it was over, though. Now I don't have to worry about that target on my back. Hopefully I can form a new one once I get to Clemson."
Cervenka said he has been working out to stay in shape, will take a short beach vacation and then check into Clemson in a few weeks.
"Right now I am just running and lifting and doing whatever I can to get in shape," he said. "That is my goal is to get into as good a shape as I can so I can get up there and not have to worry about being tired. I can just focus on learning the plays. I am going to take a week and relax and go to the beach and then I will focus on football again."
And what is he most looking forward to once he gets on campus?
"Really I am just ready to build a relationship with the rest of the players and building that brotherhood. I am just ready to get up there and compete and see if I can earn a starting spot," he said.
So proud of @GageCervenka for Receiving "The Charles L. Graves Award" @jgizzle1985 pic.twitter.com/Qhl1kMIR6y

— Dottie Cervenka (@dottie_cervenka) May 22, 2015
Awesome job @GageCervenka; Frank Hill award, scholar athlete, State ring and your own place in Emerald trophy case. pic.twitter.com/F1nXYMLi0U

— Dottie Cervenka (@dottie_cervenka) May 27, 2015