| | |
| --- | --- |
| Cause for concern with the offense? | |
---
| | |
| --- | --- |
| Saturday, August 16, 2014 6:19 PM | |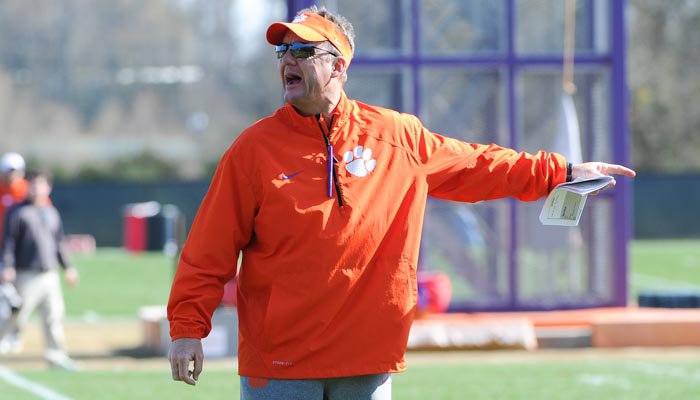 CLEMSON – Chad Morris

Chad Morris
Offensive Coordinator / QBs
View Full Profile wasn't happy Saturday afternoon, and it showed.
Standing in the hallway outside of the Clemson's locker room following Saturday's scrimmage Morris' demeanor, posture and body language belied his frustration following a scrimmage that saw two interceptions returned for touchdowns and enough mistakes to keep him working late.
I asked Morris about the turnovers, and he summed up what he saw out of quarterbacks Cole Stoudt

Cole Stoudt
Sr. Quarterback
#18 6-4, 231
Dublin, OH
View Full Profile and Deshaun Watson

Deshaun Watson
Fr. Quarterback
#4 6-3, 204
Gainesville, GA
View Full Profile .
"Just some really lousy decisions made in some really critical situations," Morris said. "Anytime you get a turnover, it's not a good situation. You've got to make better decision."
A reporter pointed out that Morris was less than upbeat – his normal post-practice and post-scrimmage persona – and Morris said, "I'm good. Nah, I'm really good."
He didn't sound convinced and said that a slow start contributed to the malaise of the afternoon.
"I thought we had a slow start. Obviously we didn't start how we wanted to. I was kind of disappointed early on," Morris said. "I thought we picked it up at the end of the scrimmage or after the first couple of drives and did some good things. We were trying to move some guys around during this last scrimmage because it's the last evaluation period for us before we make our final decision on a few things. Overall, we got a few good things in."
He then noted that he still has two weeks to get his team ready for Georgia's defense.
"Our guys work hard. We've got a long way to go. We're going to be fine, but we've still got two weeks to go before we've got to have this thing ready," he said. "We're making progress, but it's a day-to-day thing right now. Our guys are giving effort, so we've just got to keep grinding."
Morris said that tempo was also an issue.
"We've got to go faster. We had a fairly good tempo, but I'm never really pleased," he said. "We can always go faster. We did some things that kind of slowed us down, but we've got to really push the envelope and go faster."
He said he saw both bad and good out of Stoudt and Watson.
"I thought they did some good things, made some good decisions in some critical situations, made some bad decisions in some critical and simple situations," Morris said. "That's kind of part of camp to put those guys in those type of environments to see how they respond. They've been better. All of them have had better. They did some good."
The Tigers lost vocal leaders in quarterback Tajh Boyd

Tajh Boyd
Quarterback (2009 - 2013)
#10 6-1, 225
Hampton, VA
View Full Profile and offensive linemen Brandon Thomas

Brandon Thomas
Offensive Line (2009 - 2013)
#63 6-3, 305
Spartanburg, SC
View Full Profile and Tyler Shatley

Tyler Shatley
Offensive Guard (2009 - 2013)
#62 6-3, 295
Icard, NC
View Full Profile , and Morris said the lack of leadership is beginning to show.
"While we do have some veterans on our side of the ball, they're veterans with inexperience. We need heat. We need a lot of heat right now to really make these guys stress," Morris said.
When asked if heat meant temperature or stress or from the coaches, Morris had a quick answer.
"Both. It was a slow start. You wish you had a little bit more drive about it. I think you're searching for leadership," Morris said. "That's what our side of the ball is really searching for right now is just a true leadership that gets everybody going when things aren't going good. A lot of that is veteran guys without experience. Until those guys get experience, that's what you're going to deal with right now. Until someone comes forward. Adam is a guy that has a lot of experience and he is a leader for our football team. One of those linemen have to take on a leadership role and you hope it's Ryan Norton

Ryan Norton
RS Jr. Offensive Line
#58 6-3, 292
Simpsonville, SC
View Full Profile and some of those guys. They'll be ready to go at Georgia, I can tell you that.