| | |
| --- | --- |
| Catching up with Tavien: Feaster talks awards, Tigers and Gamecocks | |
---
| | |
| --- | --- |
| Wednesday, December 9, 2015 7:01 AM | |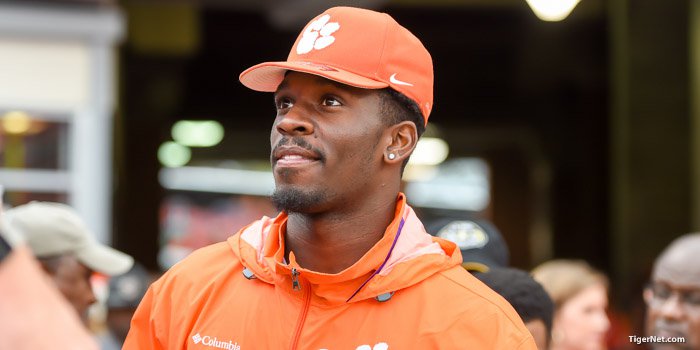 Tavien Feaster's football career at Spartanburg High School has come to a close, but as he fondly looks back at all of the memories he's made over the last four years, he's also keeping an eye on what lies ahead with the Clemson Tigers.
The nation's number one running back and 5-star Clemson commit concluded his high school career with a loss to Lexington last weekend in the state playoffs, and while he's disappointed it's over, he's thankful for all of the opportunities.
TigerNet caught up with Feaster Tuesday evening, and he said he's not happy with how the Vikings lost, but he is happy with the memories he's made while playing for Spartanburg.
"I'm definitely disappointed because it was the last game of my career at Spartanburg and I kind of got robbed because some bad things happened in that game, but I'm really pleased with the way my career went - how far I was able to lead my team and the things I was able to accomplish while I was playing football at Spartanburg," Feaster said. "My favorite memory will really be just the guys in the locker room and every guy I passed during my three years playing varsity. Even my freshman year, I still see those guys and catch up and hang out with them. Just really the memories with those guys and making the most out of every opportunity we had."
One of his most cherished memories will certainly be being named South Carolina's Mr. Football last week, a moment he was able to share with both of his parents and Clemson assistant coach Jeff Scott.
"It was a blessing. It was something that I felt like I deserved, but it was a blessing. It put an exclamation point on my career," Feaster said. "I couldn't have asked for more than to be 2015 Mr. Football in South Carolina. It was huge for me. I was thankful that I got the opportunity to be named Mr. Football."
Feaster won't enroll in Clemson until the summer, but he has paid close attention to what Clemson is doing on the field and expects nothing less than a national championship.
"It's just wonderful. They're the best team in the country. I feel like if they keep doing and playing like they are that they're going to walk right into the national championship no matter who they play," he said. "I believe once you're number one that the other team wants to beat you, so they have to step up to your level and if you step your game up then there's no way they can beat you. They're clicking on all cylinders, so they should be the national champions at the end of the year."
The 6-0, 204-pound all-purpose back said he likes what he sees out of sophomore running back Wayne Gallman.
"He runs pretty mean. He runs aggressively. He does not want to go down on an arm tackle," Feaster said. "He's running straight through guys. He's doing things that nobody projected him to do this year, and that's just coming in with a dog mentality. Everybody was saying that Clemson didn't have a back, and he came in and proved them wrong. Now he's one of the best backs in the country."
Feaster is still being courted by other programs, especially South Carolina. The Gamecocks stopped by Spartanburg Tuesday afternoon, but he said he is "all in" and excited to begin his career at Clemson.
"Will Muschamp didn't come today. It was actually Bobby Bentley who came and spoke with me," he said. "He was just straight up with me. He said, 'I know you're committed to Clemson, but we're trying to change the program at South Carolina and we want you to give us a look.' It's exciting to know that people are still interested in me even when I'm committed, but you know me, I'm all in.
"I'm thrilled that the time has finally passed, and I'm finally about to step into it and get started at Clemson. I just want to embrace it and take it all in. My first couple of weeks there, I'm going to be excited as a freshman, but I'm definitely going to have to work hard and earn my spot and earn my role on the team."
Feaster finished this season with 143 carries for 1061 yards, 53 catches for 846 yards and 21 total touchdowns.