| | |
| --- | --- |
| Catching up with 4-star OL John Simpson | |
---
| | |
| --- | --- |
| Thursday, October 15, 2015 7:01 AM | |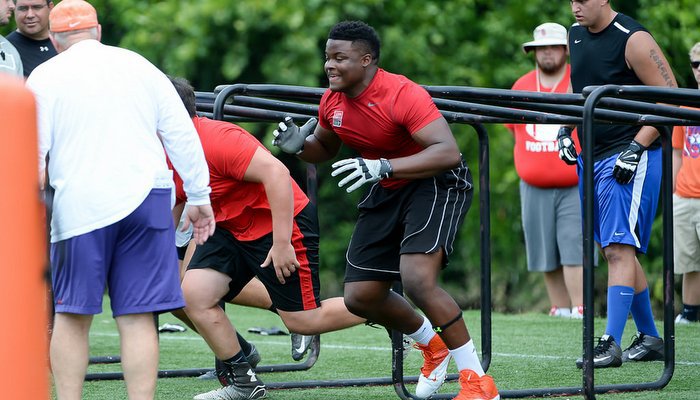 John Simpson

John Simpson
Offensive Guard
6-4, 290
North Charleston, SC
ESPN:


View Full Profile plans to make his decision about where he will play college football in early January, and the recruiting process is just heating up for the 4-star offensive lineman.
The North Charleston (SC) Fort Dorchester prospect has long been thought to be an in-state battle between Clemson and South Carolina, but it's an out of state visit to an SEC school that is most intriguing.
Simpson told TigerNet Tuesday night that while Clemson was once his top school, he has backed off and put every one of his 11 offers - Alabama, Clemson, Florida, Georgia, Georiga Southern, Louisville, LSU, Marshall, South Carolina, Tennessee and Wake Forest - on equal footing.
"Of course, they (Clemson) are still in it," Simpson told TigerNet recently. "They were once one of my top schools, but now I'm looking at everybody. I'm trying to make everybody equal until later on and I visit LSU because I haven't visited there yet."
Simpson has visited a handful of schools including Alabama, Clemson, Florida, Georgia, Mississippi St., and Tennessee, but still needs to shore up where he will take his five official visits.
"I want to come up for the Florida State game (at Clemson)," Simpson said. "I really want to get up there for that game. I haven't planned any of my officials yet, but LSU is also one of the places I want to go."
For Clemson, it's the family atmosphere that keeps the 6-4, 288-pounder coming back.
"It's mainly the family environment and how they keep it real with you," he said. "The players are very involved in the recruiting process, too, and they tell me a lot of good things."
Simpson has been keeping an eye on what the Tigers are doing this season.
"I've been able to watch two games - Notre Dame and Georgia Tech," he said. "I feel like they are really improving. They've gotten better over the years since Dabo Swinney

Dabo Swinney
Head Coach
View Full Profile has been there."
As for South Carolina, the departure of head coach Steve Spurrier doesn't really change anything for Simpson as his main draw to the Gamecocks is interim head coach Shawn Elliott.
"It doesn't really affect me at all because the head football coach can't really do that much for me as far as playing for him and stuff like that," he said. "The real reason I'm still considering Carolina is because of Coach Elliott. Coach Elliott is such a good coach."
For now though, Simpson will enjoy playing his final few high school football games with best friend and 2018 Clemson prospect Dakereon Joyner

Dakereon Joyner
Quarterback
6-1, 170
Fort Dorchester, SC
View Full Profile .
"It's going really good right now. I feel like he's a lot older than really is and that he should be in my class, but that can't happen. It's a fun experience playing with him," Simpson said of Joyner.
@BigJohn__16 @ColaRecruitBn pic.twitter.com/HGsXDa3BvD

— FDPatriot (@FDPatriot) October 15, 2015
@BigJohn__16 @ColaRecruitBn pic.twitter.com/i7fPhSn4a3

— FDPatriot (@FDPatriot) October 15, 2015