| | |
| --- | --- |
| Carlos Watkins says road to recovery almost complete | |
---
| | |
| --- | --- |
| Saturday, May 2, 2015 7:01 AM | |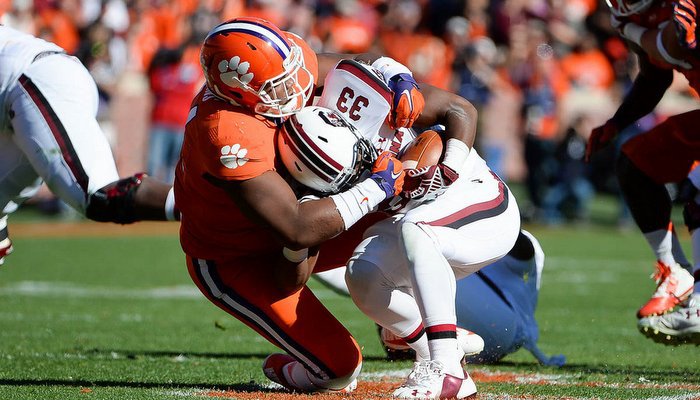 It's all about the little things for big old Carlos Watkins

Carlos Watkins
RS Jr. Defensive Tackle
#94 6-3, 295
Mooresboro, NC
View Full Profile .
The rising redshirt junior defensive tackle out of Mooresboro (NC) Chase has spent the last 20 months in recovery mode – emotionally, mentally and physically – from a wreck in September of 2013 that caused him to miss the rest of the season and took the life of one of Watkins' closest friends.
Watkins played last season – 135 snaps over 13 games – but admitted recently that he still isn't all the way back. But he's close.
"I am headed that way. I don't want to say I am there yet, because there is always room for improvement," Watkins said. "I want to keep working hard and keep moving forward and keep working on the little things."
Watkins said that while most people look at the physical side of the game to gauge his progress, he looks at the emotional and mental side.
"My maturity level has increased," he said. "Just learning from Grady (Jarrett) and DeShawn (Williams) and Josh (Watson) really helped me out a lot. I am just carrying that over to this year and working on the small things this year. The one thing I have to do is give a lot of effort. I want to get to the ball and give a lot of effort. You have to get to the ball and you have to know what you are doing. If you keep doing those things it's all going to work together."
That involves making sure he takes care of the little things.
"I want to work on the little things - like that first step. Hand placement," Watkins said. "Things like that. We don't have too much to worry about - nothing major - we just have to focus on the small things to get us better. It's all about giving great effort and working hard. We've been doing that and it has been paying off."
Watkins is expected to be one of the leaders on what will be a young defensive line and he said that he is taking part in developing those younger players.
"We have to just teach them to work hard. That's the main thing," he said, "Me and D.J. (Reader) and Rod ( Roderick Byers

Roderick Byers
RS Sr. Tight End
#40 6-3, 290
Rock Hill, SC
View Full Profile ), we have some experience and we have to get the young guys ready and develop them. It's the same way with the linebackers - we are young at that position, too. I know Ben (Boulware) and B.J. (Goodson) are working with the young guys. That's the main thing."
Watkins said he doesn't have any personal goals for this season, but he does have one for the defense – retain last season's number one national ranking.
"It is definitely a mentality we now have. It's a goal. We want to keep that (ranking)," Watkins said. "The guys from last year, they taught us a lot. It's all in the mentality and as long as we have that mentality we can do it."