| | |
| --- | --- |
| Careers of Boyd and Watkins forever linked | |
---
| | |
| --- | --- |
| Monday, January 6, 2014 10:51 AM | |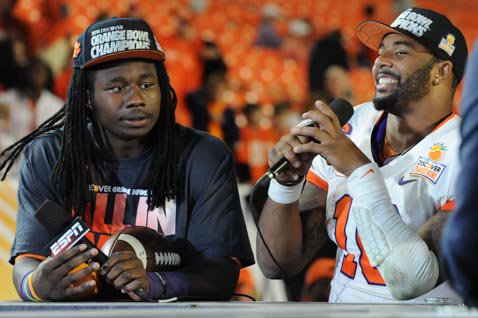 MIAMI GARDENS, FL – The Dynamic Duo had one final, breathtaking moment together, and then they walked off into the Florida sunset forever linked in Clemson history.
Senior quarterback Tajh Boyd

Tajh Boyd
RS Sr. Quarterback
#10 6-1, 225
Hampton, VA
View Full Profile rushed for a career-high 127 yards and completed 31-of-40 passes for 378 yards and five touchdowns in Clemson's 40-35 victory over No. 5 Ohio St. in the Orange Bowl last Friday. Junior wide receiver Sammy Watkins

Sammy Watkins
Jr. Wide Receiver
#2 6-1, 205
Fort Myers, FL
View Full Profile had perhaps the best game of his Clemson career in the game, catching an Orange Bowl –record 16 passes for 227 yards and two touchdowns.
The duo's final dramatic moment occurred late in the third quarter, with Boyd rolling right and firing an arcing pass that Watkins went up and over the defender to grab, completing a 30-yard touchdown pass.
Boyd is the only quarterback Watkins had at Clemson, and Watkins was Boyd's top target two out of the three years he was a starter. As a result, a whopping sixty percent of Boyd's passing yardage during the game was passes to Watkins. Breaking it down career-wise, Boyd threw for 11,904 in his Clemson career, and Watkins had 3,391 yards during his three-year career. The breakdown – almost 30 percent of Boyd's career completed passes were to the Fort Myers native.
Boyd said he couldn't have scripted it any better.
"You know, this is a very special night," Boyd said. "Again, just the significance of this game, not for this team particularly, but for the university, for the fans that support us day in and day out has been unbelievable. So it's a very special, very special evening. I couldn't pick a better way to go out as a senior. And these guys right here, these are the guys I play for. When we step on the field, we give it everything we've got. Not for anybody else, but for these guys beside us. What a special way to go out."
Watkins credited Boyd with making the passing game work.
"I think Tajh and the offense did a great job of giving us the ball and giving us a chance to make plays," Watkins said. "For the offense, I think, overall we played probably the best game we could have played minus the turnovers that we had, and Tajh played one of his best games."
Clemson head coach Dabo Swinney

Dabo Swinney
Head Coach
View Full Profile said the game plan was to let Boyd carry the load and drive the offense, and made a joke when pointing out Boyd's rushing yards.
"I told him not too bad for a fat boy," Swinney said. "It was awesome. We were going to put the ball in No. 10's hands, and we felt like that was going to be a key. This was the seventh-best team in the country versus the rush, and we felt like that was our best chance to rush the football and then take what was there in the passing game. They gave us a lot of soft coverage towards Sammy, and we were just trying to take advantage of what was there."
Watkins' 16 receptions allowed him to break the Clemson career record for receptions in a career – breaking the record of 232 held by Aaron Kelly – but Watkins told the media he didn't deserve all of the credit.
"It means a lot, but definitely, the offensive line and the coaches put me in the best situation to make plays," he said. "Definitely blessed with great coaches and a great quarterback for the last three years. It's not all about me, and it's definitely the offense that Coach (Chad) Morris is running. It's an honor to break all of those records, but it's great to do it with the team."
Swinney said that Boyd has "set the standard."
"He set the standard for not only how you play the position, but how you represent the program," Swinney said. "He's a lot of fun to coach. All these guys right here – when your best players are your hardest workers, it makes my job very easy. He put an exclamation point on his legacy tonight."