---
| | |
| --- | --- |
| Wednesday, November 13, 2013 3:59 PM | |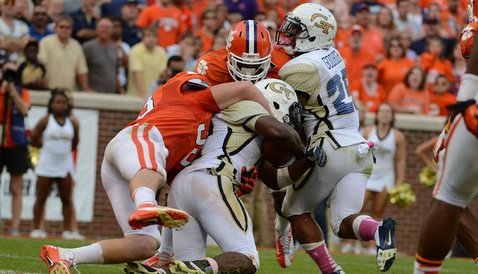 CLEMSON – Spencer Shuey made his mark in last season's 47-31 victory over Georgia Tech in Death Valley, and the senior linebacker hasn't looked back.
Shuey entered that game with just 201 career snaps, but the Tigers had been battling issues at middle linebacker after starter Stephone Anthony broke a bone in his hand earlier that season. In stepped Shuey, who logged 24 snaps against the Jackets, but one snap stands out more than any of the other 23 snaps.
Clemson quarterback Tajh Boyd had just thrown a 35-yard touchdown to DeAndre "Nuk" Hopkins that put the Tigers ahead 38-31 with 10:29 left in the game. Georgia Tech bobbled the kickoff and had to start from its own two-yard line, and the crowd on the WestZone side of the field went into a full roar.
Shuey sniffed out an option pitch two plays later, tackling A-back Orwin Smith in the end zone for a safety and a 40-31 Clemson lead. The next week against Virginia Tech, Shuey was the starter and has started each game since that game, even though he switched from the middle to the outside linebacker spot in fall camp.
"That moment last year was extremely exciting for me and my family," Shuey said Tuesday in the WestZone. "It just shows that if you're able to prepare and stay ready, be ready when you're number's called, that's extremely important. Hopefully, it motivates some of the younger guys to prepare like I was able to last year. It showed, once you get your shot, you have to be ready and step up."
Shuey said he was "confident" the Jackets were going to run the football so close to their own end zone.
"It was definitely safe to say we were pretty confident that they were going to run the ball," Shuey said. "We were able to get the alignment set, get the front called, definitely feed off the energy from the crowd. I remember it being extremely loud and electric in the stadium, and was able to get a great jump on the ball, was able to make a play. Definitely counted on the other guys around me to make a play, which they did, and I was able to do my job, too."
He then said that he enjoys looking back and seeing how much that game has changed his career.
"It was definitely a huge turning point for me," he said. "It's unbelievable for me to look back at this time last year when we were playing them and see how far I have come and how playing time I've been able to get and how much I've matured. It's kind of cool to look back at that game."
I asked Shuey if he looks forward to the physical aspect of once again playing the Jackets, and he said yes.
"You pretty much know that they're going to run the football," he said with a smile. "They are challenging you to stop them, so you have to man up and be physical and play that game, so I am looking forward to it being a lot of fun."
He also realizes that this game will be the penultimate home game of his Clemson career, and the last ACC game he will play, and is thankful he gets one last chance to play on the "big stage" in front of his home fans.
"It is kind of unbelievable to think about how long I have been here and how many games I have played in here and what a great place it is," Shuey said. "To be coming down to the final two games, it's awesome to have one of those final games on the big stage on a Thursday night. It is kind of bittersweet. I am sure I will be emotional and excited about the game."