| | |
| --- | --- |
| Can sack master Beasley and Clemson defense stop the Tech option attack? | |
---
| | |
| --- | --- |
| Thursday, November 7, 2013 3:12 PM | |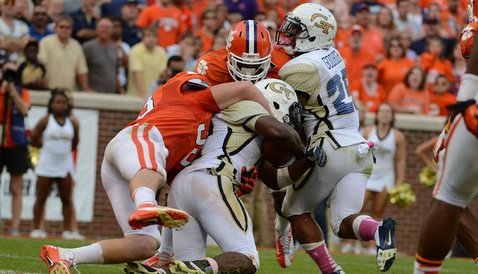 CLEMSON – We interrupt our regularly scheduled programming to bring you the spread triple-option-flexbone.
The Clemson defense has faced its share of spread and pro-style offenses this season, but will take a step away from those types of offenses the next two weeks as it faces Georgia Tech and The Citadel, two teams that run the option offense, or variations off of the old triple-option.
Georgia Tech head coach Paul Johnson's offense isn't just the triple-option, which is the name that most writers and commentators like to give his offense. I talked to Johnson at the ACC Kickoff in Greensboro back in July, and he described his offense as the flexbone - the run and shoot double-slot formation with some 'shoot passing concepts with lots of option plays in there as well.
In fact, Johnson said that his offense is similar to the offenses run by Urban Meyer and Rich Rodriguez, the difference being that the latter coaches run the scheme out of the shotgun while Johnson runs his offense with the quarterback under center. Johnson's offense is also built more around the misdirection.
However, it doesn't matter if you call it the flexbone or the spread option or the triple-option, Clemson head coach Dabo Swinney

Dabo Swinney
Head Coach
View Full Profile knows it is difficult to defend.
"Normally, week to week, when you sit down and you start game planning, you have your system of what you do," Swinney said earlier this week. "But when you're getting ready for the triple-option, that's a whole different deal. But they don't just run the triple option. They know what they're doing. They're really good at it. So, just having a few extra days is helpful. That's just forget everything you know from a system standpoint. It's just a season of its own. It really is. We say that all the time. Every game is a season of its own, and this one right here, it truly is, because you don't have much carryover as far as how you play and how you defend these guys opposed to most everybody else you play. That's what makes it tough."
The Jackets are ranked fifth nationally with 311.2 rushing yards per game, and they are averaging 5.5 yards per carry, while The Citadel is ranked fourth nationally in the FCS in rushing offense, with 282.3 yards per game.
On the flip side, Clemson has allowed 140.8 rushing yards per game and 3.7 yards per carry, but defensive end Vic Beasley

Vic Beasley
RS Jr. Defensive End
#3 6-3, 225
Adairsville, GA
View Full Profile knows the offenses Clemson has faced to date can't provide a true barometer on how the Tigers will fare when it comes to facing Georgia Tech and The Citadel.
"It's a different approach. Differing teams have different schemes. Obviously, Georgia Tech runs the triple option, so it will be playing technique this game," Beasley said. "But they will throw the ball. And I feel like if we can get up, we can force them to throw the ball."
Beasley leads the nation with ten sacks, and he said he understands that his ability to add to that total will be limited because of what the Jackets – and even the Bulldogs – do offensively. He also said that practice this week has been different as the Tiger defensive linemen prepare for Tech's cut blocks.
"It's disappointing to me, because I like to rush the passer," he said "It's just another game for us and a chance to get ahead in the rankings. This week, we have been playing a lot off the ball – not too close – because they are good at cutting. We think playing away from the tackles will help us a lot."
So how do the Tigers stop the option offenses they will face?
"You just have to buy into what the coaches are saying," he said. "We are used to playing against regular offenses and pro-style teams, and it's been a while since we've played against an offense like this. It's a mindset – you have to be very patient against this type of offense. They get on you fast – the guards and tackles – they get on you pretty quick. I have to read the tackle – you are in 6-technique and you have to read the down blocks."