| | |
| --- | --- |
| Can Cole Stoudt win the starting job back? Morris says yes | |
---
| | |
| --- | --- |
| Wednesday, October 15, 2014 7:01 AM | |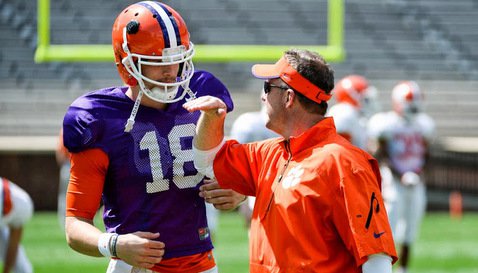 CLEMSON – Chad Morris

Chad Morris
Offensive Coordinator / QBs
View Full Profile wanted to make it clear early in his press conference this week that Cole Stoudt

Cole Stoudt
Sr. Quarterback
#18 6-4, 231
Dublin, OH
View Full Profile didn't lose the job as Clemson's starting quarterback: Deshaun Watson

Deshaun Watson
Fr. Quarterback
#4 6-3, 204
Gainesville, GA
View Full Profile won it.
Watson took over for Stoudt after the third series of the Florida St. game and never looked back, limiting Stoudt to a drive here and there in the two games since Florida St. However, Watson broke a bone in his hand last Saturday and Stoudt was back in and will start this week's game at Boston College.
Clemson's offense stalled repeatedly against Louisville, and Morris was asked Monday if he still had confidence in Stoudt.
"Prior to Deshaun coming in and taking the job at Florida State, it wasn't how Cole had really played; it was more so how Deshaun had performed during that time," Morris said. "We all saw a different look, there were a lot of things that we were beginning to really open up and really be able to do, to exploit his talents. As we game planned for that last week, we knew we were going against a quality opponent. There was a lot of stuff in there that we weren't able to get to.
"Not because Cole wasn't prepared for it, it was just more so the fact that we had game planned going in for Deshaun, and losing him took a little bit of adjustment and trying to get things back, considering Cole hadn't practiced any last week. Going back to your original question, we've got to go back and get better at a lot of things, and build on that. There are some things we'll be limited with, but there will also be things we'll able to do with Cole as we move forward."
Watson is dynamic in the run game, and Morris was then asked if he will have to scale back the offense because of Stoudt's limited mobility.
"No I'm not going to do that. I'm not going to hamstring ourselves at all. Cole is, even Nick Schuessler

Nick Schuessler
RS So. Quarterback
#12 6-3, 195
Grayson, GA
View Full Profile —these guys are on scholarship for a reason," he said. "My expectations for our offense is to be one of the most explosive offenses in the country, and we've shown that the past 3 and half years that I've been here. Obviously disappointed in our inability to put the ball in the end zone last week. We missed some chances early that really couldn't get anybody in a rhythm. It was disappointing, our inability to capitalize on short yardage. Those are some things we've got to go back and reevaluate and get better with."
Freshman running back Adam Choice

Adam Choice
Fr. Running Back
#26 5-10, 211
Thomasville, GA
View Full Profile was Clemson's leading rusher last Saturday, and Morris said that Choice could be used to alleviate the pressure on Stoudt.
"We are really pleased with Adam, especially the last couple of drives. I thought he did well," Morris said. "There are some things he's not quite as polished in that he's got to continue to get better at, like pass protection and being able to identify, but that's something he takes great pride in. He's a perfectionist and we love the way he practices, it means something to him. Adam definitely had the hot hand. We were hoping Wayne Gallman

Wayne Gallman
RS Fr. Running Back
#9 6-1, 209
Loganville, GA
View Full Profile would give us the spark he gave us the week before, but there were some things that happened early in the game. We gave up a sack, and that was straight on Wayne, we let the guy come right by him. We couldn't quite get into the rhythm with Wayne, so we stayed with Adam."
Watson is likely out for the next month, and Morris was asked if Stoudt could show enough to keep the job through the end of the year and he said yes.
"Well, yeah. A lot is going to be determined over the next few weeks. This is a critical week this week," he said. "Defensively last week, they were really good. Hats off to Coach Grantham and those guys, they were probably the fastest defense we've seen. We knew that coming in. One of the better, if not the best, defense we've seen since I've been here, including the LSU defense we saw a few years ago. So yeah, there's going to be a great challenge for Cole and our offense to step up and build on some of the good things we did last Saturday. We have to be able to capitalize, convert short yardage, and get the ball in the end zone."