| | |
| --- | --- |
| Can Clemson's run game be fixed? | |
---
| | |
| --- | --- |
| Wednesday, October 1, 2014 7:01 AM | |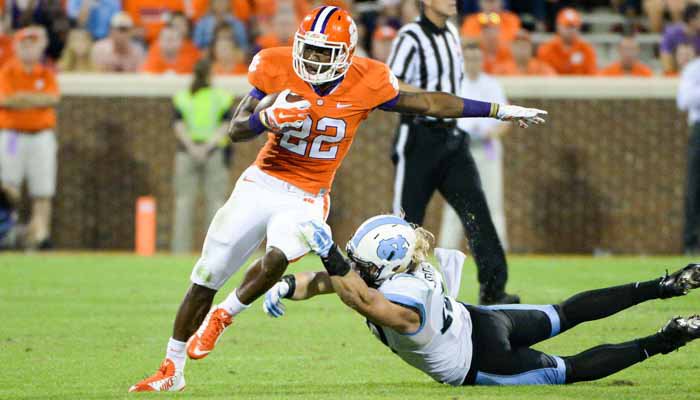 CLEMSON – The questions concerning Clemson's rushing attack are plentiful, and the answers are few.
Both head coach Dabo Swinney

Dabo Swinney
Head Coach
View Full Profile and offensive coordinator Chad Morris

Chad Morris
Offensive Coordinator / QBs
View Full Profile spent fall camp touting the abilities of the running backs on the roster, calling it the deepest group the Tigers have had in years. That depth was hurt when junior Zac Brooks

Zac Brooks
Jr. Running Back
#24 6-1, 199
Jonesboro, AR
View Full Profile was injured late in camp, but Swinney and Morris still liked their options with veterans D.J. Howard

D.J. Howard
RS Sr. Running Back
#22 6-0, 205
Lincoln, AL
View Full Profile and C.J. Davidson

C.J. Davidson
RS Jr. Running Back
#32 5-10, 203
Clemson, SC
View Full Profile and newcomers Wayne Gallman

Wayne Gallman
RS Fr. Running Back
#9 6-1, 209
Loganville, GA
View Full Profile and Adam Choice

Adam Choice
Fr. Running Back
#26 5-10, 211
Thomasville, GA
View Full Profile .
The numbers don't bear out their optimism, and whether it's the offensive line or the abilities of the backs one thing is for certain: it has to get better.
How bad has it been? Clemson's leading rusher is C.J. Davidson, who has 133 yards in four games. By comparison, Roderick McDowell

Roderick McDowell
Running Back (2009 - 2013)
#25 5-9, 195
Sumter, SC
View Full Profile had 132 yards against Georgia in Clemson's opener last season. Davidson also leads the team with 36 carries, but is averaging 3.7 yards per attempt. Howard is second on the team with 30 attempts, but is averaging just 3.4 yards per attempt.
Freshmen Wayne Gallman and Adam Choice are faring a little better – Gallman is averaging 5.8 yards per carry in 16 attempts, while Choice is averaging 4.2 yards per carry in 21 attempts.
Against North Carolina, the Tigers averaged a miniscule 2.8 yards per carry but right tackle Kalon Davis

Kalon Davis
RS Sr. Offensive Guard
#67 6-5, 340
Chester, SC
View Full Profile said the Heels were selling out to stop the run.
"I think you would have to go back and watch the film," Davis said Monday. '"You're watching us run the football against a bear front with five d-linemen and they're rolling down a safety and have a linebacker in the box. With five d-linemen, safety and a linebacker – it's not exactly going to be a pretty run."
Morris said the run game hasn't been what he had hoped.
"Obviously going into this year that was a huge emphasis for us," Morris said. "Obviously we didn't run the ball as effective (as we wanted to). Some of our speed motion and game we flip it and it goes in the passing category in yards. That's a little bit skewed, but we didn't get that many yards out of it. I think the way they (UNC) were playing us they definitely lined up to stop the run and try to put pressure on Deshaun. They did a few things to offset it and make things a little bit cloudier than they were. Still we have to be more effective in the run game."
Morris said that the Tigers have missed the physical presence of tight end Sam Cooper

Sam Cooper
RS Sr. Tight End
#86 6-6, 250
Brentwood, TN
View Full Profile , who has been out since warm-ups of the opener against Georgia. He also said that hasn't been the only problem.
"Getting more physical play out of our tight ends – we're not getting nearly as physical as we need to play," Morris said. " Jay Jay McCullough

Jay Jay McCullough
RS So. Tight End
#89 6-3, 248
Fort Mill, SC
View Full Profile has been the most physical of all the tight ends and he didn't have his best game (against UNC). He didn't play on par to where he was the first three weeks. Our offensive line has to be able to knock guys off the ball. Creating some movement. Our backs have to find some holes. There was a little bit more there that we didn't find at times."
One potential fix could be using quarterback Deshaun Watson

Deshaun Watson
Fr. Quarterback
#4 6-3, 204
Gainesville, GA
View Full Profile and the zone-read a little more.
"I feel very comfortable running the zone read with him," Morris said. "I think he's very comfortable with it. We just have to be smart with it and understand the backs have to get involved with it. We have to be able to create some movement upfront. It's all about space. You talk about zone read and it's spreading people out and trying to eliminate as many guys in the box as you possibly can. Let your quarterback account for the extra defender."
However, Morris said he understands that Watson can't carry the ball every play, and said he will use Watson differently than he used Tajh Boyd

Tajh Boyd
Quarterback (2009 - 2013)
#10 6-1, 225
Hampton, VA
View Full Profile .
"I don't want to run him every play. That was by design, but we did run a lot of zone read," Morris said. "The week before at Florida State he was pre-determining most of his reads and pulling every one of them. Some of those he made some bad reads and pulled. We really worked on it and reading it. He had a few gives and didn't rollout in getting out of the box with it with the running back.
"What didn't work in Tajh's favor was to get him in space. What works in Deshaun's favor is to get him in space. By doing that, you try to create space as much as you can. By formations, alignments, I think the more we go into this thing – without a doubt his comfort level running the zone read and create space for him is what you try to do."
Swinney said Tuesday that another option would be getting Gallman more involved in the offense – once he learns to slow down.
"We have to get No. 9 involved," he said. "But we have to slow him down a little bit. If he beats the pulling guard on a play, then that doesn't do us any good. We are trying to get him to slow down and be a little more patient. C.J. (Spiller) had that same problem when he first got here. He also had a mistake Saturday where he got us behind the chains a little bit."