| | |
| --- | --- |
| Can Clemson make the 4-team playoff? Dabo Swinney weighs in | |
---
| | |
| --- | --- |
| Monday, July 21, 2014 4:16 PM | |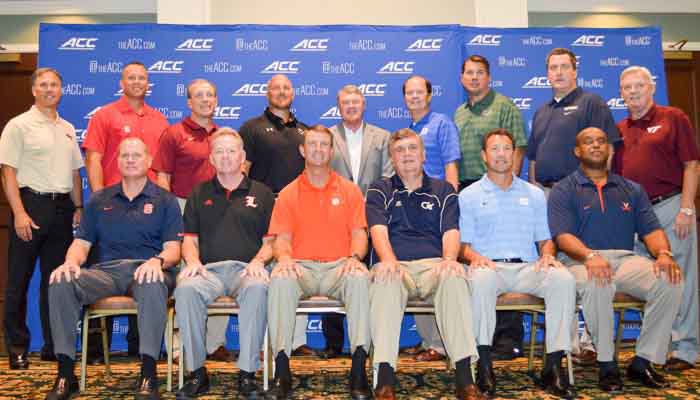 GREENSBORO, NC – The advent of the college football playoff means that four teams will have a legitimate shot at playing for the National Championship each season instead of the two that were picked to play in the title game during the BCS era.
The Bowl Championship Series was a selection system that created five bowl match-ups involving ten of the top ranked teams in the NCAA Division I Football Bowl Subdivision (FBS), including an opportunity for the top two to compete in the BCS National Championship Game.
The playoff format is simple: the best four teams will be picked by a selection committee, with two semifinals played in bowl games and a championship game played in a different city each year. The selection committee will choose the four teams for the playoff based on strength of schedule, head-head results, comparison of results against common opponents, championships won and other factors.
What will it take for Clemson to claim a spot in the first ever College Football Playoff?
According to head coach Dabo Swinney

Dabo Swinney
Head Coach
View Full Profile , the key for Clemson – and really any team vying for a spot in the playoff - will be taking care of business and beating the teams you should beat.
"That's the key, is who you lose to and what kind of team they are," Swinney said Monday afternoon at the ACC Kickoff. "If you are losing to somebody that is really not nationally perceived to be a great team, then that's probably going to hurt you more. I think you have a little bit more room for error with it expanding to four, and with the human poll now with the people that are evaluating it. You have a team that has gone 12-0 over here but they don't have any wins over any ranked opponents, and this team over here has one or two losses but they've lost to two top five teams by two field goals. I think those are things that are going to weigh heavily when people make decisions."
Swinney said that he knows that the room for error is very small, but at the end of the day Clemson's willingness to play a difficult schedule will pay off and hopefully when early December rolls around the Tigers will be in the mix for a playoff bid.
"You have to play a really good schedule, number one. And then compete very high in those games," Swinney said. "And you might see several teams that might have one loss or two but they could still be in the mix for a top four. But the margin of error is very small, and every week is a battle. For us, we just want to have a seat at the table when it's all said and done."
With games at Georgia and Florida State and the home finale against South Carolina, Clemson doesn't have the easiest road to the playoff. However, since 2002, there would have been nine two-loss teams (according to BCS rankings) make the playoff with three of those coming in 2007 – LSU, Virginia Tech and Oklahoma.
"I think even in the BCS, there were a couple of teams that had two losses and then made it on to the national championship and LSU was one of them, if I remember correctly," he said. "But when the BCS was in play and you had two teams, it was hard. You could have one loss – for example last year we lost to Florida St. but we didn't drop out of the Top 10. So we weren't out of it and anything could have happened."