| | |
| --- | --- |
| Can Christian Wilkins play offense? | |
---
| | |
| --- | --- |
| Thursday, January 7, 2016 9:26 AM | |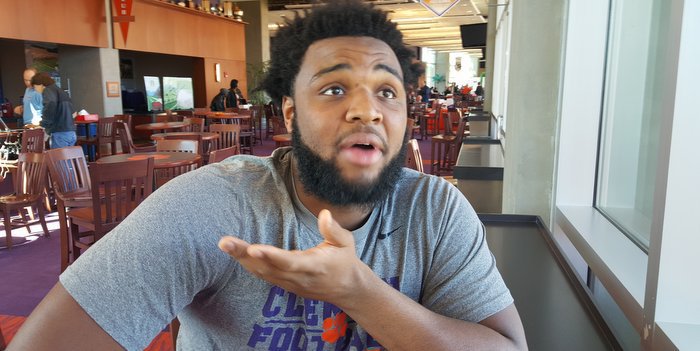 CLEMSON – Christian Wilkins shows off his athleticism on every play, but it was never more in focus than when he caught a pass on a fake punt against Oklahoma in the Orange Bowl.
The long pass play led to Clemson's first touchdown and had people all across the country shaking their heads and wondering, "How can a man that big move like that?"
The 309-pound freshman is just a freak of nature, and he's not shy about asking the coaches for added responsibilities. Even on offense.
"Hey, that would be nice. A little goal-line package or something - short yardage - yes, that would be nice," Wilkins told TigerNet this week. "I keep joking with Coach (Dabo) Swinney, Coach (Tony) Elliott and Coach (Jeff) Scott saying, 'Hey, let me get a play or two in on offense.' I'm trying to put it into their minds and let them know that I can do it. Hopefully, that will open up some opportunities. I feel like I could do that. I'm 100% confident that I could do that for sure."
For now, however, Wilkins is one of the anchors of a defensive tackle group that has played well this season.
"This is just remarkable what we've been able to do all year and the relationships that I've built with all the guys on the team," he said. "We've just become so close in the six months I've been here. That is truly why we are in the position we are in and having the success that we're having. It's the coaches and the message and what they are trying to build here - you can't beat it."
Next up for Wilkins is the College Football Playoff National Championship next Monday against Alabama, and Wilkins understands how special it is to reach that kind of milestone as a freshman. Making it even more special is that he gets to share it with his teammates.
"You think that playing in high school championships are a big deal and you give it all you got in those games, but now, playing for the national championship, most people don't even get to say they've been able to do, it's just great," he said. "We are a real close group. Scott (Pagano) from day one has taken me under his wing and tried to teach me the playbook and get ready. Carlos (Watkins) and DJ (Reader) have been great guys that I looked up to and they've taught me so much. We're having a good time just being around each other. It's a real group of brothers."
Wilkins isn't only dynamic on the field – he's a fantastic interview and doesn't shy away from the spotlight. As a result, he embraces the fact that he might just be the face of the defense over the next few seasons.
"I'm 100% comfortable that I'm going to be able to keep my head down and still focus on football and other things like school and academics," he said. "I'm up for it and have great role models around me that are going to help me be ready for that role."
Until then, however, he just wants to beat Alabama and prove that he plays for the best team in the country.
"If we are able to pull it off and beat Alabama then that really leaves no doubt about who the best team is. I was personally excited when I saw that we would be playing Alabama," Wilkins said. "I wouldn't want it any other way. Playing against a team that has 15 National Championships and has been the team that everyone wants to be like for as long as I can remember. If we're able to pull it off - there will be nothing that can compare to that. He (Derrick Henry) is different than those other two backs for sure. He's good - he's the Heisman Trophy winner - he runs hard and runs right through arm tackles. We're just gonna have to play low and with good leverage and do our job as best we can. Our front seven is going to have to be ready and wear them down and make plays when they come our way."
After consulting with our WR's on the bus we have officially welcomed a new member of the @ClemsonFB team to #WRU pic.twitter.com/YlSl1EKRoQ

— Coach Jeff Scott (@coach_jeffscott) January 1, 2016