| | |
| --- | --- |
| Can Boston College overcome offensive losses and post a winning record? | |
---
| | |
| --- | --- |
| Thursday, May 14, 2015 8:18 AM | |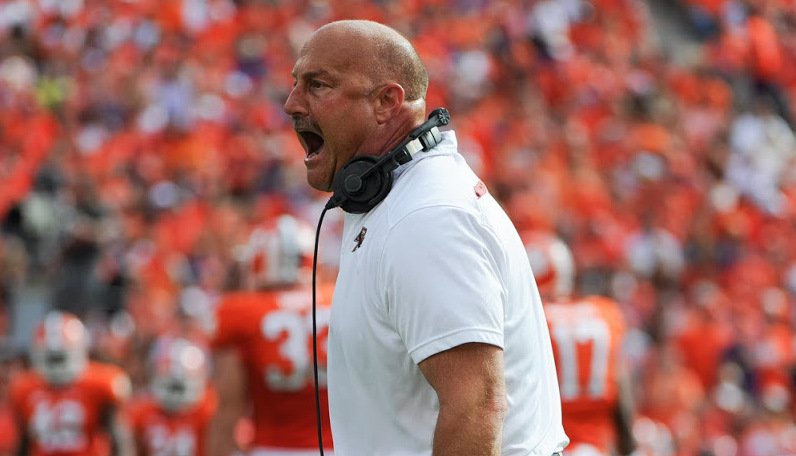 Things will be a lot different at Boston College in 2015.
The Eagles, who finished 7-6 last season, will have a new offensive coordinator in Brian Fitch, the former wide receivers coach who replaced Ryan Day after Day left to join Chip Kelly and the Philadelphia Eagles. On offense, the Eagles will have to retool the offensive line and find an answer at quarterback after the graduation of Tyler Murphy, who set an Atlantic Coast Conference season record for quarterbacks with 1,079 rushing yards (in 12 games). He also threw for 11 TDs and 1,526 yards.
The Eagles finished spring practice on March 28th and decided in the middle of the month that the school wouldn't have a traditional spring game, instead opting for an open practice.
"We ended our spring on March 28th. That was our last day of spring ball," head coach Steve Addazio said. "We've been out of spring ball for quite some time, which has been really unique for me, and I really loved it. Gave us a great opportunity to give us a longer lifting cycle post spring ball, gave the opportunity to have a 4 1/2, 5 month window for any injuries coming out of spring, and gave us the chance for the first time to really take our time and evaluate the cut-ups from the spring. I really enjoyed that. Usually, you're rushing right out on the road recruiting, but I thought that was important. So we had a great spring. We got a lot of work done."
The Eagles have to replace five starters on the offensive line, the quarterback and running back spots but Addazio said there is talent on board.
"Obviously, we're breaking in a new offensive line," he said. "We're breaking in a new quarterback and several other key positions, but there's a lot of young talent. So it will all now be about the development and the gelling of that talent together. So that's going to be a really, really important piece of the puzzle here as we go through the offseason and into the summer and get ready for next season.
"But there were encouraging signs. I think defensively we have a lot of players that have played a lot of football. So we were really able to operate an installation on a fast basis. On offense, it was a little slower, but there's a lot of young skill players that are exciting. I thought Darius Wade did a great job at quarterback, as did Troy Flutie, as did Elijah Robinson, who had just come mid-semester out of Montclair High School."
The answer at quarterback appears to be Darius Wade, who completed 3-of-8 passes for 23 yards in three games last season.
"Darius came mid-semester last year, so he's got a full year in here," Addazio said. "He's starting to get a good handle on the offense. He throws the ball extremely well. He's very deceptive. He has outstanding quickness and athletic ability. As spring wore on, he really started to make great plays and manage the offense properly. So we're excited about Darius."
Wade will compete in the fall with Flutie – the nephew of former Eagle and Heisman winner Doug – and newcomer Elijah Robinson but appears to have a solid handle on the position.
"You're always going to let the competition continue, but Darius right now is taking the role and the starting role right now with this football team at the quarterback position," Addazio said. "He was the starter coming out of spring practice and then, of course, we still have a whole summer ahead of us with Troy working hard and Elijah and Jeff Smith here in July, in June.
So I never close the door on anything, on any position, but certainly coming out of the spring, Darius was the starter coming out of the spring."
However, the Eagles will have to rely on newcomers along the offensive line, a tougher task considering the Eagles practiced with just seven offensive linemen at times this spring.
"We're going to have to rely on the newcomers, but the good news is we feel like we have an outstanding offensive line coming in here, young players," he said. "Now, they're young, and I know, as well as anybody knows, what that means. But I think they're going to be very talented.
You know, I think that we're going to rely on those guys. It was hard this spring. Hopefully, we'll never have that kind of situation as we should have our numbers balanced out now. So we should never have that kind of void like we had this past spring.
"Obviously, it's not a positive. Could we have functioned without those midyear guys? It would have been hard. It was great for them, and it was great for us. But all in all, saying all that I just said, a lot of good stuff happened this spring, and I'm extremely encouraged about our future because I think we've upgraded our team speed and the talent on our team."