| | |
| --- | --- |
| Camp Insider: So many great prospects, so little time | |
---
CLEMSON – So many great prospects, so little time.
The evening session of Dabo Swinney's high school camp had plenty of star power, and with the media limited to just four periods, there simply wasn't enough time to take it all in.
Swinney played the part of chauffeur early in the session, driving around with 5-star defensive end commit Myles Murphy and 4-star wide receiver prospect Xzavier Henderson. The trio stopped to watch 5-star quarterback commit DJ Uiagalelei throw with the receivers group.
Uiagalelei is exactly what we remembered from camp last year. The main difference is that he's more polished than he was a year ago. He got plenty of 1-on-1 time with quarterbacks coach Brandon Streeter early in the session, and he put those tips to work. He stands tall, has a beautiful over the top motion and has the arm strength to make throws to every part of the field.
At one point during the session, the excited father of one of the quarterbacks jumped on the field to take a picture because his son was in the same group as Uiagalelei, and the group was getting a lesson from Swinney. The father turned around and said, "I am shaking so bad. This is exciting."
Exciting times, indeed.
While we were watching Uiagalelei, a Clemson legacy quickly began to stand out. Aalijah Kelly is a 2022 wide receiver out of Greenville (SC) who happens to be the son of former Clemson running back Yusef Keith Kelly. He is long and rangy and can flat out run. He has been playing different sports year-round but will concentrate on football, school basketball, and track next year at Greenville. As a track athlete, he has the speed you look for but also has football skills. He's one to keep an eye on.
In the underrated portion of the evening session is 2021 quarterback Dylan Walters out of Port Haywood (VA) Jamestown. You won't find any offers under his name and he has yet to make a name for himself here, but there is a reason for that. He's been playing his high school football in Stuttgart, Germany because his dad is in the Navy.
When it became obvious that Dylan might have a future in football, his dad asked for a transfer back to the states so his son could make the rounds to the camps and play high school football in front of college scouts. Walters was impressive during the session and will be a D1 quarterback for somebody. It just depends on who wants to give him a chance.
*Another California kid that was impressive was Jaylin Davies, a 2021 defensive back out of Santa Ana (CA) Mater Dei. Davies is traveling with Uiagalelei's group, and he has offers from Alabama, FSU, Auburn, Michigan, Ohio St., Oklahoma, and Southern Cal, among others.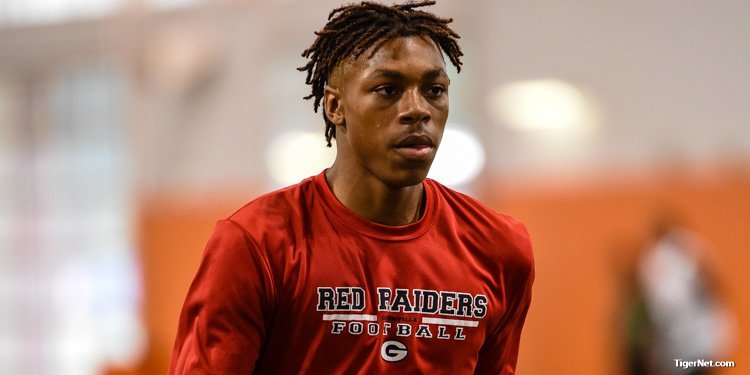 *The standout among the defensive lineman was 2021 Pilot Mountain (NC) East Surry defensive tackle Isaac Washington. He's listed at 6-4, 265, and might be a tiny bit bigger. He has everything you want in a defensive tackle – he's mobile, quick, and uses his hands really well. Once he learns the proper technique, he'll be a monster. He has offers from Auburn and Virginia Tech.
*Back to the California contingent. Working with the offensive linemen were 2021 prospect Maximus Gibbs (6-6, 330, seven offers including Florida and FSU) and 2022 offensive lineman Earnest Greene (6-5, 300, 12 offers). Current offensive line commit Mitchell Mayes watched the proceedings and even he was impressed with Gibbs. Gibbs is another one that has the IT factor. Once he gets it all figured out – once playing offensive line is second nature – someone will have a good one. Greene is the same way – big and strong and takes coaching.
When we first walked over the offensive linemen, I saw Jackson Carman, John Simpson, and Tremayne Anchrum coaching that group, and I thought I saw Cade Stewart mixed in among the prospects. It wasn't Stewart, it was Brentwood (TN) Academy 2021 guard Noah Josey, who sports the same kind of mullet as Stewart.
*Nikki watched the tight ends and came away impressed with Brentwood (TN) Ravenwood 2021 prospect Jake Briningstool. I watched him during the earlier session and loved his hands, and Nikki said he caught everything during the evening session.
*Finally, in a non-recruiting related item, Dabo Swinney might be responsible for breaking the Drake Curse. The "Drake Curse" is the phenomenon you may have heard about in which Canadian rapper and pop culture icon Drake roots for a professional sporting entity (team and/or individual) and they, regardless of circumstance, inevitably lose.
Many Clemson fans were concerned when Swinney, on his tour of sporting events with his sons late last month, took a picture with Drake. Some wondered if the Drake Curse would rub off on the Tigers.
People should know by now that Dabo always plans ahead. Swinney was riding around his golf cart tonight and told us that he gave Drake a coveted Clemson $2 bill with the knowledge that the Tigers would be able to lift the curse. As of today, Drake's Toronto Raptors hold a 3-2 lead over Golden St. in the NBA Finals. If the Raptors pull it off, they can thank Swinney and the $2 bill.

Upgrade Your Account
Unlock premium boards and exclusive features (e.g. ad-free) by upgrading your account today.
Upgrade Now