| | |
| --- | --- |
| Camp Confidential: Day One, Session One | |
---
| | |
| --- | --- |
| Monday, June 9, 2014 5:31 PM | |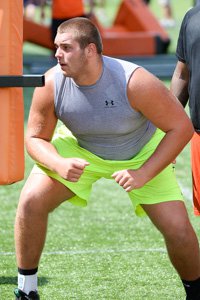 CLEMSON – The first session of Dabo Swinney

Dabo Swinney
Head Coach
View Full Profile 's high school football camp got underway under sunny skies Monday afternoon at the indoor practice facility and the outdoor practice facility, and a second session will begin shortly before seven this evening.
The first session, however, had plenty of star power.
Leading the way was offensive lineman Zack Bailey

Zack Bailey
Offensive Tackle
6-5, 300
Summerville, SC
View Full Profile out of Summerville, S.C. Bailey was in a group that included Clemson offensive line commit Jake Fruhmorgen

Jake Fruhmorgen
Offensive Tackle
6-5, 280
Tampa, FL
ESPN:


View Full Profile , and there is no doubt he looks the part of a college offensive lineman. While other line recruits still need to get into a college weight program and build up that upper body strength, Bailey (6-5, 305) looks like he would merely be refining what is already there. And when you have current offensive linemen coming up to you and singing his praises, you know the kid has a shot to be pretty good.
Bailey is ranked as the No. 207 prospect in the ESPN 300, and if the Tigers were able to snag a commitment (his decision will come later) it would give Clemson the best offensive line class in the nation.
So what stands out beside his size?? He has good footwork and good hands and seems to move really well considering his size. Very athletic big man.
*It took me a minute to recognize Fruhmorgen, who has short hair for the summer. Fruhmorgen had a shoulder scope at the end of last season and has skipped several events and camps as he rehabs, but he looked completely healthy Monday as he worked with the Clemson coaches. Quickest feet out of all the big guys I saw. It was also good to learn that he and Mitch Hyatt

Mitch Hyatt
Offensive Tackle
6-6, 270
Suwannee, GA
ESPN:


View Full Profile – Clemson's top recruit – keep in contact. Hyatt and Noah Green

Noah Green
Offensive Tackle
6-5, 275
Boiling Springs, SC
ESPN:


View Full Profile should both be on campus Tuesday.
*Former offensive lineman and current assistant Dustin Fry wasn't letting any of the offensive linemen take a break with the heat – he would stop in the middle of coaching to remind them to "stop bending over" and "stand straight up" and "don't lean on the equipment." Old school.
*The coaches from Ballou High School in the Washington, D.C. area had seven prospects on hand, including 2016 wide receiver offer Delontae Moore
Delontae Moore
Wide Receiver
6-1, 170
Washington DC, DC
View Full Profile . Intrigued as to how an inner city school (I thought I knew the answer) could afford to send three coaches and seven prospects on a road trip that includes several camps, I asked head coach Jason Lane how he made it happen. Yep…he and the other two coaches pay for the gas and hotels and food out of their pockets. As he said…..if he can get just one player out of that environment it's worth it. Thought that might be a good story for later – the other side of recruiting.
Moore definitely looks the part of a Clemson receiver. Fast off the blocks, good hands. He's grown and put on muscle since we saw him last season. I wouldn't be surprised if he is the first commitment for 2016.
*This is the first year I can remember current players "coaching" some of the younger players in camp, but Jordan Leggett was working with the tight ends, Cole Stoudt with the quarterbacks, Josh Watson with the defensive line and Ebenezer Ogundeko was working with the defensive ends.
* Albert Huggins

Albert Huggins
Defensive Tackle
6-3, 280
Orangeburg, SC
ESPN:


View Full Profile – Huggins was a late entrant to the camp, but the Orangeburg-Wilkinson product will be here all three days. During the first session, he stood behind ends coach Marion Hobby

Marion Hobby
Assistant Coach / Defensive Ends
View Full Profile and watched Hobby put several of the prospects through the drills.
Huggins, however, did have a take on a few of the "ends."
"See that guy right there?" Huggins said to a bystander. "He isn't used to playing on the defensive line. He is a wide receiver or a linebacker. Know how I can tell? His cleats. He doesn't have any support. He is wearing low tops. Anybody that has played in the trenches against good players knows you have to support. He has on receiver cleats. He wouldn't last on the line."
I spoke with Huggins before he arrived on campus, and he said that while Clemson feels like home, he really hasn't been anywhere else (other than South Carolina and UNC) to see how other places feel. As a result, he will take several visits this summer to see how they stack up to Clemson.
We're trying to get this up as quick as possible before heading back out for the evening session. We will have more observations from this afternoon's session that we will post in the evening wrap.