| | |
| --- | --- |
| Caldwell on the young OL: "They want to bury you in the dirt" | |
---
| | |
| --- | --- |
| Monday, July 20, 2015 7:01 AM | |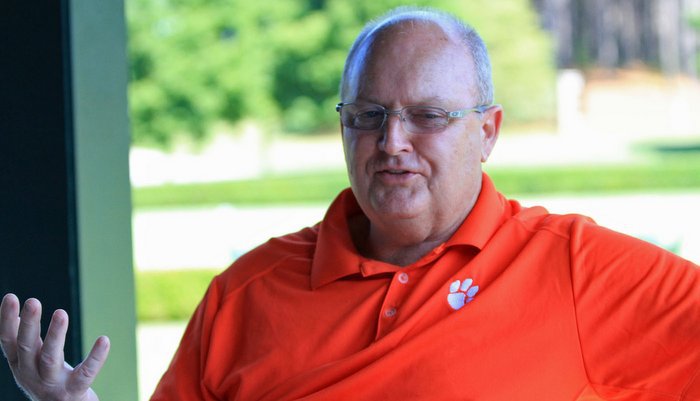 SUNSET, SC – Robbie Caldwell

Robbie Caldwell
Assistant Coach / Offensive Line
View Full Profile may have the most difficult job of all of the Clemson coaches this upcoming season as he has to replace four starters off of his offensive line unit.
Caldwell will have probably his most talented group of offensive linemen since he landed at Clemson, but that talent is offset by inexperience. That has led to concern from the fans during the summer, but Caldwell took time during Wednesday's media golf outing at The Reserve to break down several of the players who could be key contributors in the upcoming season.
Mitch Hyatt

Mitch Hyatt
Fr. Offensive Line
#75 6-6, 270
Sugar Hill, GA
View Full Profile and Jake Fruhmorgen

Jake Fruhmorgen
Fr. Offensive Line
#63 6-5, 285
Tampa, FL
View Full Profile
"Mitch and Jake, both - their football fundamentals were tremendous. Jake came in with his shoulder hurt and had very little strength, very bad. Obviously he couldn't control that because he just had his shoulder worked on, but his strength has tripled since he's been here. Mitch and Jake, they'll hurt you. They'll get after your butt. Physically, they'll get after you and they'll finish you. They want to bury you in the dirt."
Jay Guillermo

Jay Guillermo
RS Jr. Center
#57 6-3, 310
Maryville, TN
View Full Profile
"So far he's been doing great, in talking with him and the other players. We converse when I see him around the weight room. Right now, he'll be with Falcinelli and Giella at center. Jay can play guard as well. He's in that slot. It will be exciting to see where he's at."
Maverick Morris

Maverick Morris
RS So. Offensive Line
#69 6-4, 295
Broxton, GA
View Full Profile
"He's come a long way. He's a special guy. In the recruiting process when he came for a visit, the first thing he said is, 'Coach, I don't have any of those stars by my name,' and I told him, 'Well, that's why I like you.' Most of the people that are assigning those stars never put a uniform on in their life, so it's a bunch of hogwash.
"Maverick, we moved him to guard and he's been outstanding. You'll see him on the field a lot this year. He's grown a lot mentally. He's smart to a fault. He overanalyzed things when he first got here. It's a simple process and he's learned that now. He's grown past that and he had a really good spring. I'm excited about where he is. He played some tackle, too. I know he'll compete."
Tyrone Crowder

Tyrone Crowder
RS So. Offensive Guard
#55 6-2, 330
Marston, NC
View Full Profile
"Tyrone is very quiet. He's been really, really well coached in high school. Fundamentally, he's got it, but he didn't understand the speed of this game. Everything came so easy for him. He was a tackle in high school and we moved him to guard. Putting his hand on the ground was a little different for him. He now understands that he has to study the game. I'm very excited about where he's at physically. He got his weight down and monitors it pretty good."
Justin Falcinelli

Justin Falcinelli
RS Fr. Offensive Tackle
#50 6-3, 305
Middleton, MD
View Full Profile
"I challenged him in the spring and moved him to center. I don't think he had ever seen a football, because snapping is something different. It's hard enough snapping to a quarterback and then you put him in the shotgun. We suffered through it - snaps going every which way. I used a little reverse psychology on him and told him to just back over to guard and he said, 'I can do it and I'm going to do it,' and I knew right then - and I told our staff - that this boy was going to be something.
"He wouldn't back down from it. He took the challenge and went with it. He had a great spring and a tremendous spring game. I'm excited where he's headed. He's still got a lot to learn about directing traffic up there but he will. It's important to him. He's a really good player. He uses his hands well. He's got a chance to be very special at that position because he has size as well."
Ryan Norton

Ryan Norton
RS Sr. Offensive Line
#58 6-3, 285
Simpsonville, SC
View Full Profile
"It [The FSU game] was a tough growing situation for him. He'd never had that happened on that big of stage and that's tough on anyone. With social media and everybody attacking him, he learned to cope with it and grow through. I think he's become stronger mentally and physically and in every aspect. He loves the challenge of it."
Eric Mac Lain

Eric Mac Lain
RS Sr. Offensive Tackle
#78 6-4, 305
Hope Mills, NC
View Full Profile
"The hardest part for him was getting hit in the mouth every day - the constant banging. That's different, because they're running routes. It's not that they don't hit because they do, but in the line and going against Grady Jarrett

Grady Jarrett
Defensive Tackle (2011 - 2014)
#50 6-0, 290
Conyers, GA
View Full Profile and D.J. Reader

D.J. Reader
Defensive Tackle (2012 - 2015)
#48 6-2, 325
Greensboro, NC
View Full Profile . He has grown and he's a more physical guy now. If you didn't grow up doing it, it takes a little time. It's different. It can be demoralizing. It can get ugly. He's adjusted. He's such a good person and good leader. He's good for these guys."
Joe Gore

Joe Gore
RS Sr. Offensive Tackle
#73 6-5, 290
Lake Waccamaw, NC
View Full Profile
"Maturity is a word that everybody uses but he just had to grow in the football world. I get on Joe more about mumbling and being meek. It just drives me crazy. How is your teammate in front of 90,000 people going to know what you're doing unless you're loud and boisterous? His maturity level has come a long way. He's just got to grow. He has all of the tools - mentally he is really good and physically he has everything - and now he's just got to put it all together. He was a big help on the sidelines last year. I hope he has a good year, not only for us, but also for Joe."

Tags:
Joe Gore
,
Grady Jarrett
,
Eric Mac Lain
,
Ryan Norton
,
Jay Guillermo
,
D.J. Reader
,
Tyrone Crowder
,
Maverick Morris
,
Justin Falcinelli
,
Mitch Hyatt
,
Jake Fruhmorgen
,
Robbie Caldwell