| | |
| --- | --- |
| "Calamity of errors" haunts Clemson defense in second half | |
---
| | |
| --- | --- |
| Sunday, September 28, 2014 7:01 AM | |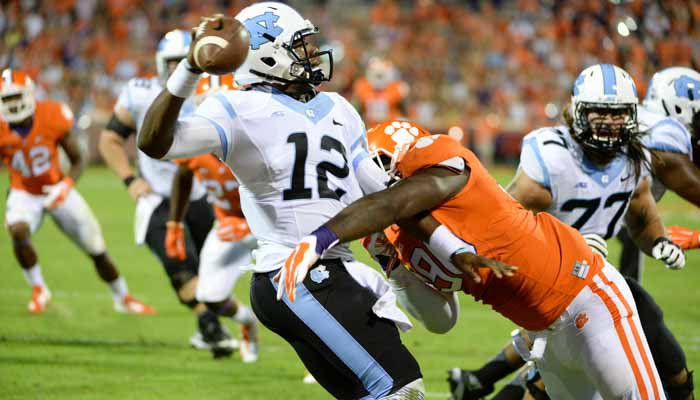 CLEMSON – Clemson's defense played perhaps its best game in years last weekend against top-ranked Florida State, but Saturday's home effort against North Carolina was a "calamity of errors".
Those are the words of defensive coordinator Brent Venables

Brent Venables
Def. Coordinator / Linebackers
View Full Profile after his unit's performance in Clemson's 50-35 victory over the Tar Heels in Death Valley Saturday night.
The Tiger defense had given up just 136 yards and seven points in the first half and seemed to be building on the effort given in Tallahassee but the second half saw a different defense – a defense that had a difficult time stopping even the simplest of plays.
An obviously unhappy Venables told the media after the game that the defense's performance was night and day from the first half to the second half.
"Obviously, we had a pretty solid first half and then a calamity of errors in the second half," Venables said. "I thought we lost our focus and our intensity a little bit for whatever reason. They're good enough that they just worked us. They didn't even have to work us because we were giving up simple things like boot plays and leverage. We don't play simple, elementary screen passes – two screen passes. They blocked us. They executed. They kept the pedal down and we just lost that intensity and that focus that it takes to play at a high level when you're playing a quality opponent."
The second half saw the defense give up 28 points and 342 yards – 258 yards through the air – and Venables said that it was fundamental and technique breakdowns on plays that the Tigers repeatedly stopped against the Seminoles.
"There were issue with pass defense," Venables said. "The jailbreak screen got us on two of them. Then they ran a boot that went for 75 yards. I don't know what the other one was. You've got a flat defender who doesn't take the 260-pound guy in the flat so the safety grabs him. We probably saw 10 boots last week against Florida State and stoned every one of them. Why does that happen? Obviously we did a poor job of getting our guys to execute on some basic, fundamental things. We didn't practice very well this week either. Some of the bad habits may creep back up."
Venables said that everyone – coaches and players alike – are accountable for their actions.
"It's humbling and it stinks and it's awful but we all have ownership," Venables said. "I can tell you what happened on every one of them. All of the different calls, different issues and different guys. "
And, he must grow his defense up and teach them to play with the same effort from play to play, quarter to quarter and game to game.
"They're on two different planets," Venables said. "It's unfortunate. I thought we had matured beyond that but it's not all them. We've got to do a better job of getting them understand what we want and how to defend certain things. I didn't think we played with the same kind of passion, intensity and focus that we need to finish the game and play a good, strong fourth quarter. We gave up 28 points in the second half. And 21 one of them were just bad football."