| | |
| --- | --- |
| Cain's coach says Clemson is getting the nation's most dynamic playmaker on NSD | |
---
| | |
| --- | --- |
| Tuesday, February 3, 2015 6:40 PM | |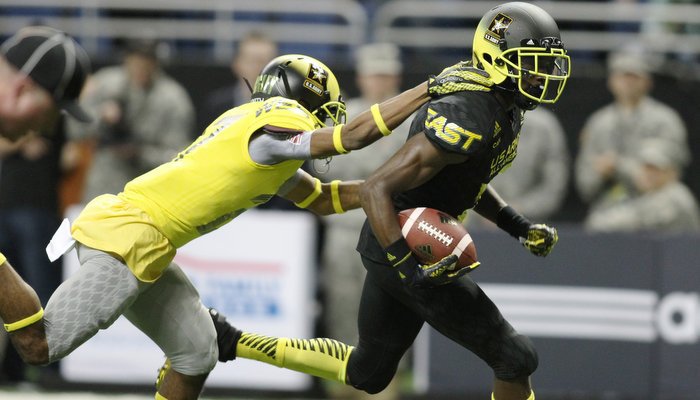 Deon Cain

Deon Cain
Wide Receiver
6-2, 200
Tampa, FL
ESPN:


View Full Profile 's head coach thinks the Clemson Tigers will land the most dynamic playmaker in the nation Wednesday, and he is fairly certain it's Clemson and no one else.

There was a lot of speculation after Cain and fellow Clemson commit Ray-Ray McCloud

Ray-Ray McCloud
Wide Receiver
5-10, 180
Tampa, FL
ESPN:


View Full Profile took a weekend visit to Auburn that the five-star duo was having second thoughts about their Clemson commitments, but Jayson Roberts – Cain's head coach at Tampa (FL) Tech said, "I don't have any reason to think that it won't be Clemson," when asked about the status of his star quarterback's decision.
Cain's name hasn't been in the news or circulating on message boards of anyone besides Clemson until this weekend because of the understanding he had with Clemson head coach Dabo Swinney

Dabo Swinney
Head Coach
View Full Profile about the word commitment, which is why Roberts said that Cain hasn't been on any visits - outside of Clemson and Auburn - since May of last year.
"That was part of the understanding when he committed so early in the process that Coach Swinney made sure he understood that if you want to commit to us that we need you to be committed and say that you're done with the recruiting process," Roberts told TigerNet Monday afternoon. "He felt like Clemson was the place that once he went up to see it was it and where he wanted to be and he was ready to chill the recruiting process at that time and point, so that's why he didn't really take any visits - that's what was discussed when he committed back in May."
Roberts is finalizing the details for tomorrow's signing day ceremony, which will take place at 1:30 p.m. - although the letter of intent will probably be faxed in much earlier in the day - and when asked about Cain told TigerNet that even though the 6-2, 195-pound athlete hasn't spent a lot of time at wide receiver he has the skill set to be dominant for the Tigers.
"As a receiver at the next level, he has all of the tools," Roberts said. "He's just so natural there - the way he gets in and out of breaks. His ball skills, the way he touches the football - he's always using his hands and always at the highest point. It's scary to think just how dominating he could be at receiver once he gets polished and he gets coached up by Coach [Jeff] Scott and he learns all of the nuances of playing the position."
Roberts said that Cain showed tremendous ability from an early age and that he is unfazed in the face of pressure.
"Clemson is getting, in my opinion, the most dynamic player in the country - a guy that at his size, its uncanny how he can move like a smaller guy and how quick he's able to accelerate and get to top-end speed," he said. "The way he's able to see the field with his vision is remarkable. They're getting a guy that is very special. We probably first recognized just how special he was an athlete probably partway through his sophomore year when he was our starting quarterback and led us to the playoffs. The ability he showed even then when the plays broke down in the pocket he never really panicked or got rattled. He would just make guys miss and find a way to make plays. From that point on we kind of just took off. It got to a point that going into his senior season there was nothing that he really did that could shock us anymore because we had seen him do it all."