| | |
| --- | --- |
| Cain plans on breaking Clemson's receiving records | |
---
| | |
| --- | --- |
| Sunday, June 1, 2014 5:47 PM | |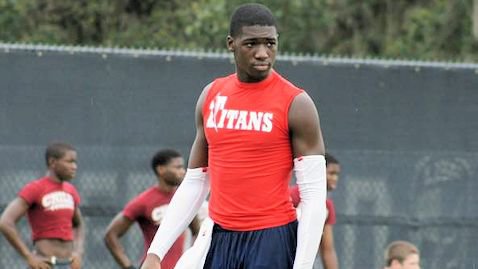 Clemson's past success at the wide receiver position is quickly paving the way for future stars and that was never more evident than when Deon Cain

Deon Cain
Athlete
6-2, 200
Tampa, FL
ESPN:


View Full Profile chose the Tigers over several traditional college football powers Friday afternoon.
The 6-1, 190-pound prospect – who plays quarterback at Tampa (FL) Tampa Bay Tech – found something at Clemson that he couldn't find at other top-tier ACC and SEC schools.
A home.
"My final schools were Florida, Clemson, Georgia, Alabama, Clemson and Miami and at the end of the day Clemson was a home for me," Cain said shortly after making his announcement. "I was blessed to have those other opportunities from other schools, but I just felt like Clemson was home. It was a very hard decision. I had a lot of great schools after me. I had to get down to the nitty gritty and figure out which school really fit me and in the end Clemson was where I felt most at home."
The No. 5 athlete in the country according to ESPN completed 49 percent of his 245 pass attempts in 2013, throwing for 1,945 yards, 13 touchdowns and seven interceptions. However, after much consideration he decided that wide receiver gave him the best opportunity to be successful at the next level.
"I was recruited as a receiver, so I'm going to be playing receiver for the next three or four years," Cain said. "I wanted to make that with the talent that I have that I would be able to play at the next level. I didn't know if it would suit me best to play receiver or quarterback, but with Clemson's style of offense and my talent, I think I can go far."
Cain doesn't intend to come into to Clemson and be just another wide receiver among many great athletes, he plans to topple the records held by formers stars like Nuk Hopkins, Sammy Watkins and Martavis Bryant.
"That a good thing. They have a lot of guys from the past that that have been successful and moved on from the NFL," Cain said. "Their past three receivers have been breaking every record, have been very successful and have been drafted. I know that with my skill set and my talent that I can break all of those records."
If his drive remains the same when he steps foot on Clemson's campus in 2015, he may be able to do just that, because his high school football coach Jayson Roberts said that he definitely has the athletic ability be successful at the college level.
"He's probably the most athletic kid I've ever coached," Roberts said. "The number of things he can do as a receiver, run, jump, I've never seen a kid so comfortable with the ball in the air. He just plucks the ball out of the air. He makes everything look so effortless. He's such a smooth athlete and one of the most competitive kids I've been around."