---
| | |
| --- | --- |
| Sunday, October 11, 2015 3:23 PM | |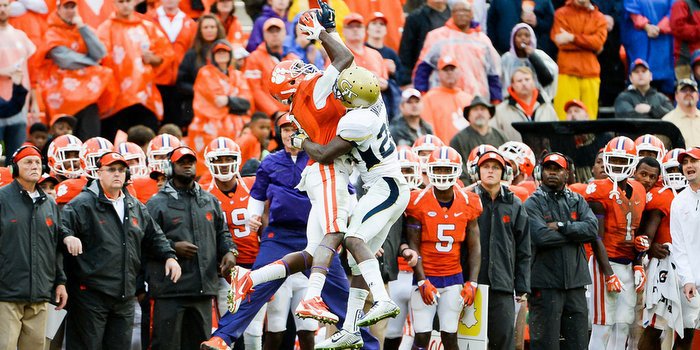 CLEMSON – Clemson's offense has been looking for a downfield threat since junior Mike Williams

Mike Williams
Jr. Wide Receiver
#7 6-4, 213
Vance, SC
View Full Profile went out with a neck injury early in the season, and they may have found their guy in freshman Deon Cain

Deon Cain
Fr. Wide Receiver
#8 6-1, 197
Tampa, FL
View Full Profile .
The downfield passing attack has been MIA since Williams injured his neck catching a touchdown pass against Wofford on the first offensive series of the season. The offense was good enough to beat the Terriers and Appalachian St. without the deep ball, but questions began to arise when quarterback Deshaun Watson

Deshaun Watson
So. Quarterback
#4 6-2, 207
Gainesville, GA
View Full Profile threw two interceptions against Louisville and threw for under 100 yards in a driving rainstorm last week against Notre Dame.
More rain was on hand for Saturday's win over Georgia Tech, but offensive coordinator Tony Elliott

Tony Elliott
Co-OC / Running Backs
View Full Profile said he challenged his offense to go out and be explosive. Cain was just one of the receivers that answered Elliott's call – he reeled in five passes for 96 yards, an average of 19.2 yards per catch. Something that Elliott was looking for.
"You go back to last week, and the conditions were different and we did what we had to do to win the game," Elliott said. "This week, I told the guys, 'Let's go out and be who we are. Let's go out and be explosive and make plays by throwing the ball as well.' We've known all along that he (Cain) was a playmaker. Now he's playing faster, and he's starting to get a better understanding of the system. It's not just situational plays. Now you can throw him out there in the rhythm of a series and leave him out there as opposed to just throwing him out there for a specific situation."
A happy Cain said he was just happy to contribute and that he understands how he can help ease the loss of Williams.
"For the first time, it felt good being out there and trying to get comfortable out there on the field and making plays. It's been going a little bit better," Cain said. "My teammates have been trying to encourage me to keep me up. I finally got my chance out there and I tried to make the best of it. I'm just trying to improve and trying to step up to fill the shoes of Mike. We still have other receivers who can make downfield plays - Charone Peake

Charone Peake
Gr. Wide Receiver
#19 6-2, 214
Moore, SC
View Full Profile , Trevion Thompson

Trevion Thompson
RS Fr. Wide Receiver
#1 6-2, 193
Durham, NC
View Full Profile .
"We're still good. We've got good receivers, and everybody can make plays. I'm pretty sure I thought I'd have to wait my turn because I knew Mike was in front of me. Really this year, I'm just trying to learn everything about college football. I'm learning a lot from Mike and Charone. As things go on, my time is improving on the field, and I'm just trying to make plays."
Cain finally saw some daylight in the third quarter when he hauled in a 21-yard reception. Cain appeared ready to break a long one, but tripped over the 40-yard line trying to be like Deon Sanders. His trip didn't matter – Zac Brooks

Zac Brooks
Running Back (2012 - 2015)
#24 6-0, 200
Jonesboro, AR
View Full Profile took the next play 35 yards for a touchdown – but Cain knows he might be the subject of teasing for the trip.
"I tried to do a little Deon Sanders - a little somethin', somethin' - and I tripped," he said. "I just tried to make it up on the next play. I might be on Vine or something like that, but I don't mind. It's a blessing that my opportunity is coming. I'm just working hard every day throughout practice. Every day, Coach Swinney just encourages us to get our practice habits up more, so I'm getting better in things like that. I'm just trying to execute in the games."
Cain said the coaches were confident they would be able to exploit Tech's secondary, giving Cain his chance to shine.
"When we were studying the film, we thought we could open up the passing game," Cain said. "Last week, we were trying to do that, too, but we couldn't because of the weather. This was the week to show everyone that we have top receivers that can make plays. It's not just one or two receivers; we have multiple receivers."
Co-offenisve coordinator and wide receivers coach Jeff Scott

Jeff Scott
Co-Offensive Coordinator / WR
View Full Profile said he was happy to see the Florida native contribute.
"Deon is a guy that shows flashes. He is very talented, but he is a true freshman that played quarterback in high school," Scott said. "So he has had to learn a lot. But he's a guy that you will see getting better and better each week. We thought in the Notre Dame game we would have the set up to get him the ball, but it didn't happen, so it was good to see him go out there and make some plays in big situations."
Cain said his level of confidence is growing.
"My confidence level is always high. It's never low, so I'm just going to keep raising it going forward," he said. "I think I improved more in my route running and blocking. I had a few good little blocks, and I'm just trying to improve on anything. There's always something to improve - route running, getting off press coverage."
It helps that he has fellow Florida native and friend Ray-Ray McCloud

Ray-Ray McCloud
Fr. Wide Receiver
#34 5-9, 181
Land O' Lakes, FL
View Full Profile along for the ride.
"It's fun. We grew up together," Cain said. "We've always worked together, so being here in college together and working together, we try to encourage each other just to do better so we can both go to the next level."
Cain finished by saying he doesn't feel any pressure – he just wants to do his job and help the offense score points.
"I don't feel any pressure. The hype is just hype," he said. "I just try to stay focused and maintain all of my goals."