| | |
| --- | --- |
| Bryant ponders decision to leave for NFL | |
---
| | |
| --- | --- |
| Sunday, December 15, 2013 9:27 AM | |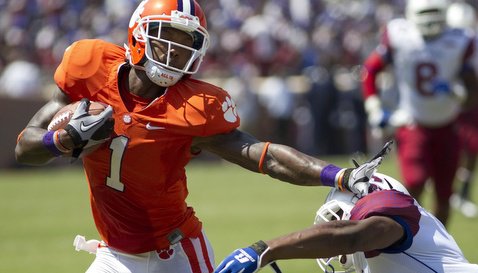 CLEMSON - Martavis Bryant

Martavis Bryant
Jr. Wide Receiver
#1 6-5, 200
Calhoun Falls, SC
View Full Profile began the season as a relative unknown by many outside of Clemson, and now as the 2013 season comes to a close the junior from Anderson has a difficult decision to make.
Bryant played in all 12 games and is third on the team with 39 catches for 800 yards and five touchdowns, and now he must to decide if he will forgo his senior season and enter the NFL Draft.
Bryant said after Saturday's practice that he has been mulling over his decision, but will wait until after the Orange Bowl to make it final.
"I've been thinking about it, but I'm not going to decide until after the bowl game. I've been thinking about it a lot though," Bryant told the media Saturday.
He has submitted his paperwork to the NFL, but it would take a second or third round grade for Bryant to really consider leaving.
"I don't have the slightest clue [what grade he'll receive]," Bryant said. "I'm just going to wait and see and I'll decide after the bowl. I'm just going to wait and see. [A second or third round grade] would make me think about leaving."
However, before Bryant makes his decision the Clemson coaches want to talk with him.
"They just said that they want me to come and talk to them, which I'll do," Bryant said. "I will go talk to them and tell them what I've decided to do. They're behind me 100 percent whatever I decide to do."
Meanwhile, Bryant and his teammates must get back to work and focus on Orange Bowl foe, Ohio State.
"It's pretty exciting, but at the same time I have to stay focused," Bryant said. "The season isn't over and we still have one more game left and we're going to try to win this one."
The Orange Bowl gives the Clemson Tigers a chance to redeem themselves after a fifth consecutive loss to South Carolina.
"It's good to come back out here and get to work because we have a bad taste in our mouths [after the South Carolina game]," Bryant said. "It's good to go to work knowing that we are playing in a BCS game. This game is a chance to show what we've got."