| | |
| --- | --- |
| Brutally Honest: Venables "P.O.'s" players in telling the truth | |
---
| | |
| --- | --- |
| Tuesday, November 17, 2015 6:07 PM | |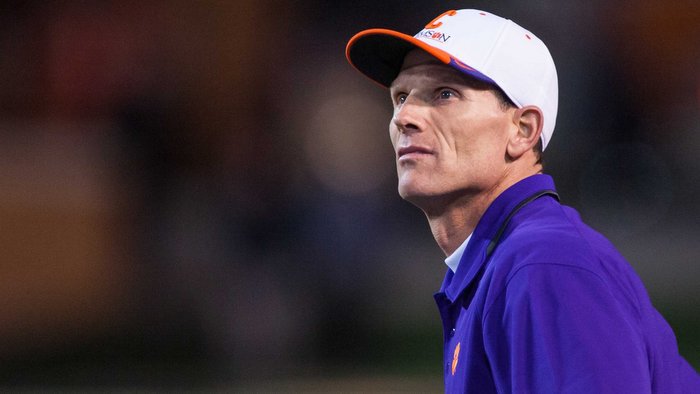 CLEMSON – Defensive coordinator Brent Venables doesn't sugar coats things, instead opting for being honest and upfront about his players and his defense.
Tuesday, he was brutally honest.
Clemson's defense gave up 242 rushing yards to Syracuse last weekend, and Venables said he knew in pre-game that it was going to be a long day. Why? Because his players didn't respect the game, and it made the fourth-year coordinator angry that his players were cheating the game he loves.
"Before we went out on the field, I knew it and I told the guys that we didn't have the edge and the focus and the intensity," Venables said Tuesday in the WestZone. "You can't cheat this game and go out there not with intensity. This is a very passionate and intense game, and when you don't have that that's all the edge an opponent needs to have success against you."
Venables said his Monday meeting with the defense centered on whether the group was the one that played well through the season's first seven games or has given up big play after big play the last three weeks. He said his assessment caused his players to get riled up.
"They're super correctable things. I would probably feel real miserable if guys were getting blown off the ball or we didn't have the skill to match up in the back end or our linebackers were soft," he said. "Those aren't the issues. I asked the guys if maybe these last few weeks when we haven't looked very good, maybe that's who we really are. Maybe that's who we are and the first part of the season - the first six or seven games was smoke and mirrors. They didn't like that. It was a very quiet room and when I said that there were a lot of guys that were starting to get PO'd (pissed off). I thought they were PO'd all season and had an edge to them and were out to prove something.
"I hate comparing one player to the next or one year to the other, but it was so good last year for so long. As a player, I always tried to look to see who was doing it right and who coach kept praising, and I would try to emulate that. What is that? I need to have me some of that. Last year's group, all the way until Coach Swinney made us pull them off the field in the third or fourth quarter against Oklahoma, they weren't finished. That was super cool and you'd love to bottle that up. There are enough guys who witnessed that who can relate to that. They understand what I'm talking about. It's not just throwing words out there or trying to throw guys under the bus. That's what made that group so special. We're capable of that."
Monday's practice showed his players care about their performance.
"I think there's been some ownership and some accountability. We've got a good group of guys who do care," Venables said. "They're young people, so occasionally they're going to relax a little bit. Part of that is our responsibility as coaches," he said. "We've got to help them a little better and get them, so they don't have those kind of letdowns. That's the hard part of trying to navigate your season. Every season is the same, the challenge is to keep them on edge and hungry and focused and all of those things. That's why as you go through the season people start eliminating themselves.
"Sustaining success and playing at a high level is very difficult over the course of a 13, 14, 15 game season. It's that way for everybody though. Fortunately for us we played good enough to win. I do believe that our guys had some regret. They're not looking at us like we have three heads and thinking they played great. They're not living in la la land, so we're capable of playing better and coaching better, and we need to move forward and hopefully we will."
Syracuse ran a three-wide version of the triple-option that caught the defense off guard, but Venables said that won't be used as an excuse.
"They had a nice little new scheme. I know what I said afterwards, but I don't want to give our guys an excuse for missing a tackle or putting my eyes in the backfield on a half-field safety and letting the guy run by me or third-and-two and they throw a little slant route for what should be a two or three yard gain and it goes for sixty-six," Venables said. "Those things are unacceptable, and when I start making excuses and trying to justify failure they're going to buy into that. They had a new little wrinkle that they out-leveraged us some. We played it well some and they ran it well some. A couple of other times, it had nothing to with that."
How good is the defense? They don't stink.
"We don't stink either. We have some stinky plays for sure, but I'm competitive too. I want to make sure we show our guys the good plays they played in that game, too," he said. "I don't want to sugarcoat things, but I'm not ready to jump off the top of the stadium. Mad? Yep. Embarrassed at times? Yep. I still without question believe in our guys and believe in what we're doing as a staff."
The team hasn't been overconfident playing as the nation's top-ranked team, and he said the players know how to handle success.
"These guys have never been terrible. I think they're going for their record-breaking win, so they know how to win," Venables said. "How you handle success is everything as human beings. What's the natural tendency? You're feeling good, you've been knocking everybody out, and everybody's telling you you're the champ and rubbing your shoulder. All you have to do is show up, and you're the best that's ever been, and you put your guard down. That's what's hard. Handling adversity is easy. Everybody comes in, and they're humble and it's like, 'Oh my gosh, I'm going to get annihilated today,' but handling success and now you're a first-round draft pick projection which makes you want to puke. You're constantly fighting handling success. Even my own sons are like, 'We're going to kill these guys. They suck. They're terrible. So and so beat them by 20.' I just snap. I hate that. That comes from somewhere. I'm like you guys are going to get blistered this week if you're a leader, and that's the way you're thinking, you have no respect for this game and the people playing and the coaches that you're competing against. "
However, Venables does think that over the last few weeks some have lost their humility and the desperation it takes to play at a high level.
"Everybody wants to anoint everybody. I know. I see it on the ticker when there's an 88-percent chance of winning, and then we lose by seven touchdowns. I've been there and you fight that," he said. "You've got your head in the sand if you think that doesn't affect you sometimes. You just have to be relentless. Sometimes it works and sometimes it doesn't. Sometimes they listen and sometimes they won't...I told our guys that I didn't think we had the humility that we need. Whether it's three or four days or the last couple of weeks, we've lost some of the humility that you've got to have where you're frantic, desperate, terrified that if you don't do it all right today, get your film in, if I'm not desperate at practice and being coachable that we're going to lose this game. If everybody had that mindset, we'd be just fine."