| | |
| --- | --- |
| Brooks and Davidson share a laugh, Sam Cooper and more Tuesday nuggets | |
---
| | |
| --- | --- |
| Wednesday, August 6, 2014 2:30 PM | |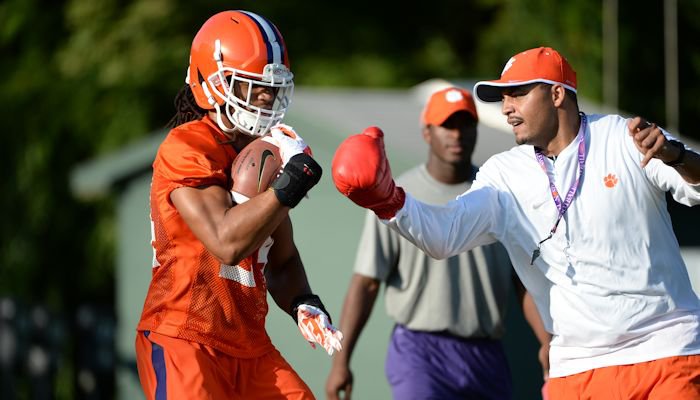 CLEMSON – Here are a few more nuggets we found from Tuesday night's practice and interview session, and we'll have a few more stories out of this session during Thursday's off day.
Let's start with the running backs – Clemson head coach Dabo Swinney

Dabo Swinney
Head Coach
View Full Profile as very complimentary of the backs during his interview session, saying that this might be the most balanced group Clemson has had during his tenure.
Zac Brooks

Zac Brooks
Jr. Running Back
#24 6-1, 199
Jonesboro, AR
View Full Profile and C.J. Davidson

C.J. Davidson
RS Jr. Running Back
#32 5-10, 203
Clemson, SC
View Full Profile came out for interviews, and instead of doing individual sessions, the two sat down on the same bench and conducted a type of pool interview session. As you might expect, there were more than a few laughs.
The first occurred when one writer asked Davidson to give a scouting report on Brooks, and instead of Brooks, Davidson launched into a scouting report on each player. Brooks scratched his head smiled, let Davidson go on for a minute or so, and then said, "Dude, he only asked you about me."
Davidson stopped his train of thought, and said, "What?"
Brooks laughed and said, "He only asked you about me."
Davidson smiled and then continued talking about the entire group, saying he wasn't going to leave out any of his teammates.
Other notes
Brooks on what is he is working on
"Small stuff, like trying to get my hands stronger. Like when I am driving just squeezing the steering wheel and trying to make my hands stronger. It's the small stuff and the stuff that Coach Elliott does with us during drills."
Brooks' thoughts on the running backs
"I told you last year that this would be one of the most dynamic backfields Clemson has ever seen. People will tell you about C.J. Spiller

C.J. Spiller
Pro Running Back
#28 5-11, 195
Lake Butler, FL
View Full Profile and James Davis

James Davis
Running Back
# 6-0, 205
Atlanta, GA
View Full Profile , but I am confident when I say that because I know how my group works. Work ethic speaks. We work out together and push each other."
Davidson on the pride of the backs
"From a pride standpoint, our unit has the pride that we want to be the heartbeat of the offense. We are competing every day and it will make us and the offense better as a whole. "
Tight end Sam Cooper

Sam Cooper
RS Sr. Tight End
#86 6-6, 250
Brentwood, TN
View Full Profile on the tight ends
"This is going to be a special year. Our room is as deep as it's ever been. Each different guy – whether it's Leggett or Jay Jay or Stanton or myself – we each bring a certain skill set. It is going to be exciting with so many different formation packages. It's going to be fun. We have the fast guys like Jay Jay who was taking snaps in the spring game to Jordan with his route running. Who has the edge in what field? It's a pretty narrow gap.
"Last season we kind we didn't necessarily have a drop off, but the previous two years we had guys like Dwayne Allen

Dwayne Allen
Tight End (2008 - 2011)
#83 6-3, 255
Fayetteville, NC
View Full Profile and Brandon Ford

Brandon Ford
Tight End (2008 - 2012)
#80 6-4, 240
Wando, SC
View Full Profile who had a ton of receptions and a lot of production. Last year that was kind of down. For our group, that is our main focus and goal is to increase that production. "
Cooper on the freshmen tight ends
"Athletic young group. Milan (Richard) can run and Cannon (Smith) is one of those hard-nosed guys you like to see. They are going to be a good bunch.