---
| | |
| --- | --- |
| Sunday, October 4, 2015 2:14 AM | |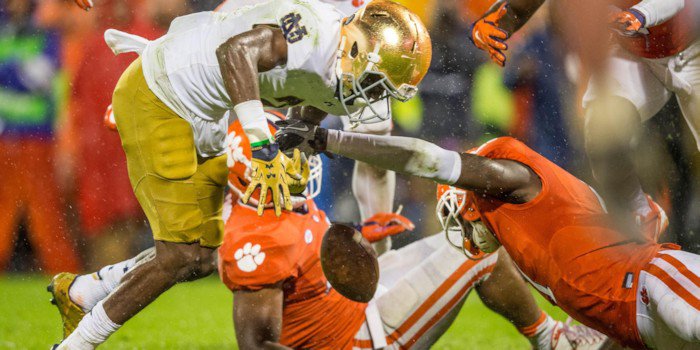 Dabo Swinney

Dabo Swinney
Head Coach
View Full Profile and his 11th-ranked Tigers preached all week, and those guts showed up in a big way as Clemson held off a late Notre Dame rally and stopped a 2-point conversion with seven seconds remaining in earning a 24-22 victory Saturday night in Death Valley.

The Tigers were the aggressors from the outset, and held on in a soggy and frantic fourth quarter, the end in doubt until Notre Dame's last-ditch onside kick effort fell into Clemson hands.

It was the kind of game Clemson used to lose, and indeed the national media began to lick its collective chops in the fourth quarter as the Irish made their comeback. Surely, this would be another game the Tigers would lose in some sort of heartbreaking fashion.

Not these Tigers.

Clemson's defensive line stopped Notre Dame quarterback Deshone Kizer on a two-point conversion attempt with seven seconds left on the game clock – the Irish had just trimmed the Clemson lead to 24-22 – a last-gasp effort from a defense that was down to its last gasp as the Irish ran roughshod in the fourth quarter.

Defensive end Shaq Lawson

Shaq Lawson
Jr. Defensive End
#90 6-3, 272
Central, SC
View Full Profile walked by Notre Dame receiver Will Fuller and quipped, "Clemson sure is savage tonight, isn't?" in reference to Fuller's tweet earlier this week that the game would be "savage."
It was savage. It was brutal. It was soggy. It was gutsy.
"What I told them tonight is that we give you scholarships. We give you stipends. We give you meals, and a place to live and nice uniforms. I can't give you guts and I can't give you heart," Swinney said. "Tonight was B.Y.O. G. – Bring Your Own Guts. They brought some guts and some heart and they never quit until the last play. Thank you to the good Lord and my dad for being with me tonight."
*First off, a lot was made of the crowd and how everyone thought Clemson fans wouldn't show up because of the weather conditions, but the fans in true Clemson fashion proved everyone wrong to the tune of 82,414, and it didn't go unnoticed.
"First, I want to thank our fans. They showed up to make sure that we showed up. It was a magical night - one of those nights I'll never forget," Swinney said. "You get special moments, they're all big, and tonight was a magical night. And our fans were unbelievable. Tiger Walk was like I'd never seen it. They didn't care about the rain, and neither did our guys. They were electric, and when we needed them in the fourth quarter, they were there. I can't say enough about them."
Swinney was very emotional after the game, but just like he promised during ESPN's College GameDay, he was prepared to dance the night away.
"Rain, sleet or snow, Tiger Nation showed that they were here tonight," Swinney said. "Great job. We're going to do the Whip and Nae Nae tonight."
*Defensive coordinator Brent Venables

Brent Venables
Def. Coordinator / Linebackers
View Full Profile was ecstatic and downright jubilant after his defense's performance at Louisville, but Saturday's last second goal line stand was a little more nerve-wracking, something Venables doesn't hope to have to experience again any time soon.
"If we were in better control of the game I love it, but I didn't feel we had great control there at the end, so no I didn't like it today," Venables said. "I loved it last week when they were fumbling all over the place and they throw a Hail Mary at the end. I like that one, better than them having the ball on the two-yard line."
*Shaq Lawson was a big part of Clemson's defense tonight, registering seven tackles and three-and-a-half tackles for loss. He said he's had the Notre Dame game circled for quite some time as he knew he would have the opportunity to show the country what type of defensive end he is.
"I knew it was big matchup with me and (left tackle Ronnie) Stanley going up against each other, and I know they have him projected in the top three, so I knew I had to come out with my A game and I feel like I did a great job with that," Lawson said.
*If you thought Clemson's play calling went a little conservative, you aren't totally wrong. Clemson offensive coordinator Jeff Scott

Jeff Scott
Co-Offensive Coordinator / WR
View Full Profile said late in the game their plan was to make Notre Dame work for every yard and drive the distance of the field in the wind and rain to get a score.
"We saw a lot of balls slipping through hands and we didn't want them to slip and go the other way," Scott said. "We just didn't want to give Notre Dame any short fields. We felt like we were punting the ball well, and we wanted to make them drive the whole length of the field."
Speaking of gameplan, running back Gallman had 22 carriers for 98 yards, said that late in the game with the rain pouring down, he wanted to ball in his hands.
"I just think that's the thing with all of the backs. When we get the carries, we just like to take over and I think that was my job later in the game," Gallman said. "When the rain started coming down and nothing was really working, I wanted to put it in my hands and try to make something happen."
*Throwing the ball was particularly difficult tonight, but Deshaun Watson

Deshaun Watson
So. Quarterback
#4 6-2, 207
Gainesville, GA
View Full Profile said the offense left at least 14 points on the field with two dropped passes in the endzone.
"Artavis (Scott) had one that went through his hands in the endzone and Charone (Peake) kind of faded away from one in the endzone that led to the interception," he Watson said. "It very easily could've been 14 more points on the scoreboard."