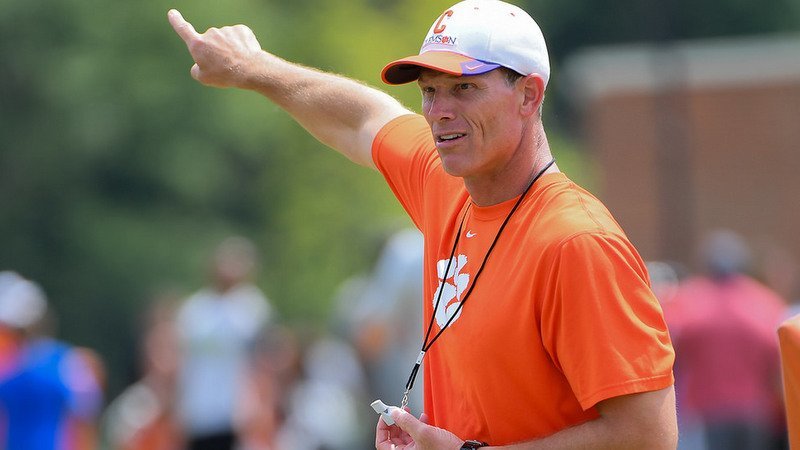 | | |
| --- | --- |
| Brent Venables stingy with the compliments, but Austin Bryant likes it that way | |
---
CLEMSON – Clemson defensive coordinator Brent Venables walked off the field after last week's scrimmage in Death Valley, and his displeasure was evident. Venables was late to the media gathering because he made his defense run for an extra 20 minutes.
Venables was unhappy with the play of his group, telling the media that penalties and errors have been the norm rather than the exception this spring. After the scrimmage, Venables' displeasure spilled over into film study.
He's the kind of coach that defensive end Austin Bryant loves to play for.
"He just kept it real with us, told us the bad, told us the little good that we had and basically left it upon the leaders to make sure it's corrected and put it on each guy to take responsibility of what they did and own up to what they need to do better in order to make the unit better," Bryant said. "I think with the guys we have on this team, talks like that really resonate well because we have the type of guys that are going to respond the right way."
"We just have to be better leaders at every level on the defensive line, linebackers and the back seven," Bryant said. "Just gotta be better leaders, be more disciplined. That's gotten us in trouble on some plays, just being disciplined and doing our job. So, I think if we get that corrected, we'll be fine."
Bryant said that Venables' style is an example of tough love, and that is what keeps Clemson in the conversation as the nation's best defense each season.
"It's awesome. If you're a competitor you never want to feel the feeling of satisfaction. You always want to think that you can improve and get better and that there's always something else to learn and always something else to experience," Bryant said. "With Coach V, he doesn't let you relax, which is really great and why we've been so good around here on defense. With a guy like that leading us and calling plays, we'll be fine. Each and every day he is going to challenge us and I wouldn't want it any other way.
"After he talked to us, there was nothing else that needed to be said. He pretty much said it all. I think the guys took it well and put the effort in to correct their mistakes."
Venables isn't harsh all the time, and compliments can be found. Bryant laughed and said he received one when he played the "JACK" linebacker spot and dropped into coverage and made an interception.
"It's great when you do get a compliment from Coach V because it's not very often," Bryant said with a smile. "When you get one you know you did something really good. That is the kind of coach you want, someone who is going to push you to do better and do more. When he does praise you it does make it all worthwhile.
"He's stingy with the compliments. They don't come very often."

Upgrade Your Account
Unlock premium boards and exclusive features (e.g. ad-free) by upgrading your account today.
Upgrade Now