| | |
| --- | --- |
| Brent Venables: The Ultimate Road Dog | |
---
| | |
| --- | --- |
| Friday, October 23, 2015 9:07 AM | |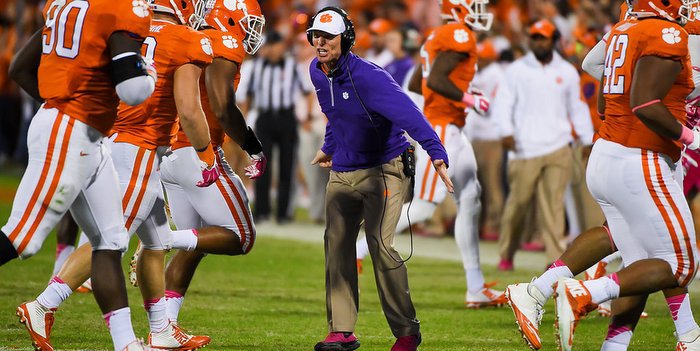 CLEMSON – Any interview session with Brent Venables is an insight into intensity. You hear terms like road dog. He talks about an edge. He doesn't care about defensive rankings, and he doesn't want his group to be an albatross around the neck of the rest of the team.
In other words, Venables gets it.
Clemson's fourth-year defensive coordinator has told his players all week that if the Tigers are to leave Miami with a win Saturday – the Canes and Tigers play in a noon matchup – the defense will have to have a road dog mentality. It's something that he embraces.
"It's an attitude, an edge, your back is against the wall, and you're going to have to earn everything that you get. It's going to be a tough, hard-fought battle," Venables said. "If you're going to have a chance to win, you got to have that edge to you. Create your own energy - create the kind of environment that you want. You have to emotionally and physically impose your will on the game itself."
Venables says not playing with that edge isn't something he is worried about.
"I think if you're playing with guys that aren't any good or don't have confidence, it probably would be, so I think we have the right kind of culture and the right mindset collectively as a unit," he said. "They like to perform and compete, and they respect Miami and the personnel that they have. A number of our guys know a number of their guys and know what kind of mentality that they will bring to the table as well."
The Tigers are ranked 10th nationally in total defense – far above what the pundits predicted after Venables lost so many players to the NFL - but Venables said he doesn't care about the rankings or the numbers.
He just wants them to play well. That is also his expectation.
"I spend no time, to be honest, thinking about that. I don't care about that. I want to play well,"
he said Tuesday. "So the gauge is how we are practicing and how we play and perform on Saturdays. So that is the gauge. Are we doing our part week in and week out, doing what we are capable of doing, to help us win - not hanging on and finding a way - playing well? That is kind of the gauge and the mindset, and you're hoping for that. Thinking and believing that if we do x, y, z, we don't get hurt, then this should be the outcome. That is the expectation."
While the fans might spend time looking to see how the Clemson defense ranks nationally, Venables spends his time worrying about things closer to home, including this week's game against the talented Hurricanes.
"It's how guys come along and develop and what issues that you are always faced with season to season, always changes. Figuring out your own personnel - here's what you thought you had, but here is how things are developing. Here's your strengths, here's your weaknesses, here's where you need to help cover up scheme or player wise. Match it up week to week. We've seen a variety of offenses. I love that we do have some diversity within our group of players. I know it's been well documented - I know that we don't have the same depth of players, but we have guys that can do a lot of different things too - Match-up against a physical run team, played the triple option - hopefully, we'll see. This is it's own unique challenge up to this point in the season, as far as the throwing game and matching up."
Can the Tigers regain that number one spot, the same spot they occupied at the end of last season? Venables said there are too many variables to gauge where the Tigers will wind up and at the end of the day he just wants to make sure his defense isn't holding the rest of the team back.
"We've played well in spurts this year. We can certainly play better. We need to continue to have a killer instinct. Last year's group was so hungry for perfection, and I know these guys want it, but wanting it and getting it can sometimes be two different things," he said. "If you are greedy, and a stats guy and looked at you gave up a cheap, easy 40-yard run here and a 40-yard dump down to the running back - one was a misfit and one was turning a guy loose. That's why it's really hard to be the best. Not enough people, players or coaches, whatever. Those are the hidden plays there that make the difference between being the absolute best and whatever else there is. You asked me what I thought - I thought we had a chance to be solid.
"I'm fearful always of not doing our part and being an albatross to everything else. I don't want to just win, I want to win and complement the win by doing things structurally, strategy, effort and toughness. All of those things that go into it. I want to do our part. Who doesn't? I've got the feel - I understand that sometimes, well they played better people. It all does at the end of the day wash out. Before we played Oklahoma everyone was like, 'We haven't played a Big 12 offense. I can go name the teams in the Big 12, and some of them are more prolific than others, but I can say they haven't seen a front seven like we have.' You can always say that and have that argument, but you figure it all out on the field."
Brent Venables, road dog.