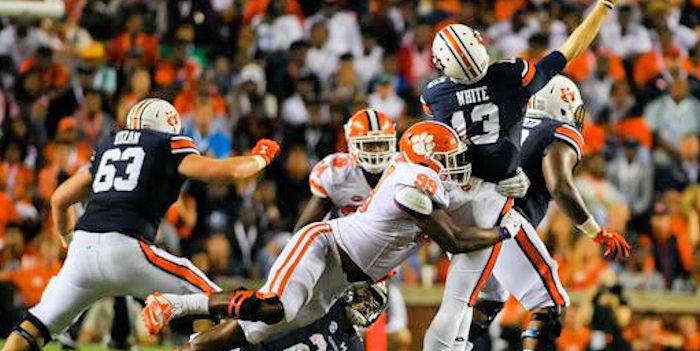 | | |
| --- | --- |
| Brent Venables, Google and YouTube pave the way to Clemson win | |
---
AUBURN, AL – A relieved Brent Venables met with the Clemson media following the second-ranked Tigers win over Auburn in the early hours of Sunday morning, and he smiled the kind of wry smile you only have when you escape with a win.
Partial credit for the win goes to YouTube and Google.
Clemson knocked off Auburn 19-13 in no small part to Venables' rebuilt defense. Auburn had just one rushing yard at the half, was limited to 272 total yards and was 3-for-17 on third down. Three Auburn quarterbacks completed just 15-of-30 passes for 175 yards, were intercepted twice and lost a fumble.
Auburn's vaunted rushing attack gained just 87 yards as Clemson's baby defenders – sophomore Christian Wilkins and freshman Dexter Lawrence – joined veterans like Jadar Johnson and Ben Boulware in a stellar effort.
Clemson even had an answer for the Wing-T.
Auburn tried to surprise Clemson with the unusual scheme – used to try and get another eligible receiver down the field but also to get defenders double-teamed at the point of attack – in an effort to break the stranglehold Clemson had on Auburn's rushing attack.
The Wing-T, or single wing, goes back to Pop Warner and the early 1900's, and Venables had never thought about the offense until this week when he heard Auburn might try and use the offense to their advantage.
"Somebody just said they might be trying to do it. So we literally are watching Apopka High School, I'm watching Rick Darlington, the Glazier Clinic on YouTube the night before last," Venables said. "Then I pulled up Google: 'How To Stop the Wing-T.' So I found a guy that defended it like I think I would want to do it. I just kind of took a few things from him. Told our guys, 'look, I don't know if they're going to do it.' We didn't want to panic our guys, because we could have worked on only that in our walk-through yesterday. We needed to work on other things and didn't want to chase ghosts. We (laid out) a basic plan for it, and for the most part, it was OK. So, yeah."
Venables said he was confident with the gameplan, but said the three quarterback system was something he had never seen before. Still, he felt confident his team was as prepared as he could make them.
"It was a whole bunch of personnel groups and they do more than most people," he said. "I was confident, and I thought we had a pretty good plan, and also I liked how our guys had been working, their focus, their attitude, their willingness to be coached and again how hard they worked. That gives you confidence as a coach. I knew there was going to be plenty of things we did not do right, well or coach well, but I felt like, 'Hey man! It is going to be their first game, too.'"
At the end of the night, it wound up a being a win and Venables said the Tigers will learn from their mistakes.
"I love how they battled. That was a lot of fun. It was stressful, too," he said. "There were plenty of mistakes and things to correct and fix and learn from. But I am very impressed with how hard they fought and continued to find ways to get off the field. But I am just very proud of them. We had some critical big-time plays and some critical mistakes that we will learn from. But we will take it all day every day to win in this environment against a talented team like Auburn. That was a lot of fun."

Upgrade Your Account
Unlock premium boards and exclusive features (e.g. ad-free) by upgrading your account today.
Upgrade Now