| | |
| --- | --- |
| Boyd talks NFL Combine, Deshaun Watson, and Clemson QB battle | |
---
| | |
| --- | --- |
| Wednesday, February 19, 2014 9:45 AM | |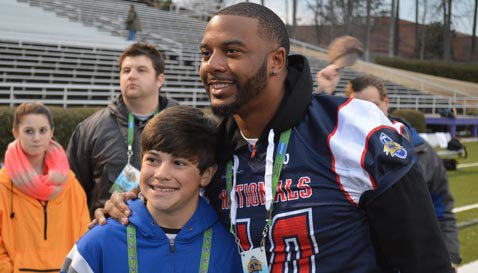 Tajh Boyd

Tajh Boyd
Quarterback (2009 - 2013)
#10 6-1, 225
Hampton, VA
View Full Profile walked the sidelines of the College All Star Game at Furman last Friday night, signing autographs, posing for pictures and talking to former teammates in a more relaxed setting than he is used to on game day.
The former Clemson quarterback served as the honorary captain for the Nationals squad coached by Danny Ford

Danny Ford
Former Head Coach
View Full Profile , and the relaxed atmosphere allowed Boyd to open up about his future, his future in the NFL and the future of the quarterback position at Clemson.
Boyd, who has been working out in Boca Raton as he prepares for the NFL Combine, said it was good to take a break from the grind.
"It's always good to come back to the Upstate, because I do look at this as my home now. I am excited to be back," Boyd told TigerNet. "I miss you guys (in the media) and the Tuesdays with Tajh. But I've been down in Boca Raton and it has been a grind. I have been getting in some really good workouts and cleaned up some of my mechanics and worked on my speed – just cleaned up some parts of my game. I am putting in all of this work so I can do well in the Combine and just excited about what's ahead."
Boyd's grueling physical workouts have been broken up by sessions with Pro Football Hall of Famer Dan Marino.
"It was really good working with Dan," Boyd said. "Obviously, the guy is an iconic figure in the sport. He is one of those guys that you can mold your game after. To sit down in the same room with him, and break down film with him, and get his advice and opinion on things was amazing. One of the things he told me was that it was all about the process, and he told me to just be honest. He said that people like honesty and they like others being genuine. He told me whether I was at the Senior Bowl or working out for teams or at the combine, that I just needed to be myself and show them who I am and the type of leader I am. He told me that if I do that, then everything else will take care of itself."
Boyd received negative reviews following workouts at last month's Senior Bowl, and he said that he hopes NFL teams will pay attention to his entire body of work.
"You hear so much, whether it's good or bad, and it's something I had to deal with," he said. "Things will work themselves out in due time, and I just have to go out there and work hard. You have three years, 3500-plus yards each season and 30-plus touchdowns each season, and that's something you want them to look at that. But at that the end of the day, it just takes one team to decide they like you."
Boyd said that Jacksonville, Houston, San Diego and Pittsburgh were teams that have shown the most interest. That interest - plus some advice from an NFL offensive coordinator - has made him decide to go all out at the combine.
"I just want to go out there and compete. I had a chance to talk to one of the offensive coordinators that I know from the NFL, and he told me what to expect," he said. "I am probably going to do everything. You are going to have guys that will go out there and not do some things, but I am going to go out there and lay it all on the line and compete. I want to make sure I go out there and make it all happen. "
On Deshaun Watson
"I try to be like a big brother or mentor to him. I've gotten to know him and I am excited for him. He is the kind of guy you want as the future quarterback at Clemson. He's a great young man, comes from a good family, has good moral values and at the same time he's a good football player. Whenever it is time for him to step on the field I think he will make the most out of it."
On an early prediction for who starts at quarterback
"I know the coaches will do what's best for the team. But you look at the schedule, and you see Georgia in the opener and then Florida St. just a few weeks later, and sometimes you have to go with experience."