| | |
| --- | --- |
| Boyd sets the record straight on future, past with Steelers | |
---
| | |
| --- | --- |
| Tuesday, August 25, 2015 11:14 PM | |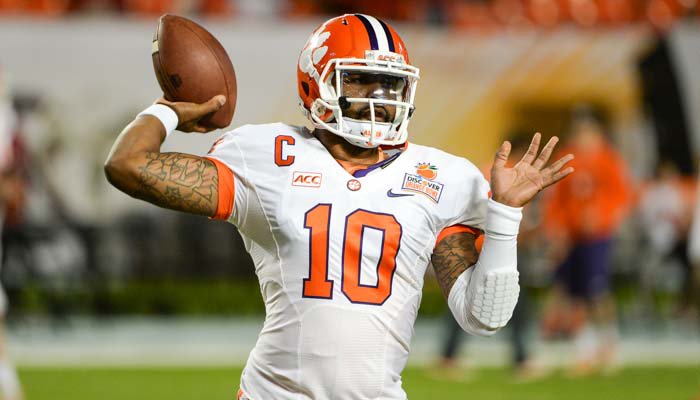 Tajh Boyd

Tajh Boyd
Quarterback (2009 - 2013)
#10 6-1, 225
Hampton, VA
View Full Profile wants to set the record straight and talk about his future and his recent past with the Pittsburgh Steelers.
The former Clemson quarterback called TigerNet late Tuesday to discuss his future and to clarify some misconceptions about where he will wind up. Boyd was released last Tuesday by the Pittsburgh Steelers, ending his second stint with an NFL franchise. Boyd was signed by the Steelers on March 6th but did not play in either of the Steelers' preseason games as the Steelers went with third-stringer Landry Jones.
With the Steelers, Boyd was competing against Jones as well as quarterback/wide receiver Tyler Murphy for the third spot on the depth chart behind starter Ben Roethlisberger and backup Bruce Gradkowski. The Steelers signed former Virginia Tech star Michael Vick Tuesday after Gradkowski was placed on injured reserve.
Boyd was the Atlantic Coast Conference Player of the Year in 2012 and set school and league records for passing yards (11,904) and passing touchdowns (107) during his three seasons as the Tigers' starter. Boyd was drafted in the sixth round of the 2014 NFL Draft by the New York Jets but was cut from the team at the final cut of preseason camp.
Earlier Tuesday it was rumored that Boyd had signed a contract with the Saskatchewan Roughriders of the Canadian Football League. Boyd said that wasn't completely the case.
"There is some speculation that I am going to Saskatchewan. That is not the case," Boyd told TigerNet. "The plan is to go over there (Canada) unless something changes. But I have to get my passport before I can do anything. The Hamilton Tiger-Cats have my rights right now. So I can't sign with anybody because Hamilton has my rights. Right now that's the team I am with, and we will see if anything changes when I get there. But right now that's where I am. It's all about just getting there as fast as I can."
Boyd said he can't do anything until he gets a passport.
"It could be the end of this week or early next week. I had to get my passport expedited," he said. "I've been looking for a reason to get my passport. We will see."
Boyd said he doesn't think being cut from the Steelers is a reflection of his talent – he knows he can play quarterback at a high level, and his dream is still to play in the NFL.
"Obviously this is a different route. But it's not like I know I'm not capable of anything. There has been some speculation that 'he must be terrible' but to be honest with you I really wasn't. There is a lot that goes into it that people don't understand because they aren't in the front office. They don't get paid millions of dollars to make decisions. It's easy to sit back and speculate for a social media standpoint and say, 'Well he just couldn't cut it.' But I know the team had their reasons, and neither the GM nor the coach told me that was the case. A lot of it is just being in the right situation at the right time, and I didn't fit into their plans right now. Right now I will go out there and play and put up some gaudy numbers and maybe I will be the next Warren Moon."
There is nothing too great or too small that GOD won't see you through.. Have a great day my friends

— Tajh Boyd (@TajhB10) August 26, 2015