| | |
| --- | --- |
| Boyd and Watford meet again in clash of 757 guys | |
---
| | |
| --- | --- |
| Wednesday, October 30, 2013 8:22 AM | |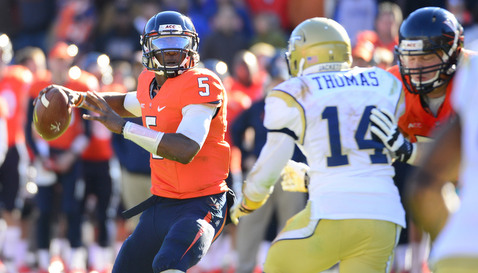 CLEMSON – Clemson quarterback Tajh Boyd and Virginia quarterback David Watford will have a reunion of sorts when Boyd's Tigers travel to Charlottesville to take on Watford's Cavaliers, a team mired in a five-game losing streak.
The last time the two quarterbacks were on the field together, it was 2008, and Boyd's Phoebus team defeated Watford and Hampton 42-6, a game that was just another stepping stone as Phoebus marched on to an undefeated, state-championship season.
Boyd completed 9-of-12 passes for 100 yards and a touchdown. The touchdown pass was caught by current Virginia linebacker Daquan Romero, who was Boyd's tight end at Phoebus. Watford was 4-of-10 for 14 yards with an interception.
"We kind of crushed them a little bit. He is a good quarterback, can run, but he is a really good passer as well. Very poised," Boyd said of Watford. "And he was the same way in high school. It has been good to watch him grow, and see the maturation process. He has been a really good player for them.
Boyd was a senior that season, and he saw something in the sophomore quarterback that might have reminded him a little bit of himself, and he and Watford became acquaintances who keep in touch, and Watford told the media earlier this week that he considers Boyd a mentor.
"I saw what he was doing, how good he was and the potential that he had," Watford said of Boyd during Virginia's Monday media interviews. "He kind of took me under his wing when I was in high school, so we're pretty close from that."
Tuesday, Boyd was asked about his relationship with Watford, and he said that all of the great players from the 757 area code look out for each other.
"We talk pretty frequently. He is a couple of years younger than me, but we are from the same area at rival high schools, a few miles down the street," Boyd said. "It's always good to see a guy perform like that, and as a person he's just a great kid in general. One who has great morals and values. Being the older guy, you kind of want to make sure you are there in any way possible. It just comes with being from the area and being a mentor."
Watford said that Boyd was one of the players that came out of the 757 area code that he watched with special interest.
"When we were in high school, he was one of the guys I watched as I was growing up - it was Tyrod Taylor and then Tajh Boyd," Watford said. "And then I came after those two. So he was one of the older guys that I wanted to learn from, I worked with him before. Just trying to learn from that guy."
Another "757 guy" that will be more than an interested observer during Saturday's game will be Virginia head coach Mike London, who says he remembers when Boyd was at Phoebus and has enjoyed watching Clemson's senior signal caller turn into one of the nation's best.
"Tajh, I've known him for a long time coming out of Phoebus High School," London said, "and he's very mature, very focused, and now one of the leaders on that Clemson team. You hear Coach Swinney talk about Tajh and those leadership capabilities, it's no wonder that they're playing well because he's one of the main focal points of that team, and then as he plays, the rest of the team plays."
London said that he hopes the Cavaliers can get Watford to the same level as Boyd.
"Tajh has been noted as one of the best quarterbacks in the country. And we're talking about David improving, and getting to a level where he's as competitive and he's as explosive in everything that he does, as well," London said. "It will be exciting for the two of them. They'll meet probably at pregame; they'll hug after the game. But they'll be competing against each other. Because they want to come out of the game as the best quarterback on that day."