| | |
| --- | --- |
| Boyd: "I thought my career was over" | |
---
| | |
| --- | --- |
| Saturday, November 16, 2013 3:07 PM | |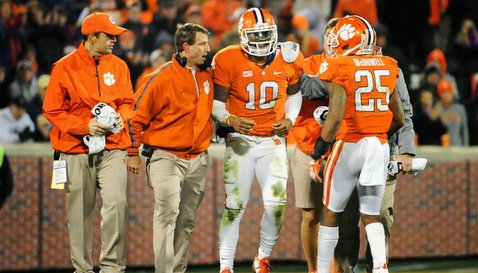 CLEMSON – Any time a player remains on the ground following a play, causing trainers to rush into the field of play to tend to whatever injury may have happened, the press box in a college football stadium becomes a busy place as binoculars go up and people try to figure out who the injured player might be.
Thursday night in Death Valley, the same thing happened, but when it became known that the injured player was senior quarterback Tajh Boyd

Tajh Boyd
RS Sr. Quarterback
#10 6-1, 225
Hampton, VA
View Full Profile , reporters and sports information people alike jumped up to watch replays, anxious to see if they could find out how serious the injury might be.
The good news for Boyd – and Clemson fans everywhere – is that the injury wasn't as bad as many people first thought, especially when they saw the senior signal caller head into the locker room for x-rays.
Boyd ran up the middle on a designed run, and landed on his left shoulder, but a Georgia Tech defender landed on top of him, further pushing his shoulder and collar bone area into the ground.
At that point, Boyd thought the worst.
"It hurt like crazy. I really thought my career was over," Boyd told me after the game. "I was lying there, and I can't describe how intense the pain was. I didn't even know if I could get up. And even after I got up and headed into the locker room, I still thought the worse. I just knew my career was over."
Once he reached the warmth of the locker room and had his x-ray – which came back negative – the shoulder and collarbone area began to loosen up, and he jogged back out to the sidelines to the cheer of the Clemson faithful who were relieved to see that Boyd still had on his helmet and shoulder pads.
"It's one of those things where it sounded a lot worse than it actually was," Boyd said afterward.
"Going down to the ground it was cracking and all, but I feel fine now. I had some x-rays and everything is all good."
Boyd even played a game of catch on the sidelines to show Clemson head coach Dabo Swinney

Dabo Swinney
Head Coach
View Full Profile and offensive coordinator Chad Morris

Chad Morris
Offensive Coordinator / QBs
View Full Profile that he could go back into the game.
Both coaches smiled and declined the offer.
"If it was a dire situation I could have come back out, but it wasn't necessary tonight," Boyd said with a smile.
The night was already a memorable one for Boyd – for the season, he ranks second nationally in 40-yard connections (14) and fourth in 30-yard hits (22). Thursday night, he set the all-time ACC touchdown pass record (97) and the Clemson mark for completions (830), and a third-quarter run pushed him over the top as the only player in ACC history to top 10,000 career passing yards and 1,000 rushing.
Morris said all of that shows a quarterback who is finding his groove at just the right time.
"What you see is a quarterback, when he's hitting on those passes and he's got receivers making plays for him - his confidence is shooting through the roof," Morris said. "He's just playing with great confidence and he feels he can make every throw and the receivers are going to make the catches."
Boyd's next-to-last game in front of his home fans could have been forgettable had he suffered an injury, but now he is looking forward to his last game in Death Valley next Saturday.
"This is going to be my last time playing in the Valley," Boyd said. "I'm going to take in every moment so it is something that I'll never forget."